Thousands of Offers. Millions in Savings.

Get the best cannabis deals sent straight to you...
Get access to exclusive deals & inside info on community events and giveaways!
Errl's Guide to North Carolina Cannabis Searching for a Dispensary Just Got Easier
Recreational and Medical Marijuana Dispensaries are sometimes a challenge to find. Laws and regulations keep dispensaries hidden and zoned in industrial areas. Not all municipalities allow legal or medical marijuana dispensaries. In most states, it is up to the local municipality to determine if they will allow medical or recreational marijuana sales. To find out if your states allows Medical or Recreational cannabis sales, refer to our national guide. Searching for the best weed on the planet just got a lot easier.
With one search you can find the #1 dispensaries or collectives along with the hottest deals near you. Before you begin your search make sure you understand the laws and regulations of that state you are visiting. While cannabis may be legal in some states, this does not mean anything goes. Transporting cannabis across state lines, driving while high, and public consumption are still against the law. Here are a few facts about the legalized cannabis market:
Each state determines the amount of marijuana someone can legally buy. This includes flower or bud, concentrates and edibles.
In all states where cannabis is legal you must be at least 21 years or older to purchase recreationally and 18 years of age to purchase medically.
Colorado and Washington were the first states to legalize marijuana in 2014 for recreational use and others have followed since such as Oregon and Alaska.
The trend is continuing as 58% of the population now favors some form of legalization of marijuana.
As a highly regulated industry more states are moving to a recreational marijuana model as municipalities can generate huge tax revenue from this side.
Currently there are 23 states that have some form of legal cannabis in the US.
---
---
States Where Marijuana is Legal
Recreational
Medical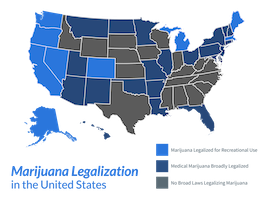 Cannabis Deals and Specials Updated Daily
If you are looking to save money on medical or recreational marijuana, find the nearest dispensary, headshop, growstore, or cannabis related product, you have come to the #1 cannabis resource site in the industry.
With over 10,260 active MMJ coupons, specials and weed deals you will be sure to save money on all your favorite cannabis strains, concentrates and edibles.
Local Dispensaries, Headshops, and Growstores post menu and deal information in real-time allowing you the consumer to save money. With Marijuana prices fluctuating you can always be sure to get the best value for your money.
With Leafbuyer's interactive mapping feature, finding recreational marijuana dispensaries, MMJ collectives, delivery services and weed related deals are just a click away.


Get Exclusive Local Cannabis Deals! Just enter your email address and city in the form below
Your information will remain confidential and will not be sold or otherwise shared.

Leafbuyer complies with state laws regarding access to marijuana-related products. To continue, you must be 21 years of age or older or hold a valid medical marijuana card?

Are you eligible to continue?





We're sorry but we cannot let you continue to use the site.