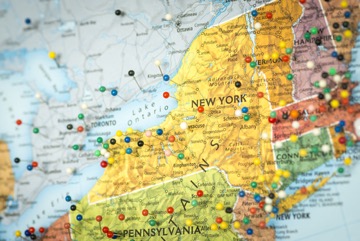 New York State first prohibited the purchase of marijuana without a valid prescription in 1914. One hundred years later, the state passed its most extensive overhaul of New York marijuana laws only to come full circle -- pot would again require a prescription to purchase. So goes the story of marijuana laws in New York State. From 1914 to 1927, the state of New York had what you could call one of the country's first medical marijuana markets, but, like Massachusetts, which had also enacted a ban on "Indian hemp," the first U.S. state to do so, drug laws of the early 1900s were primarily a response to trade pressures and latent racism against the drug's largely Mexican user base, who had begun to immigrate into the U.S. in record numbers starting at the beginning of the twentieth century.
In 1927, New York State banned cannabis outright, along with Idaho, Kansas, Montana and Nebraska that year. A decade later, in 1937, the Marihuana Tax Act banned marijuana nationwide on a technicality: all cannabis sales were to be taxed, but the stamps used to pay the tax made it illegal to possess marijuana but not the stamps, which would very quickly earn anyone attempting to buy the tax stamps a visit from local authorities.
While the Marihuana Tax Act still allowed the medicinal use of cannabis under increasingly restrictive regulations, Congress did away with all medical marijuana, and any other marijuana use, with the Controlled Substances act of 1970, which prohibited the drug nationwide.
Back in New York, marijuana laws would shortly become the nation's toughest yet.
On May 8, 1973, New York Governor Nelson Rockefeller signed a bill that increased penalties for the possession and sale of marijuana and other drugs following sweeping anxieties against issues raised by the counterculture movement of the 1960s. The new law, which could earn a minimum of 15 years and a maximum of life in prison for the sale of just two ounces and the possession of just four ounces of marijuana, gave New York State the most punitive drug laws in the country.
Learn more about marijuana in New York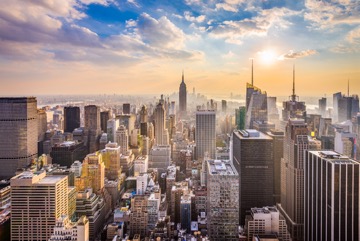 Just four years later, New York walked back the so-called Rockefeller drug laws, seen as unnecessarily harsh and politically motivated by critics, by decriminalizing possession of less than 25 grams of marijuana -- almost an ounce -- to a $100 fine in 1977. Unfortunately, though, marijuana possession would remain a criminal misdemeanor, not a civil infraction, which led to the arrest of over half a million people between 1997 and 2010; 80 percent of arrests were of black and Latino individuals, a far cry from a fair and equal distribution of the drug's users.
In 2014, New York medical marijuana laws were up for an overhaul as state lawmakers passed a bill that gave the state's Department of Health 18 months to develop a medical marijuana program, making New York the 23rd state in the country to legalize the use of marijuana for the treatment of debilitating diseases and conditions.
Just last year, Governor Cuomo argued in his 2018 State of the State address for an investigation into the effects of recreational legalization. In its report, the Department of Health cited various benefits -- including economic, health and public safety benefits -- leading Cuomo to declare recreational legalization a top priority of the 2019 legislative session. Critics, however, accuse Cuomo of using marijuana for political capital and point to his recent abandonment of recreational-use marijuana following a tough budget battle that saw marijuana legalization swept under the rug of politics and bureaucracy.
Leafbuyer's Featured New York Dispensaries
If you're looking for
dispensaries in New York State
, Leafbuyer has your back. Our handy search engine lets you filter by location type, rating, and whether they're open now, so you can be sure to find the best dispensary near your home, work, or favorite hangout. Just use the list below or jump right into our interactive map.
New York Dispensaries
Click the map to explore dispensaries in New York.
Scoop these deals while they're hot!
Find the hottest cannabis deals near you on wax, edibles, ounces of flower, and much more!
See all deals
Save money, subscribe.
Get Exclusive Local Cannabis Deals delivered to your phone and email!!