Thousands of Offers. Millions in Savings.

Get the best cannabis deals sent straight to you...
Get access to exclusive deals & inside info on community events and giveaways!
---
Frequently Asked Questions About Marijuana in New York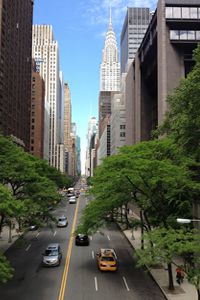 New York is certainly one of the most famous American places in the world. The state, represented by the hustle-and-bustle of Times Square, the awe-inspiring Niagara Falls, and, of course, the majesty of the Statue of Liberty attracts millions of visitors annually. Rich with cultural diversity, the state is home to art, entertainment, and architecture unlike anywhere else in the world.
Is marijuana legal in New York?
New York decriminalized marijuana possession under certain amounts and conditions in 1977. In 2014, the state legislature passed the Compassionate Care Act, creating a pilot program for medical marijuana.
Where are the dispensaries?
Marijuana dispensaries in New York are licensed based on geographic need to ensure that patients are able to reasonably obtain medical marijuana products. With a total of three, Albany currently has the most dispensing facilities, with
another sixteen cities in the state
holding one or more dispensing centers.
Are they medical or recreational dispensaries?
Currently, the New York legislature has only approved medical dispensaries. However, in January 2017,
the State Assembly introduced a bill
legalizing personal cultivation, possession, and use of marijuana while regulating and taxing the sales. Time will tell if this bill becomes law.
Who can be a medical patient in New York?
A qualifying medical patient has to be certified by a state-recognized physician or nurse practitioner. The medical professional may issue a certification to the Department of Health if the patient has an approved medical condition, ailment, or illness described as debilitating to the extent where one's quality of life has been significantly reduced. Pediatric patients are accepted in the program, though most patients are 18 or older.
How do I become a medical patient in New York?
To qualify for the New York medical marijuana program, you must prove your residency in New York and have one of the following debilitating or life-threatening diseases:
Cancer
HIV infection or AIDS
Amyotrophic Lateral Sclerosis (ALS)
Parkinson's Disease
Multiple Sclerosis (MS)
Spinal Cord Injury Resulting in Spasticity
Epilepsy
Neuropathy
Huntington's Disease
  In addition to any one of the diseases above, any individual seeking medical marijuana under New York law
must have one or more of the following accompanying complicating conditions:
Cachexia, also known as wasting syndrome
Severe or chronic pain
Severe or persistent muscle spasms
Severe nausea
Seizures
The final regulations include a provision allowing the Health Department commissioner to amend these lists as necessary to include other such diseases, conditions, and complications.  
WHERE CAN I SMOKE?
New York specifically prohibits medical patients from smoking marijuana. The state also prohibits any consumption at a medical marijuana manufacturing or dispensing center. Patients are permitted to consume edible products such as capsules or infused oils,
but not in the form of a baked or cooked good,
in most public spaces. Schools, detention facilities, and public transportation are some of the places where this remains forbidden.
Where can I smoke?
New York specifically
prohibits medical patients from smoking marijuana.
The state also prohibits any consumption at a medical marijuana manufacturing or dispensing center. Patients are permitted to consume edible products such as capsules or
infused oils
in most public spaces. Schools, detention facilities, and public transportation are some of the places where this remains forbidden.
How much does marijuana cost in New York?
Marijuana pricing in New York is highly regulated. The state recognizes the value of (a) ensuring that the cost of medicine is not inflated for profits (b) and removing black-market profitability. As a result, the state requires the Health commissioner to review accurate manufacturing, advertising, and distribution costs for each registered dispensary and set a maximum price per dose. Dispensaries can charge any price at or below these levels.
Unfortunately, the analysis of pricing is not available publicly, but
the New York Times suggests
patients are currently spending anywhere from $200-$1,000 per month to adequately address symptoms.
How much marijuana can I buy and possess in New York?
New York medical patients may purchase and possess up to thirty days worth of marijuana products. The specific volume of marijuana products is decided by the patient's certifying medical practitioner, physician, or nurse practitioner.
Can I grow marijuana? How many plants?
Unfortunately, the current laws only permit cultivation at licensed facilities. Only five facilities are currently allowed, but the state plans to expand this to 10 manufacturers.
How do I get a job in the Empire State's marijuana industry?
Adults age 21 and older may apply to the Department of Health to receive an identification card, certifying your ability to dispense marijuana products. Candidates who have been convicted of any felony level drug offense cannot apply.
Is Drug testing for marijuana legal in this state?
Drug testing is not mandated by the state but can be used to determine employment. The federal prohibition of marijuana puts many employers at risk of violating the Drug-Free Workplace Act if a patient is hurt on the job while medicating. The Compassionate Care Act prohibits the use of medical marijuana at
any place of employment
.
Is Delivery legal?
In late 2016, the
Department of Health recommended legislation
that would provide better patient access through direct-to-patient delivery.
How to pay for marijuana in New York dispensaries?
Dispensing centers around the state take payment in cash, a financial holdover from the continued illegal federal designation. U.S. senators are currently
working to reconcile the situation.
---
New York Marijuana Laws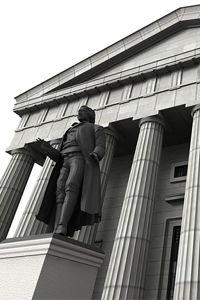 In the summer of 2014, New York passed legislation to create a medical marijuana industry within the state. Unlike states such as California or Colorado where voter referendum ordered the creation of a medical or recreational market, the New York medical program, known as
the Compassionate Care Act
, was written and passed by the State Assembly. In writing these rules, the state purposely restricted the industry's potential. The bill passed the Senate 49-10 and was signed by Gov. Cuomo June 20th, 2014.
Purchase and Possession Limits
Patients are eligible to purchase no more than a 30-day supply of approved medicated products. The certifying medical professional is responsible for defining the volume of medication necessary to adequately address an individual's symptoms during any 30 day period. Anyone caught in possession of marijuana who is not a New York medical marijuana patient is subject to fines
between $100-$250
, depending on the number of offenses.
Driving while Intoxicated
Driving while under the influence of marijuana remains a misdemeanor offense in New York, punishable by fines up to $1,000, up to a year in jail, and a six-month suspension of your driver's license.
Driving while in possession of marijuana
New York allows the transportation of marijuana by registered organizations, patients, and caregivers under certain conditions. A patient or their caregiver may safely and legally transport approved quantities of medicine within state lines. The main concerns with marijuana transport are the diversion of medical products and unauthorized use. Trafficking laws remain in place for anyone who takes medical products across state lines, punishable by a minimum of fifteen years in prison and up to $100,000 in fines.
Marijuana Use by Minors
Pediatric patients
can be enrolled into New York's medical marijuana program under certain conditions. The minor's parents must consent to treatment, and a certifying doctor or nurse practitioner is required to discuss the risks of treatment with the parents or legal guardian. If a child under 18 is caught with marijuana, the supplier may receive as much as seven years incarceration, felony charges, and fines up to $5,000.
Growing Marijuana at Home
New York only allows licensed facilities to cultivate marijuana. Misdemeanor charges, one year in jail, and up to $1,000 in fines await any grower caught under current law.
Places to Consume Legally
Patients are prohibited from vaporizing (but not eating or drinking) marijuana products anywhere that may be defined as public. Here is a list of where a registered patient currently cannot vaporize:
Your place of employment
Bars & restaurants
Indoor public pools
The bus, subway, and any other public transportation, including the waiting area
Detention centers, care facilities, group homes, and treatment centers for children and youth
On any college or university campus or property
In hospitals or health care facilities (with exceptions for residential care facilities)
In the zoo
In any indoor arena
Not within 100 feet of a public school entrance, exit, or any outdoor area unless you are within a residence.
The consumption of any marijuana product in a motor vehicle is prohibited, even if the vehicle is on private roads, including any parking lot.
Legalization Outlook in the Empire State
In mid-January 2017, S3040 was introduced to the state senate. Titled the "
Marihuana Regulation and Taxation Act
," the bill would legalize the cultivation, possession, and use of marijuana for adults age 18 and older. It would also require the creation of a regulatory system for sale of marijuana products to adults ages 21 and older. The bill would allow adults age 18 and older to
grow up to six plants
, with no more than three mature plants at any one time. A new excise tax has been proposed, with at least 15% of the proceeds dedicated to substance abuse, re-entry, and job training programs in communities with high unemployment and low income. Local governments would be able to levy a 5% excise tax on the sales of marijuana, with an additional 5% special sales tax.
New York Marijuana Prices and Economic Data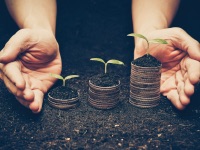 Registered patients in New York's medical program are able to purchase up to a thirty day supply from any registered dispensing center. The total volume a thirty-day supply is designated by the patient's certifying physician or nurse practitioner to address patient treatment on a case-by-case basis. The medical marijuana program does not allow smoked marijuana. Instead, the four categories of products approved for patients are:
Oils
Liquids
Capsules
Vaporization
Three additional rules from the Department of Health apply to product companies:
All product manufacturers must provide one high-CBD, low-THC (20:1) brand to their dispensing facilities.
All product manufacturers must provide one brand of products that are equal ratios THC to CBD (1:1)
Registered manufacturing and dispensing organizations are limited to five brands of products in total.
The Effect on Pricing
The commissioner of the Health Department reviews the operational expenses of all registered marijuana organizations and then sets maximum pricing. The combination of this price ceiling, brand limits, and product requirements means that pricing changes relies heavily on the number of patient registrations. Patients generally pay close to
$1.00 a dose
, but the price fluctuates drastically based on product potency and cannabinoid profile. Most patients pay between $100-$300 per month, with some reporting costs up to $1,000 per month.
Taxes and Registration Data
The sale of marijuana products incurs an additional 7% excise tax. Of the taxes collected, 55% of any revenues are to be returned in the following ways:
22.5% to the county where the marijuana was legally purchased
22.5% to the county where the marijuana was cultivated or manufactured
5% earmarked for prevention of drug abuse, including counseling services and treatment
5% directed towards criminal justice efforts in the state
As of March 2017, New York has received over 14,000 patient certifications.
According to a report
, released two years after the state implemented the Compassionate Care Act, over 50% of registered patients are fifty or older. Neuropathy and cancer are the most commonly-diagnosed conditions, and over 70% of patients claim to suffer from severe pain or muscle spasms. It is not clear how much tax has been collected.
Marijuana Activities: Things to do in New York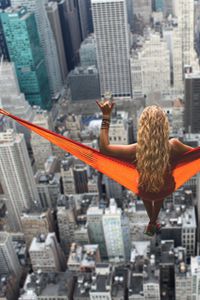 New York contains a bit of everything: mountains, ocean, lakes, and cities. Looking for a bite to eat? The cultural diversity of the state's population has inspired immersive dining experiences, where options abound and flavors are limitless. Broadway and Times Square, where the bustle of the Big Apple is distilled into flashing lights, large crowds, and the occasional musical, hosts a variety of shows and events constantly. The jaw-dropping Niagara Falls humbles the spirit and covers you in mist. The point is, New York has something for everyone!
Ellis & Liberty Islands
A short ferry ride in the Hudson Bay delivers you to these historically-unique and nationally-significant places. The Statue of Liberty is the famous gift from France celebrating the centennial of the American Revolution. Ellis Island was the American
entrypoint for over 12 million immigrants
, so be sure to stop by and check the log books for ancestors!
Niagara Falls
One of seven world wonders,
Niagara Falls
draws crowds of international viewers year-round. The place is both visually striking and perceptually humbling. After seeing the Falls, be sure to see the rest of the National Park, which contains various picnic sites and hikes within the area. Just remember: no
vaporizing
medical marijuana products in public places.
Comedy Club
Comedy has a history in New York, particularly within the Manhattan area. Step onto Time Square and you will find show promoters selling tickets for local acts, larger talent, and anything in between. Trust but verify before purchasing from street merchants. Otherwise famed clubs such as
Dangerfield's
or the Comedy Cellar have multiple nightly shows and local or smaller venues are spread throughout New York City.
Go to a Broadway Show
Broadway has a long-famed history in New York, a characteristic that has persevered uninterrupted despite a changing world. Actors and actresses sing and dance their way through the narrative, developing a relationship with the crowd. A variety of shows open each year, so be sure to
check the schedule
before heading out.
Wait! You're missing the Best Weed Deals...
Get access to exclusive deals & inside info on community events and giveaways!
As seen on: