World's #1 Dispensary Finder and Marijuana Deals Site
Consumer Savings: $3,335,464.00
Active Offers: 6,536
Colorado's Top Dispensaries
---
Sativa
Releases Stress
Enhanced Creativeness
Perfect for Daytime Use
Vivacious Flavors
Stimulating
Active
Appetite Modifier
Cerebral High


Sativas can be found near the equator in extremely humid countries like Colombia, Thailand, Uganda, Cameroon and Kenya! Sativa plants also tend to grow very tall and have thin leaves that are typically a lighter green color.
Hybrid
Hybrids are a combination of both sativa and indica with different percentages of each. Either end can dominate the final hybrid. It is rare to come across a 100% pure sativa or indica strain of marijuana.
There is a long list of different hybrid combinations currently available on the market. Take your shot at each of them until you find your favorite.
OG Kush
Girl Scout Cookies
Blue Dream
Chem Dawg + Hindu Kush
OG Kush + Durban Poison
Blueberry Indica + Sativa Haze
Indica
Body High
Causes Drowsiness
Relieves Pain
Perfect for Evening Use

Relaxing
Earthy Taste
Dismisses
Sedative


Indicas can be found in regions that are home to higher altitudes like Afghanistan, Argentina, India and Iran. These guys tend to grow much shorter than Sativa plants and have wider leaves with a darker green color. Depending on your tolerance levels, keep in mind that these results may vary. Indicas and Sativas offer different traits but keep in mind that they will affect everyone differently. Different strains and combinations will also have different effects on their users. Factors like the light used, the time of growth and when the plants were flowered are just a few factors that may change the way your bud tastes and how it affects you.
Fact Sheet
What is a cannabinoid?
Cannabinoids are chemical compound groups that are present in the marijuana plant that affect the mind and can even affect the body through brain receptor interaction. An exciting discovery about cannabinoids is the list of alternative effects other than THC! Take a look below at the medicinal usefulness of the top studied cannabinoids.
CBD
- CBD is not psychoactive. Studies show it to have anti-anxiety, anti-inflammatory, anti-nausea neuroprotective, and pain killing properties. It has also been shown to have blood-pressure lowering features.
CBG
- CBG is found in the non-psychoactive hemp plant and has shown a noteworthy ability to prevent the formation of tumors.
CBC
- CBC has been known to help ease pain, reduce inflammation and is also a great antibiotic.
THCV
- is a psychoactive cannabinoid that is currently being investigated as an anti-obesity drug and has been known to help treat diabetes.
CBN
- CBN is a breakdown product that occurs when THC is exposed to either heat or light. CBN may cause tiredness and can reduce spasms. CBN is also fairly psychoactive with roughly 10% activity of THC.
THC
- The most well-known cannabinoid and the most psychoactive. THC has the ability to alter behavior, mood perception, and consciousness. THC is responsible for the euphoric feeling some people consider as "being high".
Medicinal Usefulness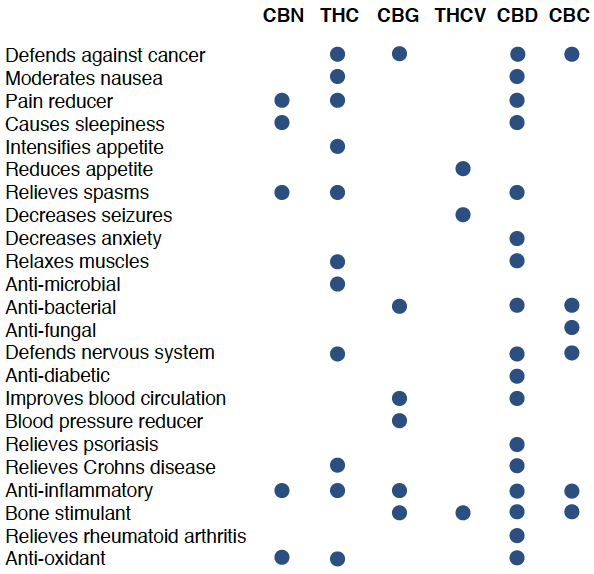 Tour Top Dispensaries
1941 W Evans Avenue, Denver, CO


Pure Marijuana Dispensary - 40th
505 West 40th Ave , Denver, CO


5101 E. Colfax Avenue, Denver, CO


2020 S Colorado Blvd , Denver, CO


4735 W. 38th Ave., Denver, CO


Terrapin Care Station - Broadway
1 Broadway, A150, Denver, CO


1630 Federal Blvd, Denver, CO


4750 Nome Street, Denver, CO


Advanced Medical Alternatives
1269 Elati Street, Denver, CO


745 E. 6th Ave , Denver, CO


2262 S Broadway, Denver, CO


The Giving Tree of Denver
2707 W. 38th Avenue, Denver, CO


Buddy Boy Brands - Walnut
3814 Walnut Street , Denver, CO


955 East 58th Ave , Denver, CO


Where to find weed in
Colorado

?
Cannabis Deals and Specials Updated Daily
Colorado was the first state along with Washington to legalize marijuana.
If you are buying weed in
Denver
,
Boulder
,
Colorado Springs
, or
Pueblo
look no further. Whether medical or recreational, finding the nearest
dispensary
,
headshop
,
growstore
, or cannabis related
product
is just a click away.
Colorado dispensaries provide you with up to date deals and menu information. With over 6,530 active MMJ coupons, specials and weed deals you will be sure to save money on all your favorite cannabis
strains
,
concentrates
and
edibles
.
Colorado Dispensaries, Headshops, and Growstores post menu and deal information in real-time. With Marijuana prices fluctuating you can always be sure to get the best deal for your money.
With Leafbuyer's interactive mapping feature, buying weed in
Denver
,
Colorado Springs
,
Boulder
,
Pueblo
or anywhere in
Colorado
is just a click away.
---
Errl's Guide to Colorado Cannabis
Recreational marijuana stores opened in Colorado on January 1st, 2014, making Colorado the first state in the nation to legally allow recreational sales of cannabis. Medical marijuana has been legal in Colorado since 2001 ?though a regulated dispensary system didn?t emerge for almost another decade. All adults 21 or older can now purchase up to 28 grams of marijuana in Colorado. However, cannabis products must not leave the state, and marijuana in Colorado cannot yet be consumed in public. If you are caught consuming in public you may run the risk of receiving a citation.
Now that you know some of the basic rules, Leafbuyer is here to help you buy and save on Colorado cannabis products. We have hundreds of marijuana Dispensaries listed in Colorado and many Dispensaries located in Denver - find the one that's right for you! Once you have located a Dispensary, Grow Store, or Head Shop, find a deal and save!
Key things to remember before purchasing or consuming legal marijuana in Colorado:
You must be 21 or older to possess marijuana (unless you have a red card for medical marijuana)
Recreational consumers (tourists and locals) can legally purchase up to 28 grams of marijuana flower, 8 grams of concentrates, or 80 10-milligram servings of edibles THC.
Marijuana products cannot leave Colorado
Don't consume marijuana products in public
Use Leafbuyer to Locate all marijuana Dispensaries, Grow Stores and Head Shops in Colorado
Use Leafbuyer to Save on thousands on marijuana Dispensary products
Full Colorado Marijuana Guide
Marijuana Guides