Thousands of Offers. Millions in Savings.

Get the best cannabis deals sent straight to you...
Get access to exclusive deals & inside info on community events and giveaways!
Learn About Marijuana In New Jersey
---
Frequently Asked Questions About Marijuana in New Jersey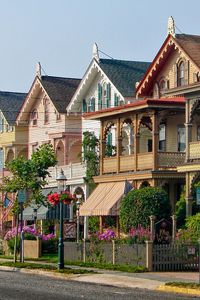 The birthplace of baseball and Frank Sinatra, New Jersey holds a unique place in American history and is currently home to over 8.9 million residents. Whether you are taking a stroll along the famed Jersey Shore, gambling in Atlantic City, or experiencing the second-oldest art collection and museum in the United States at Princeton, the state of New Jersey hosts a complex, diverse blend of culture, industry, and community.
Is Marijuana Legal in New Jersey?
New Jersey has legalized marijuana under limited circumstances.
When did Marijuana Become Legal in New Jersey?
New Jersey passed the Compassionate Use of Medical Marijuana Act (CUMMA) in 2010, making marijuana consumption for medical purposes legal. However, the program remains one of the most complicated and restrictive in the country.
Where Are New Jersey Dispensaries Located?
The state has divided the state into three districts which are guaranteed at least two dispensaries or "alternative treatment centers" - the northern, central, and southern regions. As of July 2018, the state is looking into doubling the amount of medical marijuana dispensaries from six to 12..
Does New Jersey Have Medical Dispensaries? Recreational?
Alternative treatment centers in New Jersey are only able to sell marijuana to patients actively registered in the New Jersey medical marijuana program.
Who Can Be a Medical Marijuana Patient in New Jersey?
To become a medical patient, a state-certified physician with an active controlled substances prescription license must first certify, in their opinion, a patient may receive therapeutic benefit from the use of medical marijuana.
Though the state allows individuals to petition to have additional conditions and diseases added, the state currently accepts the following conditions:
Chronic pain resulting from musculoskeletal disorders or of visceral origin
Amyotrophic lateral sclerosis
Inflammatory bowel diseases such as Crohn's disease
Other terminal illness with less than 12 months of life expected
In the event a patient is resistant to traditional therapies, the following conditions may be approved:
Severe or persistent skeletal muscular spasticity
Seizures and related disorders, including epilepsy
Post-Traumatic Stress Disorder (PTSD)
In the event a patient has been diagnosed with HIV, AIDS, or non-terminal cancer, the patient must experience at least one of following complications:
Severe or chronic pain

Severe nausea or vomiting

Cachexia or wasting syndrome
Minors aged 18 and younger may be enrolled into the medical marijuana program by their parent or legal guardian, as long as they are diagnosed with one of the approved conditions and receive a medical certification from three licensed doctors.
How Do I Register to Be a Medical Patient in New Jersey?
A patient must establish a patient-doctor relationship before they may receive a marijuana recommendation. New Jersey currently defines a valid patient-doctor relationship as:
The relationship has existed for at least one year; or

The physician, on no less than four occasions, has assessed the patient for the debilitating medical condition; or

After the physician performs a comprehensive review of the medical history of a patient, including a physical examination and review of the medical information kept by other treating physicians over the course of previous treatments, the physician assumes responsibility for the care and treatment of the patient
After a patient receives a certification from your physician, they will provide the patient with a state-issued PIN, giving the patient the ability to submit the application and all vital details to the New Jersey Department of Health.
The application for medical marijuana in New Jersey costs $200 and must be submitted annually. If a patient can demonstrate financial need, the cost may be dropped to $20. Once the patient has entered all the required information and has selected an alternative treatment center or a caregiver if necessary, the physician is able to submit an order for medical marijuana to the treatment center based on the reasonable treatment needs of each patient.
Where Can I Consume Marijuana in New Jersey?
New Jersey prohibits the smoking of marijuana in any public place, including any place where tobacco is prohibited under indoor clean air laws. Additionally, smoking marijuana is not to be done in a school bus or on any school grounds, at any correctional facility or detention center, or at any public park, beach, or recreation center.
The consumption of marijuana-infused products, such as edibles, or infused oils are able to be used discreetly in most public places. New Jersey prohibits the smoking of medical marijuana:
In a school bus

On the grounds of any school, public or private

In a moving, operational private vehicle

At any correctional facility or detention center

Anywhere that

smoking or vaping of tobacco

products are forbidden
New Jersey has not made the same distinction with marijuana-infused products, allowing the assumption that valid patients could possess and consume medicated edibles or other marijuana-infused products in most public places without worry or concern.
How Do I Get a Job in the New Jersey Marijuana Industry?
New Jersey requires treatment center employees to carry an identification badge whenever performing marijuana-related activities at work. In order to receive the badge, you must first be a New Jersey resident age 21 or older.
Individuals seeking employment must not have been convicted of a felony charge or any criminal drug-related offense, such as distribution. In order to verify this, you must submit to a criminal background check, which may either be paid for by the alternative treatment center or by the individual.
Is Drug Testing for Marijuana Legal in New Jersey?
Physicians, Patients, caregivers, alternative treatment centers are generally protected from discrimination when it comes to actions from any professional, civil, or administrative body.
However, employers are not required to allow the use of medical marijuana in the workplace; therefore, the use of medical marijuana at work remains a punishable, and potentially fireable, offense.
Is Delivery of Marijuana Legal?
New Jersey does not allow the delivery of medical marijuana from the dispensary or alternative treatment center to the patient. Caregivers may purchase and transport marijuana on the behalf of the patient.
How Do I Pay for Marijuana in New Jersey Dispensaries?
Due to the continued federal prohibition of marijuana, banking for New Jersey dispensaries remains a challenge. Resultantly, dispensaries conduct sales with cash, primarily.
---
New Jersey Marijuana Laws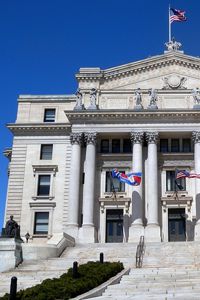 New Jersey began its journey into the medicinal use of marijuana in 2010 when lawmakers in the state government passed a bill enacting the "New Jersey Compassionate Use of Medical Marijuana Act".
Created to provide those with debilitating conditions access to alternative treatment, the program has led to a very impactful shift of public understanding and policy over marijuana.
Purchase and Possession Limits
After a patient has been certified as having one of the diseases or conditions approved by the New Jersey medical marijuana program, the state requires the physician to submit a medication order to the dispensing location, or alternative treatment center, on behalf of the patient.
The order is to be dispensed in packages containing no more than 1/4th an ounce (seven grams) of marijuana or the equivalent in marijuana-infused products.
The ordering physician is able to order a maximum of two ounces in any 30-day period. In any 30-day period, the patient or his or her primary caregiver may purchase as much as the doctor orders to adequately address the patient symptoms, as long as the total amount is no more than two ounces.
Two ounces is the generally-accepted possession limit as well, though there is no definite limit designated.
If a person who is neither a patient or caregiver is caught in possession of 50 grams or less (for reference, two ounces is roughly 56 grams), they are subject to fines up to $1,000 and as much as six months in a correctional facility.
Growing Marijuana at Home
Under the current marijuana laws in New Jersey, only licensed facilities may grow marijuana. Individuals, including those registered with the state as medical marijuana patients, caught in possession of growing cannabis plants are subject to mandatory minimum sentencing, which may include as many as five years in prison and fines of up to $25,000 just for having one or two small plants.
Marijuana and Driving
Driving While Intoxicated
The Compassionate Use of Medical Marijuana Act specifically prohibits any registered patient from being in operational control of any vehicle, train, aircraft, or stationary heavy equipment while under the influence of marijuana.
Any individual caught operating a motor vehicle while under the influence of marijuana is subject to fines up to $500 dollars, a minimum of a seven-month suspension of driving privileges, and up to 30 days of jail.
Driving While in Possession of Marijuana
New Jersey allows any patient or caregiver active in the state registry to transport medical marijuana or marijuana-infused products as long as they are not being used while the vehicle is moving.
Caregivers are prohibited from consuming medical marijuana products under any condition. Transporting product to neighboring New York or Pennsylvania may lead to charges of interstate drug trafficking.
For qualifying patients, this means it is possible to take a trip around the Garden State with access to medical marijuana products.
Marijuana and Minors
The New Jersey Compassionate Use of Medical Marijuana Act allows minors under the age of 18 to be registered to the program by their parents or legal guardian. New Jersey requires any minor patient to be evaluated by three different physicians, including a pediatric specialist and a psychiatrist. The risks and benefits must be explained in detail to the parent or legal guardian, as well as the minor when appropriate, and the parent or guardian must consent in writing.
Any person caught under the influence of marijuana who is not a medical marijuana patient is subject to misdemeanor criminal charges, which can include fines up to $1,000 and as much as six months in jail.


Get Exclusive Local Cannabis Deals! Just enter your email address and city in the form below
Your information will remain confidential and will not be sold or otherwise shared.

Questions, comments, suggestions and praise
If you have any ideas, comments or suggestions regarding the site or if you are experiencing problems using the site, please feel free to let us know.
Please wait...processing form.


Thank you! Your message has been received.
We will get back to you shortly.


Thank you for your interest in Leafbuyer! Please complete the form below and upload your resume. We will contact you shortly.
Please wait...processing form.


Thank you! Your message has been received.
We will get back to you shortly.

Leafbuyer complies with state laws regarding access to marijuana-related products. To continue, you must be 21 years of age or older or hold a valid medical marijuana card?

Are you eligible to continue?





We're sorry but we cannot let you continue to use the site.