Thousands of Offers. Millions in Savings.

Get the best cannabis deals sent straight to you...
Get access to exclusive deals & inside info on community events and giveaways!
---
Frequently Asked Questions About Marijuana in New Jersey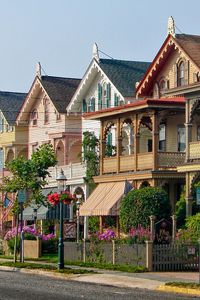 The birthplace of baseball and Frank Sinatra, New Jersey holds a unique place in American history and is currently home to over 8.9 million residents. Whether you are taking a stroll along the famed Jersey Shore, gambling in Atlantic City, or experiencing the second-oldest art collection and museum in the United States at Princeton, the state of New Jersey hosts a complex, diverse blend of culture, industry, and community.
Is marijuana legal in New Jersey?
New Jersey has legalized marijuana for medical purposes; however, the program remains one of the most complicated and restrictive in the country.
When did marijuana become legal in New Jersey?
New Jersey passed the Compassionate Use of Medical Marijuana Act (CUMMA) in 2010.
Where are the dispensaries?
The state has divided the state into three districts which are guaranteed at least two dispensaries or "alternative treatment centers" - the northern, central, and southern regions. As of March 2017,
all six alternative treatment centers
have been licensed, with five dispensing medical marijuana and marijuana-infused products to qualified patients.
Are they MED or REC dispensaries?
Alternative treatment centers in New Jersey are only able to sell marijuana to active patients in the New Jersey medical marijuana program.
Who can be a medical patient in New Jersey?
To become a medical patient, a state-certified physician with an active controlled substances prescription license must first certify, in their opinion, that a patient may receive a therapeutic benefit from the use of medical marijuana. Though the state allows individuals to add additional conditions and diseases, the state currently accepts the following conditions:
Amyotrophic lateral sclerosis (ALS)
Multiple sclerosis (MS)
Muscular dystrophy
Inflammatory bowel disease, such as Crohn's disease
Terminal cancer
In the event a patient is resistant to traditional therapies, the following conditions may be approved:
Severe or persistent skeletal muscular spasticity
Glaucoma
Seizures and related disorders, including epilepsy
Post-Traumatic Stress Disorder (PTSD)
In the event a patient has been diagnosed with
HIV, AIDS,
or non-terminal cancer, the patient must be experiencing at least one of following complications:
Severe or chronic pain
Severe nausea or vomiting
Cachexia or wasting syndrome
Minors 18 and under may be enrolled into the medical marijuana program by their parent or legal guardian, as long as they are diagnosed with one of the approved conditions and receive a medical certification from three licensed doctors.
How do I become a medical patient in New Jersey?
A patient must establish a patient-doctor relationship before they may receive a marijuana recommendation. New Jersey currently defines a valid patient-doctor relationship as:
The relationship has existed for at least one year; or
The physician, on no less than four occasions, has assessed the patient for the debilitating medical condition; or
After the physician performs a comprehensive review of the medical history of a patient, including a physical examination and review of the medical information kept by other treating physicians over the course of previous treatments, the physician assumes responsibility for the care and treatment of the patient.
After you receive a certification from your physician, they will provide you with a state-issued PIN, giving you the ability to submit the application and all vital details to the New Jersey Department of Health. The application costs $200 and must be submitted annually. If a patient can demonstrate financial need, the cost may be dropped to $20. Once the patient has entered all the required information and has selected an alternative treatment center
or a caregiver if necessary
, the physician is able to submit an order for medical marijuana to the treatment center based on the reasonable treatment needs of each patient.
Where can I smoke?
New Jersey prohibits the smoking of marijuana in any public place, including any place where tobacco is prohibited under clean air laws. Additionally, smoking marijuana is not to be done in a school bus or on any school grounds, at any correctional facility or detention center, or at any public park, beach, or recreation center.
The consumption of marijuana-infused products, such as edibles, or
infused oils
are able to be used discreetly in most public places.
How much does marijuana cost in New Jersey?
New Jersey is reported to have some of the highest prices in the country for marijuana.
According to a government report on pricing
in late 2015, one ounce of marijuana from a New Jersey alternative treatment center averages $489 dollars. According to the same report, over 90% of sales are for one ounce or less.
How much marijuana can I buy and possess in New Jersey?
New Jersey requires the physician to submit an order to the dispensing location selected by the patient. The doctor may order products in 1/4th-ounce packages, with a maximum of two ounces in any thirty-day period.
Can I grow marijuana? How many plants?
Only licensed treatment centers may grow marijuana.
How do I get a job in the marijuana industry of New Jersey?
New Jersey requires
treatment center employees
to carry an identification badge whenever performing marijuana-related activities at work. In order to receive the badge, you must first be a New Jersey resident age 21 or older. You must not have been convicted of a felony charge or any criminal drug-related offense, such as distribution. In order to verify this, you must submit to a criminal background check, which may either be paid for by the alternative treatment center or by the individual.
Is Drug testing for marijuana legal in this state?
Physicians, Patients, caregivers, alternative treatment centers are generally protected from discrimination when it comes to actions from any professional, civil, or administrative body. However, employers are not required to allow the use of medical marijuana in the workplace; therefore, the use of medical marijuana at work remains a punishable offense.
Is Delivery legal?
New Jersey does not allow delivery of medical marijuana from the dispensary or alternative treatment center to the patient. Caregivers may purchase and transport marijuana on the behalf of the patient.
How to pay for marijuana in New Jersey dispensaries?
Due to the continued
federal prohibition of marijuana
, New Jersey dispensaries conduct most sales with cash.
---
New Jersey Marijuana Laws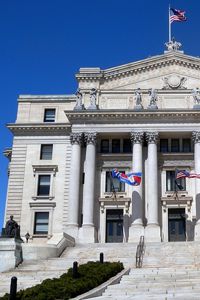 New Jersey began their journey into the medicinal use of marijuana in 2010 when lawmakers in the state government passed a bill enacting the "
New Jersey Compassionate Use of Medical Marijuana Act
." Created to provide those with debilitating conditions access to alternative treatment, the program has led to a very impactful shift of public understanding and policy over marijuana.
Purchase and Possession Limits
After a patient has been certified as having one of the diseases or conditions approved by the New Jersey medical marijuana program, the state requires the physician to submit a medication order to the dispensing location, or alternative treatment center, on behalf of the patient. The order is to be dispensed in packages containing no more than 1/4th an ounce of marijuana or the equivalent in
marijuana-infused products
.
The ordering physician is able to order a maximum of two ounces in any 30-day period. In any 30-day period, the patient or their primary caregiver may purchase as much as the doctor orders to adequately address the patient symptoms, as long as the total amount is no more than two ounces. Two ounces is the generally accepted possession limit as well,
though there is no definite limit designated
.
If a person who is neither a patient or caregiver is caught in possession of 50 grams or less (for reference, two ounces is roughly 56 grams), they are subject to fines up to $1,000 and as much as six months in a correctional facility.
Driving while Intoxicated
The Compassionate Use of Medical Marijuana Act specifically prohibits any registered patient from being in operational control of any vehicle, train, aircraft, or stationary heavy equipment while under the influence of marijuana.
Any individual caught operating a motor vehicle while under the influence of marijuana is subject to fines up to $500 dollars, a minimum of seven-month suspension of driving privileges, and up to thirty days of imprisonment.
Driving while in possession of marijuana
New Jersey allows any patient or caregiver active in the state registry to transport medical marijuana or marijuana-infused products as long as they are not being used while the vehicle is moving. Caregivers are prohibited from consuming medical marijuana products under any condition. Transporting product to neighboring New York or Pennsylvania may lead to charges of interstate drug trafficking.
For qualifying patients, this means it is possible to take a trip around the Garden State with access to medical marijuana products.
Marijuana Use by Minors
The New Jersey Compassionate Use of Medical Marijuana Act allows
minors under 18
to be registered to the program by their parents or legal guardian. New Jersey requires any minor patient to be evaluated by three different physicians, including a pediatric specialist and a psychiatrist. The
risks and benefits
must be explained in detail to the parent or legal guardian, as well as the minor patient when appropriate, and the parent or guardian must consent in writing.
Any person caught under the influence of marijuana who is not a medical marijuana patient are subject to misdemeanor criminal charges, which can include fines up to $1,000 and as much as six months in jail.
Growing Marijuana at Home
Under the current marijuana laws in New Jersey, only licensed facilities may grow marijuana. Any individual, including those registered with the state as a medical marijuana patients, caught in possession of
growing
cannabis plants are subject to
mandatory minimum sentencing
, which may include as much as 5 years in prison and fines of up to $25,000 just for having one or two, small plants.
Places to Consume Legally
New Jersey prohibits the smoking of medical marijuana:
In a school bus
On the grounds of any school, public or private
In a moving, operational private vehicle
At any correctional facility or detention center
Anywhere that smoking or vaping of tobacco products are forbidden
New Jersey has not made the same distinction with marijuana-infused products, allowing valid a patient to possess and consume medicated edibles or other marijuana-infused products in most public places without worry or concern.
New Jersey Marijuana Prices and Economic Data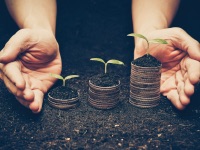 New Jersey has a population of over 8.9 million people, yet the state has only 10,799 patients actively registered in the state medical marijuana program. Though the program itself is seven years in the making, 2016 saw the largest amount of growth in patients registered, adding 4,735 active patients in the 12-month period.
Sales by Weight
There are over 500 doctors registered to provide
medical marijuana
recommendations across the state. The recommending physician is required to submit an order for each patient for as much as two ounces of marijuana in any 30-day period.
As a requirement of the laws enabling the New Jersey medical marijuana program, a yearly report of patient volume, demographic information, physician registrations, active caregivers, and sales by volume numbers are to be compiled and reported by the New Jersey Department of Health to assess the value of the industry and make recommendations. In 2016, there was five fully operational New Jersey alternative treatment centers who collectively sold 2,693.8 lbs of marijuana or the equivalent of 43,100.8
ounces
of marijuana.
According to a report released in March of 2016, the average price per ounce of marijuana flower was $489 but may range anywhere from $425-$525 per ounce. By rough estimate, this puts sales in 2016 at over $21 million for the year. The state levies the
general sales tax
of 6.875% on medical marijuana sales, 2016 generated nearly $1.5 million in tax revenues, in addition to application fees and licensing costs, which brought in $881,358 in 2016.
It is unclear where the taxes are spent, though the fees and application costs are used to offset the costs of the program's oversight.
Marijuana Activities: Things to do in New Jersey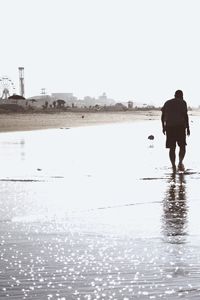 One of the first states explored by Europeans, New Jersey provides the hustle-and-bustle of city life and a multicultural population. The result: nearly endless activities and events around the year. As marijuana reform further penetrates the northeastern U.S. - with Massachusetts and Maine securing adult legalization in the
latest election cycle
- the region is bracing for cannabis-related festivals, events, and tourism. Until then, New Jersey allows medical patients to consume or use medical marijuana in an edible or topical form in many public places.
The Jersey Shore
A famous New Jersey attraction, the Jersey Shore refers to over 140 miles of beach shores lining various New Jersey coastal cities. The Jersey Shore is home to restaurants, theme parks, bars, hotels, casinos, fishing, boating, and a number of other activities. The Wildwoods boardwalk is lined with shops, vendors, and food carts. With over 100 rides and attractions, the 38-block boardwalk will certainly keep you entertained.
Princeton University Art Museum
A collection of over 92,000 pieces of artwork from all over the world, the
Princeton University Art Museum
hosts styles between ancient and contemporary and carries works from all over the world. The museum was formally created in 1882, making the facility as old, if not older, than many of the states in the US. Plus, admission is free!
Atlantic City
Atlantic City is the closest thing the northeast has to Las Vegas, complete with flashing lights, free drinks, and a variety of good ways to lose (or win) money. Home to shows and performances around the year, casinos attract a number of visitors from neighboring states, as well as the international community. The Atlantic City boardwalk has lasted in the test of time, having been built in 1870, and continues to host the same ocean-side views alongside soft-serve ice-cream and high-end retailers.
In 2017, the CHAMPS Trade Show will be making a stop in Atlantic City. The
Champs Trade Show
is the self-described "premier counterculture B2B expo since 1999." Hosting three-day long events several times a year, every Champs Trade Show is loaded with vendors and products that are both innovative and practical and includes a glass blowing competition.
Wait! You're missing the Best Weed Deals...
Get access to exclusive deals & inside info on community events and giveaways!
As seen on: