Thousands of Offers. Millions in Savings.

Get the best cannabis deals sent straight to you...
Get access to exclusive deals & inside info on community events and giveaways!
---
Frequently Asked Questions About Marijuana in Massachusetts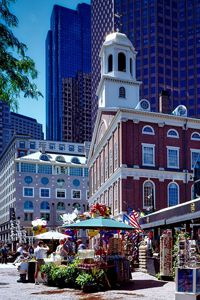 They say good things come in threes. With Ballot Questions 2, 3, and 4 over the past few election cycles, Massachusetts has agreed to respect the will of its citizens and taken a legislative 180 degrees on many marijuana-related policies. Now, Massachusetts marijuana laws are progressing onward, besting other East coast states with a flow of independence that Thomas Paine would support.
Is marijuana legal in Massachusetts?
It is! In fact, the legal status of marijuana in Massachusetts falls under multiple legal definitions in regard to access, possession, and use. Here is the legal timeline:
2008 - Question 2 transitions marijuana enforcement from criminal to civil offenses under specific circumstances. While not strictly legalizing it, possession of marijuana went from a severe cultural ailment to a mild fine ($100). Specifically, this allows youth over 18 but under 21 to be spared life-ruining criminal charges.
2012 - Question 3 created the legal framework for Massachusetts medical marijuana. Under certain conditions, patients could now legally use, possess, and cultivate marijuana.
2016 - Question 4 orders the implementation of Massachusetts boldest marijuana policy yet: full adult legalization.
Where are the dispensaries?
There are currently a
total of nine medical dispensaries
from Brockton to Salem, with several in the surrounding Boston area. These medical shops will continue to operate as adult-use cannabis enters the state.
Are they medical or recreational dispensaries?
Massachusetts is well on their way to state-licensed retail marijuana; however, recreational dispensaries won't be popping up until after the legislature has created the regulatory and licensing environment for the program - expected July 2018. Until then, Massachusetts has only
medical dispensaries
.
Who can purchase medically in Massachusetts? Who can purchase recreationally?
Medical patients are typically 18 years or older, with exceptions for pediatric patients under specific circumstances. A patient may assign a caregiver age 21 or older to pick up or grow medical marijuana on their behalf.
Adults aged 21 and up are able to purchase, possess, and use marijuana with certain limitations.
How do I become a medical patient in Massachusetts?
The Massachusetts medical marijuana program accepts medical marijuana certifications from
qualified state-licensed physicians
for the following medical conditions:
Multiple sclerosis
Cancer
Acquired immune deficiency syndrome (AIDS)
Glaucoma
Human immunodeficiency virus (HIV)
Hepatitis C
Amyotrophic lateral sclerosis (ALS)
Crohn's disease
Parkinson's disease
The physician may recommend marijuana to patients with other conditions or illnesses deemed "debilitating." In Massachusetts, this definition includes weakness from cachexia (aka wasting syndrome), intractable pain, or nausea, and the illness must be causing fundamental reductions in the quality of life.
Once a qualified individual has received certification to use cannabis from their physician, the physician will submit the registration to the
Massachusetts Department of Health
. Within a few days, an email will be sent out to the medical applicant with a registration PIN. At this point, the patient must pay a $50 registration fee, though this may be waived if certain financial conditions are met.
Where can I smoke?
Recreational cannabis is to be neither smoked nor eaten in a public space. Private residences and property remain the best place to consume for adults aged 21 and up. Question 4 does authorize the use of marijuana in establishments licensed for that purpose.
Medical patients may eat, but not smoke, marijuana products in public spaces.
How much does marijuana cost in Massachusetts?
While Massachusetts forbids dispensaries from publishing pricing data, information gathered through the grapevine indicates that an eighth of flower costs around $50 while an ounce can be as much as $350. A gram of concentrate, on average, costs between $50-$60. These costs are quite similar to other States with recently-legalized marijuana.
How much marijuana can I buy and possess in Massachusetts?
Medical patients are restricted by purchase limits to ten ounces every sixty day period, and patients are allowed to possess no more than 10 ounces at any time. The physician may recommend additional limits based on an individual's treatment plan. Adults age 21 and up
may purchase and possess up to one ounce
of marijuana flower or up to five grams of marijuana concentrates.
Can I grow marijuana in Massachusetts? How many plants?
Both adult-use and medical marijuana laws in Massachusetts allow for the limited at-home cultivation of marijuana. Medical patients must file for hardship cultivation, providing evidence of limited financial access or mobility complications in getting to a dispensary in order to be able to grow at home. If successful, the patient or their caregiver may cultivate limited plants to produce only enough for a 60 day supply.
Adults age 21 and up may grow up to six plants per individual with a twelve plant maximum in each residence. In either case, cultivation must be done in a manner that is out of sight, locked, and secured.
How do I get a job in the marijuana industry of Massachusetts?
Massachusetts dispensary agents must be 21 or older and cannot have had a felony-level drug conviction in the United States.
Initial registration fees are $500
. Every year thereafter, a $500 license renewal fee is required.
Is Drug testing for marijuana legal in this state?
Adults and medical patients are not protected against employer drug testing under Massachusetts law. Though it may be legal under state law, the employer is responsible for federal regulatory compliance, including drug-free workplace regulations.
Is Delivery legal?
Delivery of marijuana is legal in Massachusetts for adults and patients. Furthermore, municipalities cannot ban the transportation of marijuana on any public road.
How to pay for marijuana in Massachusetts dispensaries?
In general, purchases made at dispensaries,
for the time being
, are primarily cash. You may use your debit card, though the transaction is tantamount to an ATM withdrawal.
---
Massachusetts Marijuana Laws

Massachusetts has spent nearly a decade implementing different versions of marijuana reform. In 2008, the passage of
Question 2 (65.2%-34.8%
) removed many criminal penalties for possession and use of marijuana, and replaced them with civil charges, including a $100 fine for first offenses.
A reformation backed by compassion, Question 3 was enacted in 2012, passing with 63% support. Question 3 was intended to set up the framework allowing qualified doctors to recommend patients suffering from specific debilitating health conditions. Since the law was enacted, over 30,000 patients have registered within the program.
And finally, Massachusetts Question 4 passed in November 2016 with 54% support. Enacted on December 15th, 2016,
Question 4
ruled that marijuana possession, use, and cultivation legal for adults 21 and over.
While Question 2 has become less relevant since legalization in 2016, the fines and penalties for public consumption or youth possession directly translate to the Massachusetts legal marijuana industry.
Purchase and Possession Limits
Possession limits depend on where you are, your age, and if you are a registered medical patient. For instance, possession of marijuana for adult recreational consumers is
limited to one ounce of flower in public
(or up to five grams of concentrated marijuana), but as much as ten ounces at home in a locked and secure place. In contrast, medical patients are allowed up to ten ounces of marijuana during a two-month period.
Adults caught with over one ounce on their person are subject to misdemeanor charges, six months in jail, and a $500 fine. If you get caught again, the fine goes up to $2,000 with up to two years incarceration.
Adults may gift up to one ounce of marijuana flower or up to five grams of marijuana concentrates to any individual 21 and over under two conditions:
The transaction was not something advertised or solicited.
Nothing of value was exchanged for the marijuana.
Patients under 18 cannot purchase their own products. Such purchases can only be made by the patient caregiver.
Driving while Intoxicated
No legal reason exists to drive while under the influence of marijuana. This applies equally to both recreational and medical marijuana consumers. While the law does allow for the use of marijuana, the laws remain unchanged when it comes to the physical control of a car, boat, or
any other form of motorized transportation
.
Penalties for operating a vehicle while under the influence may include fines up to $5,000, a one-year suspension of driving privileges, and up to 30 months of house arrest. Alternatively, this can include probation and mandated drug-abuse counseling.
It is unclear at this time whether the state intends to refine the definition of marijuana intoxication.
Colorado
, for instance, has enacted a five nanogram limit of THC when evaluating intoxication.
Driving while in possession of marijuana
Marijuana may be transported within the state by medical patients and adults 21 years and older; however, this too has its limits. Transporting marijuana around the state for personal use is acceptable as long as the package remains unopened. The equivalent of an open container of alcohol, an opened package of cannabis can yield adult consumers or patients a fine up to $500. This extends to most places within the vehicle,
yet the law specifies the vehicle's trunk and the locked glove box
as not included in the legal definition of "passenger area" of a vehicle.
Marijuana Use by Minors
Under Question 3, pediatric and youth patients under 18 are eligible to participate in the program. In order to receive a physician certification, the patient must be evaluated by two licensed physicians - one of whom must be a board-certified pediatrician. These doctors must diagnose a life-limiting illness with reasonable estimates of death within 24 months or a non-terminal, debilitating illness and engage in a thorough discussion of possible neurological risks with the patients and their guardians. All of this must be documented in the certification. Patients under 18 are not eligible to purchase their own medicine. As a result,
parents are required to register as the patient caregiver
.
Growing Marijuana at Home
Adults 21 and over are permitted to cultivate up to six plants per individual. The total number of plants in any one residence cannot exceed twelve. The plants must be hidden from public view and kept locked and secure. Any person caught in violation of any of these provisions may find their plants confiscated and up to a $300 fine.
Medical patients are similarly eligible to cultivate marijuana in their or their caregiver's residence. The authorizing physician may recommend the cultivation of more than six plants based on anticipated patient need for treatment. Ultimately, patients are expected to grow the approximate equivalent of a 60 day supply.
Places to Consume Legally
Public consumption of marijuana, except at venues specifically licensed for the activity, is strictly forbidden for recreational customers. This includes smoked, eaten, and topically-applied forms of cannabis or cannabis products. In contrast, medical patients are restricted from smoking marijuana in public, yet the law purposefully
omits the topic of edible marijuana products
.
Massachusetts Marijuana Prices and Economic Data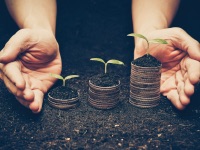 Only time will tell if the implementation of the recreational marijuana market will pressure price changes. Until then, the state medical market offers products within the following pricing ranges:
Flower
1 gram: $15 - $20
1/8th oz: $45 - $50
1/4 oz: $90 - $100
1/2 oz: $180 - $200
1 oz: $350 - $380
Concentrates
1 gram wax/shatter: $50 - $80
500mg cartridge: $50 - $60
A 1/8th of cannabis flower is roughly equivalent in price to cartridge and
wax concentrates
pricing. For a single 10mg edible, you'll be spending between $5 - $10. For a multidose package, expect to pay somewhere between $30-$50.
Under Massachusetts law, medical patients are eligible to purchase up to ten ounces in any two month period. When recreational sales begin in 2018, adult consumers may purchase up to one ounce of flower or five grams of marijuana concentrates.
Sales Revenues & Taxes
Under Massachusetts law, sales taxes cannot be applied to medicine. Medical patients in the state, therefore, pay no taxes on medication sales. Many dispensaries sell non-cannabis products which are taxable, yet any revenues collected cannot be distinguished from general sales tax data. Instead, we can estimate sales revenues.
In 2016, Massachusetts dispensaries sold a grand total of
93,440
ounces of marijuana across the state. At a rate of $350 per ounce, we can estimate $32.7 million in sales for 2016. If you add in concentrates, edibles, and all other products, that number jumps to
$52 million
.
Recreational marijuana
is subject to sales tax. Additionally, the state has opted to include a 3.75% excise tax on all sales while allowing municipal governments levy up to an additional 2%. The taxes are to be deposited into a newly created fund titled "the Marijuana Regulation Fund." The fund is where all fees, fines, and tax revenues are deposited, and it is distributed to state governments to cover expenses associated with the administration of the retail program. Any leftover tax revenues will be deposited into the general state fund.
Current estimates in Massachusetts estimate nearly $
1 billion in sales by 2020
.
Marijuana Activities: Things to do in Massachusetts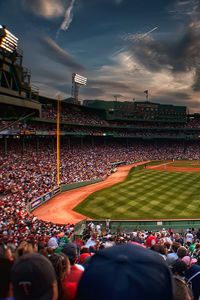 Question 4 is a voter-approved invitation to police marijuana differently. In time, the state's cannabis industry has the potential to expand upon the lessons learned in states like Colorado or Washington - where cannatourism has given rise to a host of
marijuana events
like cannabis yoga or painting classes, glass blowing experiences, smoke and grow tours, and a variety of other festivals, trade shows, and services.
In contrast to Colorado
, Massachusetts specifically allows the legal operation of social marijuana clubs, delivery services, and a 10-ounce at-home possession limit for both medical and recreational consumers. Together, these features will likely make Massachusetts the largest American recreational market in the Northeast.
Bite off a Piece of History
Public consumption may never include smoked marijuana for medical or
recreational consumers
. Still, through edibles or other consumption methods, cannatourists can enjoy the culture and rich history of Massachusetts.
Strolling through the streets, you can tell many of the neighborhoods were meant for carts, not cars. Luckily, you won't have to drive, since the state has plenty of public transportation options to keep you on your historical pilgrimage.
Salem
For most people, the
city of Salem
immediately brings witches to mind. Enlivened by over 200 accusations of witchcraft, including 20 executions, the Salem Witch Trials exemplify paranoia and injustice within public institutions. Over 300 years have passed since these events - longer than most states have existed. Now, for those wishing to delve deeper into the psyche of 17th-century colonialists, bookstores, magic shops, breweries, and Butter Beer can all be found along the quaint cobblestone roadways.
Faneuil Hall
A meeting place for some of the founding fathers, Faneuil Hall refers to the shop-lined cobblestone streets in downtown Boston. In this area, colonists protested the Sugar Tax Act, "no taxation without representation" was coined, and Samuel Adams rallied support. Faneuil Hall retains its historical roots, tempered into a modern urban market.
Today, the Faneuil Hall marketplace is home to world-class restaurants and bars,
attracting over 18 million people annually
.
The Cannabis World Congress and Business Expo
Boston is set to host one of the industry's largest professional events October 4th-6th, 2017. The
Cannabis World Congress and Business Expo
is a collection of worldwide cannabis experts divulging the latest news, solutions, and innovation to the world. Workshops, seminars, and lectures include topics such as banking solutions, cultivation sciences, extraction methodology, vaporizer technology, and inventory tracking.
Wait! You're missing the Best Weed Deals...
Get access to exclusive deals & inside info on community events and giveaways!
As seen on: