Thousands of Offers. Millions in Savings.

Get the best cannabis deals sent straight to you...
Get access to exclusive deals & inside info on community events and giveaways!
Learn About Marijuana In Arkansas
---
Frequently Asked Questions About Marijuana in Arkansas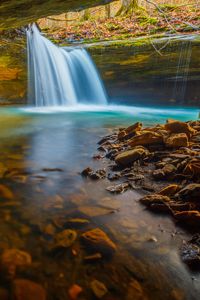 The land of the Ozarks, Arkansas is a state immersed in wilderness. Full of caves, trails, mountains, and hot springs, Arkansas is the home of nearly three million people. Joining over half the country in accepting marijuana for limited medical use, Arkansas represents the first reformative notch on the southern United States Bible Belt. While the industry is not yet operational, this is what we know:

Is marijuana legal in Arkansas?
Arkansas voters have passed laws to allow the medical use of marijuana in patients with life-limiting medical conditions.
When did marijuana become legal in Arkansas?
Voters in Arkansas have voted on two separate occasions on the matter of medical marijuana. Failing
once in 2012,
reform backers crafted another attempt. In
November 2016
, voters would support the program.
Where are the dispensaries in Arkansas?
The rules and regulations have not yet been finalized for the program. Based on the
proposed rules
and the wording of the amendment itself, dispensaries will be licensed separately from cultivation facilities and no more than four dispensary locations may be located in any one county. To help facilitate this, the Arkansas Medical Marijuana Commission has proposed separating the state into eight geographic zones to promote equal distribution of dispensary and
growing
centers and offer at least twenty but not more than forty dispensaries and as many as eight cultivation facilities but no less than four.
Are they MED or REC dispensaries?
Once the rules have been finalized, medical dispensaries will be able to apply for and receive a license to sell marijuana to licensed patients.
Who can be a medical patient in Arkansas? Who can purchase REC?
Medical marijuana must be recommended by a physician (an M.D. or D.O) licensed to practice and prescribe medication, though application and registration procedure has yet to be determined. Arkansas physicians, once able recommend marijuana, can approve the treatment only if the individual has one of the following conditions or diseases:
Cancer
Glaucoma
HIV or AIDS
Hepatitis C
Amyotrophic lateral sclerosis (ALS)
Tourette's syndrome
Crohn's disease
Ulcerative colitis
Post-traumatic stress disorder (PTSD)
Severe arthritis
Fibromyalgia
Alzheimer's disease
Additionally, any condition, disease, or treatment which produces any of the following chronically debilitating symptoms may qualify a person for the medical marijuana program:
Cachexia, known also as wasting syndrome
Peripheral neuropathy
Pain which has not responded to traditional treatment, medication, or surgical procedure for at least six months
Severe nausea
Seizures, such as, but not limited to, those characteristic of epilepsy
Severe and persistent muscle spasms, such as those, without limitation, characteristic of multiple sclerosis
The Department of Health, under the
proposed laws
, could approve additional medical conditions or treatments, but only after public notice and a public hearing.
How do I become a medical patient in Arkansas?
After receiving a recommendation to use medical marijuana from a qualified physician, an individual will submit an application to the Arkansas Department of Health, which includes a $50 annual fee for all patients and caregivers.
Physicians may recommend medical marijuana to minors under 18 only if their parent(s) or legal guardian consents (in writing) to the child's treatment, becomes the minor's caregiver, controls the purchasing the marijuana, and monitors the dosage. Physicians must have a thorough discussion of the potential risks and benefits of medical marijuana with both the patient and their parents or legal guardian and document it before recommending the treatment.
Where can I smoke?
Arkansas continues to prohibit the use of marijuana at a number of locations, including schools and daycare centers, drug and alcohol treatment facilities, youth centers, correctional facilities, and any public place. At this time, medical marijuana may only be used in private residences. Landlords are permitted under the act to prohibit cannabis smoking by any of their tenants, but it is not required.
How much does marijuana cost in Arkansas?
The price of marijuana at Arkansas dispensaries cannot yet be determined, but word through
the grapevine
is the average street price is between $40-$50 per
1/8th
and between $200-$300 per ounce.
How much marijuana can I buy and possess in Arkansas?
Under the
proposed rules
, medical marijuana patients in Arkansas will be able to purchase as much as 2.5 ounces every two weeks, for a total of five ounces per month.
Can I grow marijuana? How many plants?
Arkansas marijuana laws do not currently allow patients or caregivers to grow marijuana at home legally. Only licensed dispensaries or cultivation facilities may grow marijuana.
How do I get a job in the marijuana industry of Arkansas?
The application process has not yet been determined, but the proposed regulations indicate that individuals seeking to work in newly legal medical marijuana industry of Arkansas will have to be at least 21 years of age and have no felony and drug-related crimes in their personal history. The background check is paid for by the applicant, as is the
$50
application fee, which must be renewed annually.
Is Drug testing for marijuana legal in Arkansas?
A patient cannot be
discriminated
upon hire or at any point during employment for simply being registered as a medical marijuana patient. The employer does, however, continues to have authority when it comes to on-the-job use or intoxication and can use drug testing as a method of evaluating intoxication.
Is Delivery legal?
Under the proposed rules for the program, dispensaries will be able to deliver to patients or their caregiver between the
hours of 9:00 am and 7:00 pm
.
How to pay for marijuana in Arkansas dispensaries?
As we've seen in other states with medical marijuana programs, insurance companies are not required to cover costs of medical marijuana. As a persistent reminder of the
illegal status cannabis
continues to hold federally, it is expected Arkansas dispensaries will do most sales in cash.
---
Arkansas Marijuana Laws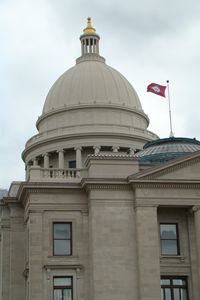 Arkansas voters passed Issue 6, or the Arkansas Medical Marijuana Amendment, in November of 2016, four years after the narrow defeat of a similar measure. Finding 53% support, the measure tasks the state to design, implement, and oversee the medical marijuana program. This includes issuing licenses, promulgating regulations and program rules, enforcement, and compliance efforts.
As soon as it was signed into law, several deadlines, including when the regulations should be completed, when applications should be made available, and when licenses or registrations will be issued, were proposed. As of April 2017, much of the program is waiting for the laws to be finalized. At that point, the rules can be set into motion;
one estimate
expects medical sales to begin as much as a year after the law was enacted.

Purchase and Possession Limits
Medical marijuana patients, once dispensaries are open and available, are allowed to purchase as much as 2.5 ounces of
marijuana
every 14-day period. Any person caught in possession of marijuana who is not a medical patient is subject to Arkansas drug penalties - which are considerably severe. For possession of four ounces or less, misdemeanor criminal charges, fines up to $2,500, and as much as twelve months imprisonment await those caught. Additionally, any person caught possessing marijuana illegally can have their
driver's license suspended
for up to six months.
Driving while Intoxicated
The Arkansas medical marijuana amendment does not allow patients to drive or otherwise operate any type of motor vehicle while under the influence of marijuana, including aircraft, boat, or any vehicle not powered by
muscles.
Included in the penalties for driving while under the influence of marijuana are fines up to $1,000, four-month driver's license suspension, and up to one year in jail for the first offense.
Driving while in possession of marijuana
Arkansas allows patients and their designated caregiver to transport marijuana as long as (a) the products remain in Arkansas (b) the marijuana or
marijuana-infused products
are kept out of reach, out of sight, and in a sealed and labeled container.
Marijuana Use by Minors
Unless the minor has been registered in the medical marijuana program by their parents or legal guardian, he ror she is not permitted to use or possess marijuana.
Minors under 18
who qualify
for the medical marijuana program must designate their parent or guardian as their primary caregiver. The parent or guardian must consent in writing to the treatment, monitor dosage, and make purchases for the minor. The physician must comprehensively discuss the risks and benefits of medical marijuana with the patient and the parents as well.
Growing Marijuana at Home
Under the Arkansas medical marijuana program, marijuana may only be
grown
by licensed cultivation facilities or dispensary locations. Penalties for ignoring these laws are generally classified in two ways: intent to deliver or simple possession. Simple possession would be applied if it seemed reasonable the plant(s) was for personal use. Simple possession of four ounces or less carry lesser criminal charges than intent to deliver possession.
Simple possession is a misdemeanor, $2,500 fine, and up to one year in jail whereas intent to deliver possession (when it reasonably appears the marijuana is being sold), an individual caught with up to four ounces (roughly equivalent to a mature, medium size plant) under this statute would be susceptible to felony charges, up to six years in prison, and fines as high as $10,000.
Places to Consume Legally
Under the amendment legalizing medical marijuana in the state, marijuana cannot be possessed or consumed in any public place. Some example of public places include, but is not limited to:
Schools
Daycares
Community or recreation centers
In any correctional facility
On any form of public transportation, including school buses, taxi cabs, and other public transit
On the property of a drug and alcohol treatment center
Penalties for public use include a six-month suspension of driving privileges, a misdemeanor, fines up to $2,500, and up to 12 months in jail.


Get Exclusive Local Cannabis Deals! Just enter your email address and city in the form below
Your information will remain confidential and will not be sold or otherwise shared.

Questions, comments, suggestions and praise
If you have any ideas, comments or suggestions regarding the site or if you are experiencing problems using the site, please feel free to let us know.
Please wait...processing form.


Thank you! Your message has been received.
We will get back to you shortly.


Thank you for your interest in Leafbuyer! Please complete the form below and upload your resume. We will contact you shortly.
Please wait...processing form.


Thank you! Your message has been received.
We will get back to you shortly.

Leafbuyer complies with state laws regarding access to marijuana-related products. To continue, you must be 21 years of age or older or hold a valid medical marijuana card?

Are you eligible to continue?





We're sorry but we cannot let you continue to use the site.