Thousands of Offers. Millions in Savings.

Get the best cannabis deals sent straight to you...
Get access to exclusive deals & inside info on community events and giveaways!
---
Frequently Asked Questions About Marijuana in Hawaii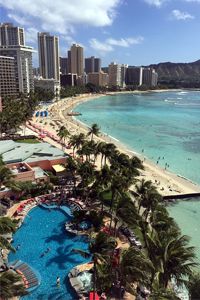 Home to more than 1.4 million residents, Hawaii is a eight-island series located in the Pacific Ocean. Built upon millions of years of volcanic activity, each island is a tropical paradise. One of the few places in the world you can go snowboarding, surfing, and climb an active volcano in a single day, Hawaii is truly a wonder. Here, we dive into the marijuana industry of Hawaii and the upcoming changes.
Is marijuana legal in Hawaii?
Lawmakers in Hawaii have passed medical marijuana laws as a measure of compassion for those with serious, debilitating diseases, and conditions.
When did marijuana become legal in Hawaii?
Hawaii approved
Act 228
, or the Medical Marijuana Registry Program, in 1999, putting the bill into law in 2000. This law allowed patients to register and legally obtain marijuana by growing-at-home or through a caregiver. Many years later, in 2015, Hawaiian lawmakers would expand this system, creating a separate program through which dispensaries may operate.
Where are the dispensaries?
As of March 2017, no dispensaries have yet opened. The state has licensed eight dispensaries. Under each license, as many as two production facilities and two dispensing locations may be permitted. Once the dispensaries are open, the state mandates the following:
Three licenses operate in the city and county of Honolulu
Two licenses be issued for the island of Hawaii
Two licenses be issued for the Island of Maui
One license be issued for the Island of Kauai
Are they MED or REC dispensaries?
Hawaiian marijuana laws currently only apply to medical patients. Once the dispensaries begin to open, only those with a valid medical registration may purchase and
consume
marijuana legally.
The
Marijuana Policy Project
reports 2016 had seen several bills proposed in the Hawaiian legislature that wanted to legalize marijuana for adult use.
Who can be a medical patient in Hawaii? Who can purchase recreationally?
Many of the bills introduced
to Hawaiian lawmakers that would legalize adult-use marijuana specify either 18 or 21 as the age legal sales may occur. While legalization looks promising on the Hawaiian archipelago, in order to purchase marijuana in Hawaii currently, you will first need to see a physician or advanced practice registered nurse (APRN), establish a valid patient-doctor relationship, review your health records, and determine a diagnosis. After reviewing the current research, Hawaii has determined marijuana may provide relief to the following conditions and diseases:
Cachexia (also known as wasting syndrome)
Cancer
Chronic pain
Glaucoma
Severe nausea
Persistent muscle spasms
Post-traumatic stress disorder
Seizures, including epilepsy-type disorders
Persistent muscle spasms, including those seen in Multiple sclerosis (MS) or Crohn's disease
The state allows additional qualifying conditions and diseases to be placed on the list through petition, but the process has yet to be determined by the Department of Health.
How do I become a medical patient in Hawaii?
Though there is no age requirement to participate in the medical marijuana registry, adults age 18 and older are able to complete the process with less scrutiny.
First, you'll want to schedule an appointment with a medical provider capable of recommending medical marijuana. The state requires the applicant to submit an application for initial registration and annual renewal of $35 to the physician, in addition to the costs associated with seeing the medical professional. After being certified as having at least one of the recognized debilitating illnesses, the medical professional is required to submit the certified application to the Hawaii Department of Health. After the Department of Health verifies the information, a registry ID card will be mailed to your home address.
Where can I smoke?
Consumption of marijuana in any form is prohibited in any public place. Additionally, smoking or vaporizing marijuana may not be done anywhere that tobacco smoking is prohibited.
How much does marijuana cost in Hawaii?
Since dispensaries have yet to open doors, the price to active patients is mostly dependent on the costs of growing at home or having a caregiver grow on their behalf.
How much marijuana can I buy and possess in Hawaii?
Hawaiian medical marijuana patients and their caregivers may possess a total of four ounces at any one time.
Can I grow marijuana? How many plants?
Medical patients and their caregivers may
grow
up to seven plants at the home of the qualifying patient, their caregiver, or at another site owned by the patient or caregiver. This information must be documented on the medical marijuana registration. Additionally, all plants must be tagged with the patient registry ID number and expiration date.
How do I get a job in the marijuana industry of Hawaii?
It is unclear at this time if the state will require employees to be licensed. The current laws prohibit anyone under the age of 21 from working as a dispensary agent and require the dispensing facility to provide initial and annual training in subjects such as health and safety, enforcement, and confidentiality.
Is Drug testing for marijuana legal in this state?
The medical use of marijuana is protected from discrimination under certain conditions; however, the law currently
prohibits the use of medical marijuana
at the workplace. Employers are able to use drug testing to assess on-the-job impairment and a variety of other job-related factors.
Is Delivery legal?
Delivery may be between a patient and caregiver only. It must be done using a sealed container that is out of public view and is not consumed during transport. The total amount of marijuana being transported must remain at or below the possession limit of four ounces. At this time, inter-island transport remains illegal.
How to pay for marijuana at Hawaiian dispensaries?
It is expected that most of the sales will be based in cash, with ATMs available on-site. Under the law, Insurance companies are not required to cover treatments and the
continued Schedule I status of marijuana
puts card service providers at risk of being involved in money laundering.
---
Hawaii Marijuana Laws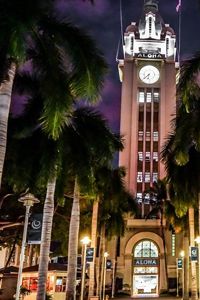 Hawaii was the first state in the U.S. to legalize medical marijuana use through legislative action. Rather than putting it to a vote on a statewide ballot such as California, Oregon, or any of the other early-adopters of medical programs, the Senate, House, and Governor of Hawaii passed the medical marijuana registry program.
After being signed into law, over
thirteen years passed
before the state moved to evolve the program. In 2015, the state moved to expand the industry, ordering the creation a regulatory framework that would allow the licensed operation of marijuana dispensaries, growing facilities, and production centers.
Up until this point, registered patients or their caregiver were required to grow their own medical marijuana and there was no place for an individual to purchase medical cannabis legally. As of March 2017, there are no dispensaries are selling to patients yet.

Purchase and Possession Limits
Active patients and their registered caregiver may possess up to four
ounces
at any one time. The state has not yet identified any equivalency limits between four ounces of marijuana flower and four ounces of marijuana concentrate.
If an individual not registered as a patient or caregiver is caught in possession of less than one ounce of marijuana, they are subject to criminal misdemeanor charges, 30 days in jail, and fines up to $1,000. If a patient or caregiver is caught in possession of more than the four-ounce limit, the same penalties apply.
Driving while Intoxicated
Under no circumstance is being in control of a motor vehicle an acceptable practice under the marijuana laws in Hawaii. It is unclear at this time if the state is creating a program to assess marijuana intoxication beyond the presence of marijuana metabolites, which may be found in urine and hair for several weeks to several months.
Driving while in possession of marijuana
A patient and their registered caregiver may transport medical marijuana as long as the combined total in their possession does not exceed four ounces. While in transit, the marijuana must not be visible to the public and cannot be removed from the container or be consumed or used in any public place.
Marijuana Use by Minors
Children and youth under 18 may be registered in the medical marijuana program under stricter requirements than adult patients. In order for a patient under the age of 18 to be registered in the program, they must receive a certification from a qualified medical professional (an M.D., D.O., or APRN). The medical professional must explain the risk and benefits associated with medical marijuana to the child and, more importantly, to the parent or legal guardian, who must consent in writing. The parent or guardian must register as the caregiver and cultivate the medicine on the behalf of the child. Once dispensaries open, any patient under 18 will be unable to make purchases.
Any individual under 18 caught in possession of marijuana who is not a registered patient is subject to misdemeanor criminal charges and fines as high as $1,000.
Growing Marijuana at Home
Once a patient has been approved by the Department of Health to carry a medical marijuana registration, the patient may choose from three options:
"grow-site" portion of the application. All home-grown marijuana must be labeled with the patient registry ID number and the expiration date.

Places to Consume Legally

Those who are legally permitted to use marijuana for medical purposes are limited in where they can consume. Specifically, patients are never to use, possess, purchase, or transport medical marijuana in any public place, including parks, beaches, youth and recreation centers, on the grounds of any school, or in any way which may put others at risk.

A law put into place in 2015 to lessen discrimination against patients who are lawfully using marijuana ruled two things. First, no school can refuse a person because of their active participation in the medical marijuana registry. Second, no landlord may deny any applicant on the basis of their enrollment in the medical marijuana program.
Hawaii Marijuana Prices and Economic Data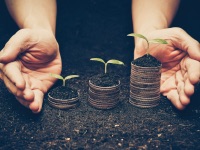 Hawaii has had laws allowing patients with certain illnesses, conditions, and diseases significantly limiting to their quality of life to use marijuana for therapeutic relief since 2000. Despite over 15 years in operation, Hawaii has yet to see a dispensary open doors.
Not having anywhere to purchase marijuana legally has done little to prevent Hawaiian residents from registering within the program. As of February 2017, the state has over 15,000 actively registered patients, with over 1,200 caregivers. That is over 16,000 people who may grow, carry, and transport marijuana under certain conditions.
Hawaii has licensed eight dispensing organizations thus far, but as of March 2017,
no dispensaries have opened
. According to final regulations for the medical marijuana industry, each dispensing organization may operate as many as two dispensaries and two productions facilities per license, as long as the production facilities do not house more than 3,000 plants each. Production includes growing, processing, and manufacturing of marijuana products such as edibles or concentrates. The Department of Health is to evaluate patient need on a per county basis, issuing additional licenses as patient need rises. The current distribution of dispensary operation licenses is as follows:
Three licenses to operate in the city and county of Honolulu, meaning a total of six dispensing locations and six production facilities.
Two licenses will be issued for the island of Hawaii, for a total of four dispensing locations and four production sites.
Two licenses have been issued for the Island of Maui, same as above.
One license has been issued for the Island of Kauai, allowing only two dispensaries and production facilities.
Economic Impacts
It is difficult to estimate how much tax will be collected. As the law currently reads the general excise tax of 4% will be added to medical marijuana sales. If we estimate an ounce costs $300 and that each month every patient will purchase at minimum one ounce, sales at current levels would reach $4.5 million per month or $54 million annually. At the 4% tax rate, this could contribute over $2.1 million dollars to the state annually. After oversight and enforcement, it is not currently clear where the revenue would be spent.
In early 2017,
a bill was introduced to the Hawaii Senate
that would create a special fund for marijuana-related taxes, applications fees, and fines. Should it become law, taxes collected would be distributed to several funds, including law enforcement training and public health efforts.
Marijuana Activities: Things to do in Hawaii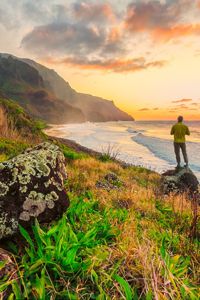 Hawaii is a chain of islands located in the Pacific Ocean, over 1,000 miles west of the California coast. The state contains a series of eight islands, though only four (Hawaii, Maui, Oahu, and Kauai) have large enough populations to sustain modern cities. These islands collectively maintain a strong independent culture, very distinct from mainland United States.
Though the state does not currently allow consumption in public, the budding marijuana industry has inspired a few expos and
events
around the state, in addition to being a hotspot of international tourism.
The Queen's Bath and Waimea Canyon
Kauai, the island where Jurassic park was filmed, is a vibrant, mountainous landscape with enchanting hikes, spectacular beaches, and a variety of reefs just outside the island. The Queen's Bath and Waimea Canyon are both two different examples of geologic wonder. The Queen's Baths are pockets of exposed volcanic rock which, during certain intervals of the day, will fill up with water. Some are made better for risk-takers, with cliffs to be jumped from, while others are just relaxing pools.
On the other side of the island,
Waimea Canyon
is over 3,600 deep, but of course, it starts at well above sea level. Carved over a 14-mile long stretch of rugged mountain peaks, the canyon is unlike anything else in Hawaii and has even been called the "Grand Canyon of the Pacific.â??
Haleakala Crater & Sunset
Maui is the second largest island of the
Hawaiian
Islands. Standing at over 10,000 feet in elevation, the Haleakala Crater is the very top of the volcano that covers - and built - 75% of the island. At sunrise and sunset, the Crater is illuminated by the natural red hues of the sun.
Iolani Palace
In addition to the signature beaches, exposed cliffs, and active volcanos, one of the things that continues to set Hawaii apart from the mainland US is the culture. On Oahu, the
Iolani Palace
is the only historical palace in the United States constructed by an actual King and Queen. Visit the throne room, the dining hall, the private suites, and the grand hall for an inspired look at the elegant history of Hawaii.
Pearl Harbor
A place of historical significance, offering a turning point in the efforts of World War II,
Pearl Harbor
is no less a place of beauty - with crisp, clear blue waters - and a place of historical sorrow. View memorials and live footage from that fateful day. Take a tour of the Harbor and imagine the surprise attack that changed the course of history.
Ski Mauna Kea Volcano
If
snow skiing on a tropical volcano
sounds impossible, the big island of Hawaii would beg to differ. At over 14,000 feet in elevation, the tip-top of Mauna Kea volcano gets just enough snow in the winter months of January through March to blast down the mountain. Be warned, however, no ski resorts or lift tickets will be found here, so you will have to find someone with an ATV or snowmobile to get you up the mountain, but you get to say you skied or snowboarded on a volcano.
Wait! You're missing the Best Weed Deals...
Get access to exclusive deals & inside info on community events and giveaways!
As seen on: