Thousands of Offers. Millions in Savings.

Get the best cannabis deals sent straight to you...
Get access to exclusive deals & inside info on community events and giveaways!
---
Frequently Asked Questions About Marijuana in Vermont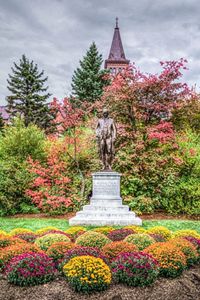 For over a decade, medical marijuana has graced the quaint, lush mountain forests of Vermont. Speckled with beaver ponds, rivers, and over 625,000 residents, Vermont is the inland East Coast in it's most relaxed form. Known for cheddar cheese and maple syrup, the enchanting state continues to inspire a tradition of craft and excellence.
Is marijuana legal in Vermont?
Vermont has legalized marijuana for those who can demonstrate a medical need.
When did marijuana become legal in Vermont?
In 2004, through new legislation - rather than by voter initiative - the state enacted the
Therapeutic Use of Cannabis Act
, formally allowing individuals suffering from a severe and life-limiting diseases or illnesses to use, possess, and cultivate marijuana on a limited basis.
Where are the dispensaries in Vermont?
No more than four dispensaries may be licensed at any time under the
current law
. As of April 2017, one dispensary license has been issued in each of the following cities:
Are they MED or REC dispensaries?
Vermont has made legalized medical
cannabis
and, under current state law, the sale of the cannabis is allowed only at licensed medical dispensaries.
Who can be a medical marijuana patient in Vermont?
Vermont requires a recommendation from a qualified health professional, defined as a licensed physician to practice medicine (M.D.or D.O), physician assistant (P.A), naturopathic physician (N.D.), or advanced practice registered nurse (APRN) before the state will accept an application and issue a registration ID. Though the accepted medical conditions and diseases which a health professional may recommend cannabis can be amended to include other conditions, as supported by
research
. Health professionals may currently recommend marijuana for any of the following
Glaucoma
Multiple sclerosis
Cancer
Human immunodeficiency virus (HIV) or acquired immune deficiency syndrome (AIDS)
A terminal diagnosis
Additionally, any disease, condition, or treatment therein producing any of the following symptoms may also be included:
Cachexia, also known as wasting syndrome
Severe, persistent chronic pain
Severe nausea
Seizures
How do I become a medical marijuana patient in Vermont?
Any resident of Vermont can participate in the medical cannabis program, including minors under 18.
To join the Vermont medical cannabis program, you must be seen, evaluated, and cared for by your healthcare professional for three months prior to them recommending medical cannabis. In the event the patient has cancer, AIDS, or any terminal illness, the three-month requirement can be waived. After receiving a recommendation from an appropriate healthcare professional, patients who are 18 or older must submit an application available through the Vermont Department of Public Safety, including a fee of $50.
Minors may be registered by their parent or legal guardian. The guardian must also consent to the treatment in writing and become the caregiver of minor patients.
Where can I smoke?
Medical patients are prohibited from using cannabis in a way that endangers the health or well-being of another person. In addition, smoking marijuana is specifically forbidden in any public place, which includes school buses and grounds, public transportation, a place of employment, a park, the beach, or any youth and recreation center.
How much does marijuana cost in Vermont?
Information on pricing is scarce, but word through the grapevine is medical cannabis averages between $10-$15 per gram, translating to around $280 per
ounce
. Additionally, Vermont requires dispensary locations to have a sliding scale for pricing based on a patient's ability to pay.
How much marijuana can I buy and possess in Vermont?
Vermont allows patients or their caregiver to possess as much as two ounces of cannabis at any time without fear of legal penalty. Dispensary locations are required to track sales, ensuring patients purchase no more than
two ounces in any 30-day period
.
Can I grow marijuana? How many plants?
A patient or their primary caregiver may grow two (2) mature, flowering plants and as many as seven immature plants.
How do I get a job in the marijuana industry of Vermont?
To work in one of Vermont's four dispensaries,
the state requires
you be a resident age 21 or older and submit a criminal background check, a passport-size photo, and a $50 fee with your application.
Is Drug testing for marijuana legal in Vermont?
The therapeutic cannabis program does not allow patients to be under the influence while at work, allowing employers to continue drug testing practices as long as it is not done discriminatorily.
Is Delivery legal?
Yes, delivery of medical cannabis and cannabis-infused products is legal in Vermont from the dispensary to the patient or their caregiver.
How to pay for marijuana in Vermont dispensaries?
As long as cannabis
remains federally illegal
, dispensary locations in Vermont will continue to do most of their sales in cash transactions.
---
Vermont Marijuana Laws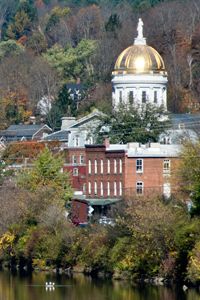 Vermont has had a medical marijuana program since July of 2004, yet the program did not initially give cannabis businesses the ability to sell marijuana to patients. It was not until 2011 that Vermont corrected this issue, signing into law a series of regulations which would support the licensing, oversight, and implementation of medical marijuana dispensaries in the state.
Initially, the laws limited Vermont to four
dispensary
locations which could serve no more
than 1,000 patients at a time.
In 2014, the patient cap was removed and, though the number of dispensaries remained unchanged, dispensary locations were given the authority to deliver cannabis or cannabis-infused products to patients and their primary caregivers.
In 2013, Vermont passed
decriminalization laws
making the possession of small amounts of marijuana for any person 21 and older a fine rather than a criminal offense.
In January 2018, the Governor of Vermont signed
HB511.
├?┬áThis move legalized the possession, growth, and use of marijuana for adults 21 and over.
Vermont became the first state to legalize marijuana use through an act of legislature rather than voter referendum.
Reminiscent of the introduction of the medical marijuana laws in Vermont, the 2018 law allowing adults 21 and older to use, possess, and grow marijuana does not give individuals or companies the authority to sell or process to marijuana products for redistribution.
Purchase and Possession Limits
Medical marijuana patients or their registered caregiver in Vermont may legally possess as much as two ounces at any time and dispensary locations may dispense up to two ounces every month to each individual patient or their caregiver.
Adult marijuana consumers 21 and up can legally
possess as much as one ounce (28 grams) of freshly grown cannabis flower or as much as five grams of hashish or
cannabis concentrates
.
If an individual 21 or older not registered as a medical patient is caught in possession of an ounce or more, a six-month jail sentence and up to a $500 fine may be held against them. Individuals under 21, however, if it is the first offense, will be required to complete a youth substance abuse safety program.
Driving while Intoxicated
Being intoxicated by marijuana while behind the wheel or in operational control of a vehicle, boat, heavy machinery, or any other vehicle powered by
more than just muscles
is expressly forbidden. Any person - including medical marijuana patients - caught driving while under the influence of cannabis
is subject to
90-day suspension of driving privileges, fines up to $750, and a term of imprisonment not more than 24 months.
Additionally, consumption of marijuana while driving is itself a separate offense, punishable by a $500 fine.
Driving while in possession of marijuana
Marijuana can be delivered from a medical cannabis dispensary to a patient. Additionally, a registered patient, their caregiver, and adults 21 and older can transport their
cannabis products
under two main conditions:
The cannabis or cannabis-infused product is in a locked container.

.

The cannabis product never leaves the state.
Marijuana products must be sealed, unopened, for them to be legal to travel with.
Marijuana Use by Minors
Only registered medical marijuana patients under the age of 18 may use cannabis or cannabis-infused products penalty-free. In order for a minor under 18 to be registered with the state program, the parent(s) or legal guardian must register as the primary caregiver and, in writing, consent to the treatment on behalf of their child.
Any person between 16 and 21 years of age caught in possession of cannabis will be referred to the Diversion Program
Youth Substance Abuse Safety Program
, where counseling, education, and treatment for substance abuse can be addressed. Failure to complete a substance abuse program will lead to a $300 fine and a 90-day suspension of their driver's licenses.
Growing Marijuana at Home
Vermont allows patients and their caregiver
to grow
up to two (2) mature, budding marijuana plants at a time and up to seven immature plants or seedlings. Adults 21 and older may legally grow as many as six plants total, with no more than two mature plants and four immature plants at any one time.
All
marijuana grown at home
in excess of two ounces for medical patients and one ounce for recreational consumers must be kept at home. Cannabis produced from home-grown plants is exempt from the aforementioned possession limits.
Any person caught growing marijuana at home in excess of either medical or recreational marijuana limit may be subject to misdemeanor charges, including as much as six months in jail and fines up to $500. If a person is caught with
10 plants or more
, felony charges, including multiple years in prison, become a possibility.
Marijuana grown at home must be kept in a space out of public view with a mechanism to keep children and other individuals from accessing the grow space.
Places to Consume Marijuana Legally
Vermont medical marijuana laws
prohibit cannabis from being smoked in any of the following places:
On school bus

On the grounds or property of any school

On any form of public transport, including buses and taxis

At a place of employment

In any correctional facility

On any public beach, park, or youth and recreation centers

On any Street, sidewalk, or public building (except individual dwellings)

At any place where tobacco use is currently prohibited
Cannabis and
cannabis-infused products
cannot be consumed in any form in a dispensary location or in any way which may endanger the well-being of others.
Vermont Marijuana Prices and Economic Data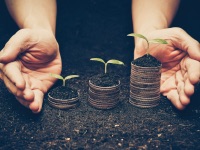 Vermont has, for over a decade, seen steady patient volume increases in their medical use of cannabis program. Having gone through various amendments and expansions, the program, as of February 2017, has over 3,800 patients, as well as nearly 450 caregivers.
Patients are allowed to purchase as much as two ounces from a dispensary location during any thirty day period, with no clear equivalencies between marijuana flower or
concentrates
.
According to a bulletin by the Vermont Department of Public Safety, a gram of marijuana costs between $10-$15 on average, though this can vary based on the
strain.
At this price per gram, an ounce would cost between $280-$375. If we assume a patient is purchasing 1.5 ounces at an average cost of $300 per ounce and patient volume stays constant, the estimated sales would top $20.5 million in 2017. This estimate, it should be noted, does not consider other forms of cannabis, such as an edibles or concentrates, and nor the effect of patients growing their own cannabis.
While the state
does not currently
tax medical marijuana, any fees collected - such as those associated with applications or licensing - are to be deposited in the
registration fee fund
. The funds are to be used in the oversight of the medical marijuana program.
The standard application fee is $50 for patients and caregivers. Based on patient and caregiver numbers alone, over $212,500 will be collected on an annual basis.
Marijuana Activities: Things to do in Vermont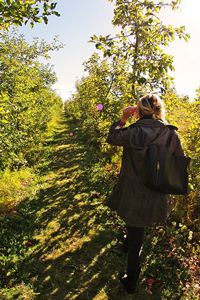 Whether visiting Ben & Jerry's or enjoying the rich, sweet maple syrup Vermont is known as a sweet place. As the state is on a course to further reinvent their marijuana laws, cannabis-themed activities and
events
are sure to arise. Until then, remember: as long as it is not smoked, the discreet
use of medicated products
in public is each and every patient's right.
The Burlington Bike Path
Get away from it all and take a ride (or walk) on the
Burlington Bike Path
. The eight-mile path connects residential areas, commercial zones, and the shoreline of Lake Champlain, creating a path close to restaurants, waterside activities, and several of Burlington's city parks. Take the causeway separating Malletts Bay from the main section of Lake Champlain and experience the 360-degree view of water and mountain.
Skiing and Snowboarding
It is no secret Vermont is home to some of the best skiing on the East Coast. Choose from
Mount Mansfield
, Killington, or Stowe, each home to a variety of majestic slopes and runs to help you enjoy the winter.
The Shelburne Museum
Home to over 150,000 artworks exhibited across 39 buildings - 25 of which were relocated for their historic value - the
Shelburne Museum
is a massive collection of artwork, furnishings, and decor from the 19th and 20th century. Located on a 45-acre plot near Lake Champlain, the museum is an exploration of Americana completed with impressionist paintings, 19th-century quilts and textiles, and folk art.
Wait! You're missing the Best Weed Deals...
Get access to exclusive deals & inside info on community events and giveaways!
As seen on: