Thousands of Offers. Millions in Savings.

Get the best cannabis deals sent straight to you...
Get access to exclusive deals & inside info on community events and giveaways!
Learn About Marijuana In Vermont
---
Frequently Asked Questions About Marijuana in Vermont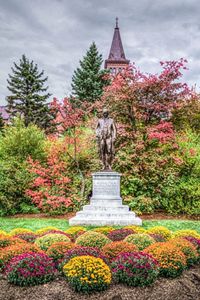 For over a decade, medical marijuana has graced the quaint, lush mountain forests of Vermont. Speckled with beaver ponds, rivers, and more than 625,000 residents, Vermont is the inland version of the east coast in its most relaxed form. Known for cheddar cheese and maple syrup, the enchanting state continues to inspire a tradition of craft and excellence through cannabis.
Is Marijuana Legal in Vermont?
Vermont has legalized medical marijuana marijuana for those who can demonstrate a medical need, as well as recreational possession and use.
When Did Marijuana Become Legal in Vermont?
In 2004, through new legislation rather than by voter initiative, Vermont enacted the Therapeutic Use of Cannabis Act, formally allowing individuals suffering from severe and life-limiting diseases or illnesses to use, possess, purchase, and cultivate marijuana on a limited basis.
In January 2018, Vermont passed an act relating to elimination of penalties for possession of limited amounts of marijuana by adults 21 years of age or older.
Where Are the Dispensaries in Vermont?
No more than five medical dispensaries may be licensed at any time under the current law. As of April 2017, one medical marijuana dispensary license has been issued in each of the following cities:
As of July 2018, there is no current framework for recreational marijuana dispensaries to operate.
Are The Dispensaries Medical or Recreational?
Vermont has only legalized the sale of medical cannabis at licensed medical dispensaries.
The January 2018 law legalizing marijuana possession and use by adults 21 and older did not create a system to tax and/or sell recreational cannabis.
Who Can Be a Medical Marijuana Patient in Vermont?
Vermont requires a recommendation from a qualified health professional, defined as a licensed physician to practice medicine (M.D.or D.O), physician assistant (P.A), naturopathic physician (N.D.), or advanced practice registered nurse (APRN) before the state will accept a medical marijuana application and issue a registration ID.
The current list of accepted medical conditions and diseases, which a health professional may recommend cannabis for, can be amended to include other conditions, as supported by medical and scientific research. Health professionals may currently recommend marijuana for any of the following:
Post-traumatic stress disorder (PTSD)
Human immunodeficiency virus (HIV) or acquired immune deficiency syndrome (AIDS)
Additionally, any disease, condition, or treatment therein producing any of the following symptoms may also be included:
How Do I Become a Medical Marijuana Patient in Vermont?
Any resident of Vermont can participate in the medical cannabis program, including minors under the age of 18.
To join the Vermont medical cannabis program, you must be seen, evaluated, and cared for by your healthcare professional for three months prior to being eligible for medical cannabis.
In the event the patient has cancer, AIDS, or any time-sensitive terminal illness, the three-month requirement can be waived. After receiving a recommendation from an appropriate healthcare professional, patients who are 18 or older must submit an application available through the Vermont Department of Public Safety, including a fee of $50.
Minors may be registered by their parent or legal guardian. The guardian must also consent to medical marijuana as a treatment in writing and become the caregiver of the minor.
Where Can I Consume Marijuana in Vermont?
Medical patients as well as adults 21 and older are prohibited from using cannabis in a way that endangers the health or well-being of another person. In addition, smoking marijuana is specifically forbidden in any of the following public spaces:
School buses and grounds

Public transportation

A place of employment

City and state parks

The beach

Any youth and recreation center

Any street, sidewalk, or public building (except individual dwellings)

Any place where tobacco use is currently prohibited.
How Do I Get a Job in the Vermont Marijuana Industry?
To work in one of Vermont's medical marijuana dispensaries, the state requires any prospective employee be a resident of Vermont and 21 or older. All applicants must submit a criminal background check, a passport-size photo, and a $50 fee with each application.
Is Drug Testing for Marijuana Legal in Vermont?
The therapeutic cannabis program does not allow patients to be under the influence of cannabis while at work. This falls in line with the recreational marijuana program passed in January 2018.
Under both, employers can continue their marijuana drug testing practices as long as it is not done discriminatorily.
Is Marijuana Delivery Legal in Vermont?
Yes, the delivery of medical cannabis and cannabis-infused products is legal in Vermont from a licensed medical marijuana dispensary to the patient or their caregiver.
How Do I Pay for Marijuana in Vermont Dispensaries?
As long as cannabis remains federally-illegal, dispensary locations in Vermont will continue to do most of their medical marijuana sales in cash transactions.
---
Vermont Marijuana Laws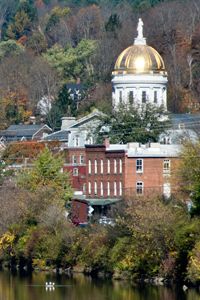 Vermont has had a medical marijuana program since July 2004. The program did not initially give cannabis businesses the ability to sell marijuana to patients. It was not until 2011 that Vermont corrected the issue, signing into law a series of regulations which would support the licensing, oversight, and implementation of medical marijuana dispensaries.
Initially, the laws limited Vermont to four medical dispensaries. Medical dispensaries were not permitted to provide more than 1,000 patients at a time with care.
In 2014, the patient cap was removed and, though the number of dispensaries remained unchanged, dispensary locations were given the authority to deliver cannabis or cannabis-infused products to patients and their primary caregivers.
In 2013, Vermont passed decriminalization laws making the possession of small amounts of marijuana for any person aged 21 and older a fine rather than a criminal offense.
And, in January 2018, the governor of Vermont signed HB511, legalizing the possession, growth, and use of marijuana for adults aged 21 and over. Vermont became the first state to legalize recreational marijuana use through an act of legislature rather than voter referendum.
Reminiscent of the introduction of the medical marijuana laws in Vermont, the 2018 law allowing adults aged 21 and older to use, possess, and grow marijuana does not give individuals or companies the authority to sell or process to marijuana products for redistribution.


Purchase and Possession Limits
Vermont allows medical patients or their caregiver to possess as much as two ounces of cannabis at any time without fear of legal penalty. Dispensary locations are required to track sales, ensuring patients purchase no more than two ounces in any 30-day period.
Recreational consumers are allowed to possess up to one ounce (28 grams) of marijuana flower or as much as five grams of hashish or marijuana extract.
If an individual aged 21 or older who is not registered as a medical patient is caught in possession of more than an ounce, a six-month jail sentence and up to a $500 fine may be held against them.
First-time offenders under the age of 21 will be required to complete a youth substance abuse safety program.
Growing Marijuana at Home
A patient or their primary caregiver may grow two mature, flowering plants and as many as seven immature plants. Adults 21 and older can grow up to two mature, harvestable marijuana plants and as many as four immature marijuana plants.
Vermont allows patients and their caregivers to grow up to two mature, budding marijuana plants at a time and up to seven immature plants or seedlings. Adults 21 and older may legally grow as many as six plants total, with no more than two mature plants and four immature plants at any one time.
All marijuana grown at home in excess of two ounces for medical patients and one ounce for recreational consumers must be kept at home. Cannabis produced from home-grown plants is exempt from the possession limits as long as the excess is kept securely at home.
Any person caught growing marijuana at home in excess of either medical or recreational marijuana limit may be subject to misdemeanor charges, including as many as six months in jail and fines up to $500. If a person is caught with 10 marijuana plants or more in Vermont, felony charges, including multiple years in prison, become a possibility.
Marijuana grown at home must be kept in a space out of public view with a mechanism to keep children and other individuals from accessing the grow space.
Driving and Marijuana
Driving While Intoxicated
Being intoxicated by marijuana while behind the wheel or in operational control of a vehicle, boat, heavy machinery, or any other vehicle powered by more than just muscles is expressly forbidden. Any person - including medical marijuana patients - caught driving while under the influence of cannabis is subject to 90-day suspension of driving privileges, fines up to $750, and a term of imprisonment not more than 24 months.
Additionally, consumption of marijuana while driving is itself a separate offense, punishable by a $500 fine.
Driving While in Possession of Marijuana
Marijuana can be delivered from a medical cannabis dispensary to a patient. Additionally, a registered patient, their caregiver, and adults 21 and older can transport their cannabis products under two main conditions:
The cannabis or cannabis-infused product is in a

locked container

The cannabis product never leaves the state
Marijuana products must be sealed and unopened for them to be legal to travel with. Recreational marijuana is held to the same standard.
Put simply: Keep the weed out of sight and out of reach.
Marijuana Use and Minors
Only registered medical marijuana patients under the age of 18 may use cannabis or cannabis-infused products penalty-free. In order for a minor under 18 to be registered with the state program, the parent or legal guardian must register as the primary caregiver and, in writing, consent to the treatment on behalf of his or her child.
Any person between 16 and 21 years of age caught in possession of cannabis will be referred to the Diversion Program Youth Substance Abuse Safety Program, where counseling, education, and treatment for substance abuse can be addressed.
Failure to complete a substance abuse program will lead to a $300 fine and a 90-day suspension of their driver's licenses.


Get Exclusive Local Cannabis Deals! Just enter your email address and city in the form below
Your information will remain confidential and will not be sold or otherwise shared.

Questions, comments, suggestions and praise
If you have any ideas, comments or suggestions regarding the site or if you are experiencing problems using the site, please feel free to let us know.
Please wait...processing form.


Thank you! Your message has been received.
We will get back to you shortly.


Thank you for your interest in Leafbuyer! Please complete the form below and upload your resume. We will contact you shortly.
Please wait...processing form.


Thank you! Your message has been received.
We will get back to you shortly.

Leafbuyer complies with state laws regarding access to marijuana-related products. To continue, you must be 21 years of age or older or hold a valid medical marijuana card?

Are you eligible to continue?





We're sorry but we cannot let you continue to use the site.