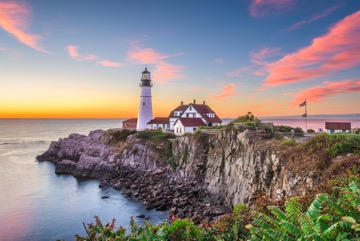 Known for its lighthouses, fresh lobster, rocky shores, and wide-open spaces, Maine is a versatile state that's also growing in recognition for its quality cannabis. In 2016, Maine became one of 10 U.S. states allowing the recreational use of weed.
But the story of Maine marijuana laws starts over 100 years earlier when in 1913 it banned the drug two years after the first state, Massachusetts, started requiring prescriptions for cannabis.
It wasn't until 1976 that Maine started its long march to legalization with a decriminalization bill that reduced penalties for small amounts of marijuana possession in the state.
In 1999, Maine again made headlines by passing medical marijuana just three years after the first state, California, did so in 1996. The Maine Medical Marijuana for Specific Illnesses Bill, also known as Question 2, was passed by 61 percent of the vote and allowed up to 1.25 ounces of marijuana to be harvested from six home-grown plants, of which no more than three could be flowering at any one time. Unlike most medical marijuana laws, Question 2 was unique in that patients could not buy marijuana from medical dispensaries and instead had to grow their own cannabis at home or have a caregiver do it for them.
In 2009, Maine medicinal marijuana laws were revisited and expanded to add the licensing of dispensaries and production facilities, and, that same year, legislators in Maine reduced criminal penalties for possessing up to 2.5 ounces of marijuana down to a civil infraction, which drastically lowered the burden on the state's already strained correctional facilities.
Learn more about marijuana in Maine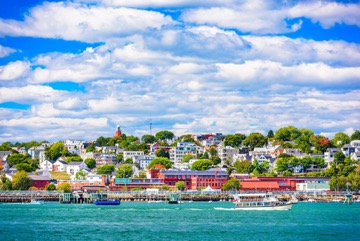 From 2013 to 2014, various Maine municipalities voted on the recreational use of marijuana within their jurisdictions, starting in Portland on November 5, 2013, which legalized the possession of two and a half ounces of marijuana within city limits, and South Portland, which also legalized small possession amounts in the city in 2014's November election. A referendum in Lewiston that same year, however, failed to gain the support of voters.
Though they were largely symbolic, the smaller, municipal victories in Portland and South Portland paved the way for statewide recreational legalization, which, on November 8, 2016, was passed by less than 4,000 votes, 50.26 percent to 49.74 percent.
Maine Question 1, also known as the Marijuana Legalization Act, took effect the following year on January 30, 2017 and legalized the possession, purchase, cultivation and use of marijuana by adults 21 years and older in the state. Due to several legal challenges and a governor that twice vetoed recreational marijuana against the wishes of voters, full roll-out of the law and the licensing of dispensary locations has been pushed back but is expected by mid-2019.
Leafbuyer's Featured Maine Dispensaries
If you're searching for
dispensaries in Maine
, Leafbuyer has your back. Using our search engine, it's easy to find the closest dispensary to you in just a matter of seconds. And, once recreational legalization hits, we'll continue adding locations and services, so you won't ever be left in the dark. Just click the links below for the closest major city or jump right into the map for an interactive search.
Maine Dispensaries
Click the map to explore dispensaries in Maine.
Leafbuyer's Cannabis Deals in Maine
For the best
Maine weed deals
, keep it right here on Leafbuyer. You can search by dispensary, product, type, strain, and brand, so you'll be sure to find what you're looking for quickly and easily. We can even help you find
marijuana growing supplies
and
marijuana storage containers
if you're looking to start growing. Happy shopping!
Scoop these deals while they're hot!
Find the hottest cannabis deals near you on wax, edibles, ounces of flower, and much more!
See all deals
Save money, subscribe.
Get Exclusive Local Cannabis Deals delivered to your phone and email!!