Contact Leafbuyer
Corporate Office
6888 S Clinton Street
Greenwood Village, CO 80108
720-235-0099
Monday-Friday 8am-5pm MST
[email protected]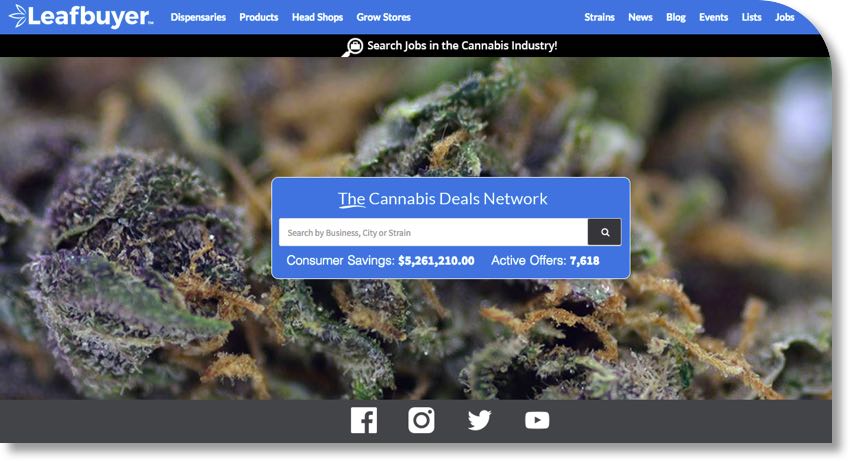 What is Leafbuyer?
Likened to the "Priceline of Pot," Leafbuyer is a searchable online database platform that enables consumers the ability to search deals, products, store information, jobs, and news about the Marijuana Industry.
Consumers' needs are paired with Vendor data to allow the consumer to find exactly what they are looking for. Vendors engage consumers through a robust 24/7 real-time dashboard that allows updates on menus, specials, jobs, and tracks ROI reporting.
Bios
Kurt Rossner, CEO
Kurt Rossner is President and CEO of Leafbuyer Technologies, responsible for both day to day operations and long-term strategic development. As a serial entrepreneur, Mr. Rossner started his career with MCI Telecommunications as a Sales Manager in the early 90s. A few years later Mr. Rossner founded 2 internet startup companies. After his internet hosting company sold for over $15MM in shareholder profit, Mr. Rossner became a Vice President at Micron Technology.
Mark Breen, VP of Business Development
Mark Breen is VP of Business Development for Leafbuyer Technologies. Responsibilities include day to day operations of business development such as hiring, website design, and technology integration, as well as the coordination of sales with new technology deployments. Mr. Breen has worked for Fortune 500 companies such as Tribune Multi Media Corporation as well as broadcast media giant CBS Corp. As a former Sales Executive and Manager with CBS and NBC Networks, Mr. Breen has consistently ranked in the top tier of company performers. Winner of the Gannet Sales Star of the year award and receiving the Innovative Sales Award for CBS, Mr. Breen has generated over $10MM in new business in his career.
Michael (Mike) Goerner, CTO
Mike Goerner, CTO, is responsible for the company's technology platform. Day to day responsibilities include oversight and hands-on development of the Leafbuyer network of sites and services, customer and consumer facing platforms, mobile applications, infrastructure, performance and security. Mr. Goerner started his career as a software developer for a Major League Baseball team, and companies in the nuclear power and military defense contracting spaces; soon after becoming the lead developer of the original MapQuest.com website in the mid-90s. From 1998 to 2001, as founding partner and Chief Technology Officer of Indigio Group, Inc (formerly Telsoft Corp), a company that specialized in the development of e-commerce websites, the company was twice honored as the fastest-growing privately-held company in Denver, Colorado. Mr. Goerner has since founded and grown three successful Internet companies with combined revenues exceeding $125MM.