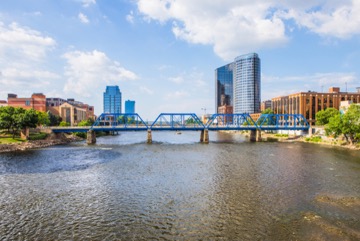 For many, the story of Michigan marijuana laws starts in Ann Arbor, which has been at the forefront of marijuana activism since the 1970s. Almost 50 years before Michigan voters passed recreational cannabis, the small college town of Ann Arbor, Michigan was the epicenter of the turning tide against harsh penalties in the state for the possession and sale of marijuana, which could fetch a year of prison for less than two ounces or four years for any marijuana transaction.
It all came to a head in July 1969 when poet John Sinclair received 10 years for giving two marijuana joints to an undercover Detroit cop, which earned him a spot at the state penitentiary in Jackson, Michigan. Planned by Sinclair from prison, the resulting John Sinclair Freedom Rally in December 1971 at Ann Arbor's Crisler Arena included John Lennon, Stevie Wonder, and Allen Ginsberg, among others, and directly led to the release of Sinclair just three days later.
The following year, the Ann Arbor city council passed a bill that decriminalized marijuana possession down to a $5 civil ticket for up to two ounces.
In 1973, the ordinance was repealed by the city council, but voters stepped in on April 2, 1974 to uphold the $5 ticket and to prevent local authorities from making arrests under punitive Michigan marijuana laws.
In 1983, Ann Arbor voters rejected a proposed repeal of the $5 civil charge, but a 1990 referendum upped the ticket to $25, $50 and $100 for successive infractions, though it remained a civil offense.
Learn more about marijuana in Michigan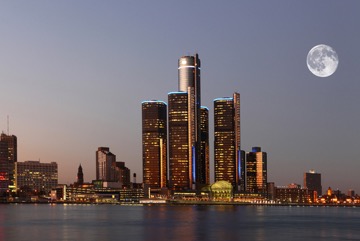 In 2004, the Ann Arbor Medical Marijuana Initiative added the cultivation of marijuana to the 1972 law, and capped fines at $100 for repeat offenders.
By 2008, Ann Arbor and Michigan marijuana laws were up for their biggest change yet when voters passed the Michigan Compassionate Care Initiative by well over a million votes, 63 percent to 37 percent. The law legalized medical marijuana across the state for terminally and seriously ill patients with a doctor's recommendation. It also included provisions for medical patients to grow their own marijuana and established the medical marijuana ID card system that exists today in the state.
On November 6, 2018, Michigan voters passed Proposal 1 with 56 percent of the vote, which allows adults 21 and older to possess up to two and a half ounces of marijuana in public, 10 ounces at home, and allows for the cultivation of up to 12 cannabis plants. Called the Michigan Regulation and Taxation of Marihuana Act, it made Michigan the tenth state in the U.S. and the first in the Midwest to legalize the recreational use of marijuana. Paradoxically, however, there remain scant ways to obtain legal marijuana as no recreational dispensaries exist in the state -- the first are expected to open in 2020.
Leafbuyer's Featured Michigan Dispensaries
If you're looking for marijuana
dispensaries in Michigan
, stick with us. Here at Leafbuyer we take pride in our list of dispensaries, so you can be sure you'll find exactly what you're looking for. From medical dispensaries to the upcoming recreational stores, and even a 420-friendly doctor to help you serve your medical needs, you can find it all here. Check out our interactive map and our favorite dispensaries below. Or just click the city closest to you!
Michigan Dispensaries
Click the map to explore dispensaries in Michigan.
Top-notch Michigan dispensaries.
These Michigan favorite dispensaries feature Leafbuyer deals that you won't want to miss!
See all dispensaries
Leafbuyer's Cannabis Deals in Michigan
For the best
weed deals in Michigan
, Leafbuyer has your back. We scour the state's dispensaries to find the best deals so you don't have to. So, whether you're looking for the
best concentrate brands in Michigan
or you already have a favorite strain or topical, it's all easy to find on Leafbuyer.
Scoop these deals while they're hot!
Find the hottest cannabis deals near you on wax, edibles, ounces of flower, and much more!
See all deals
Save money, subscribe.
Get Exclusive Local Cannabis Deals delivered to your phone and email!!