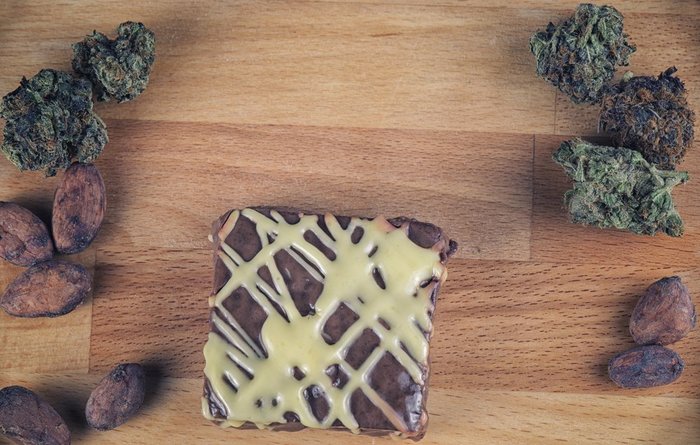 I've taken many hunger-induced trips into Trader Joe's and each time I'm excited at what I might new product I might find and the prospect of delicious samples and steaming hot coffee. If you're planning on having a big smoke session or just want some munchies after taking a few dabs, Trader Joe's is your one-stop-shop for cannabis munchies.
Some of the best Trader Joe's products are pre-made, while others require some assembly and cooking know-how. Regardless, Trader Joe's has something for all cooking skill levels. Best of all, you can pair your Trader Joe's-provided snack with a complementary weed strain (or organic CBD alternative) to take your meal to the next level. Give the following strain and Trader Joe's product pairings a try.
Pre-Made Dough and Pizza Sauce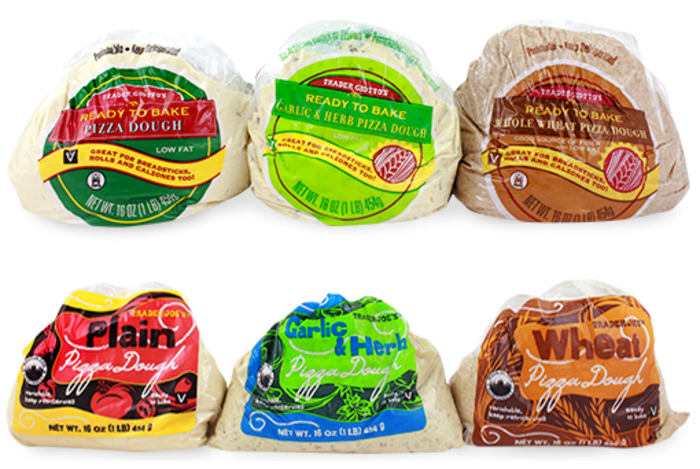 My absolute favorite and the best Trader Joe's products have to be their pre-made doughs and pizza sauces. Get an herb-filled, plain, or whole wheat dough depending on your mood. Although homemade pizza dough is a deal-breaker for some, this pre-made dough is affordable and tasty. Grab one of their flavorful and organic sauces and shredded cheese to add on top along with your favorite savory toppings.
What better strains to pair with a homemade pizza than cheese-scented strains like the Cheese or Blue Cheese strain that have sharp cheesy notes to along with your 'za. These strains are packed with high THC levels above 20% giving users a potent experience. Cheese strains also feature strong skunky notes and a hint of sweetness to give your pizza a complex flavor profile.
Not a fan of THC? Try dribbling some of your favorite, unflavored CBD tinctures on top! Mixing CBD with food is a great way to take any Trader Joe's meal to the next level.
Speculoos Cookie Butter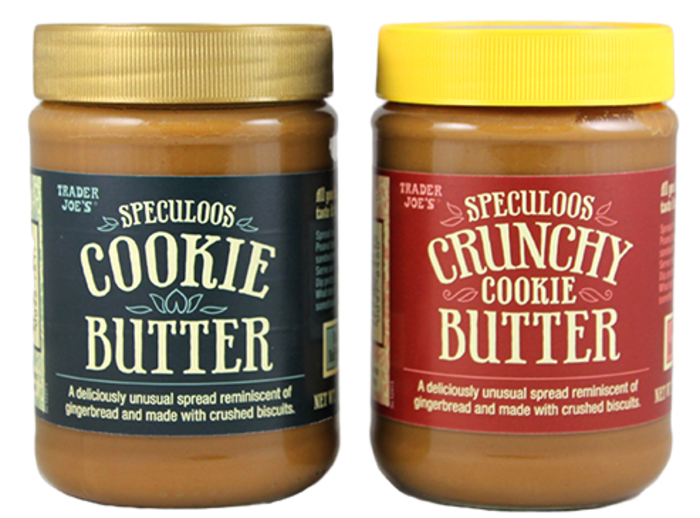 It would be remiss of me not to include what's considered one of the best Trader Joe's products, their creamy and rich Speculoos Cookie Butter. It's a decadent and Speculoos cookie-flavored spread seemingly loved by all. Speculoos cookies are traditional Belgian biscuits that are crunchy, caramel-flavored, and have a hint of gingerbread flavor. Spread them over toast, pancakes, waffles, cakes, cinnamon rolls, cookies, or any other dessert.
To give yourself a boost of caramel flavor, pair this spread with the Cream Caramel strain. This strain has satisfying fruity and sweet notes that complement the buttery flavor of the cookie butter. You can also pair chocolate-scented strains like the Chocolope strain with this buttery spread. It's a sugar-rich spread that you can't put down.
Everything-But-The-Bagel Sesame Seasoning Blend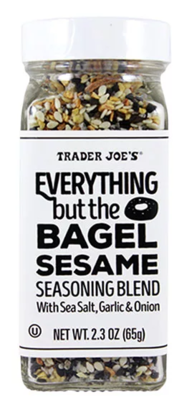 Everything-But-The-Bagel sesame seasoning blend combines sesame seeds, poppy seeds, dried garlic, sea salt flakes, and dried onions into a heavenly concoction. This drool-worthy combination goes well on cream cheese, chicken, eggs, avocado toast or anything else you can think of. It's a cheap option that can literally spice up any snack.
If you can get your hands on some, try any food with this seasoning and the Willie Nelson cannabis strain. Its award-winning effects come with a peppery and earthy aroma that goes well with the seasoning blend. Bruce Banner is another strain with strong notes of pepper, sweetness, and citrus that can round out the seasoning blend.
Spanakopita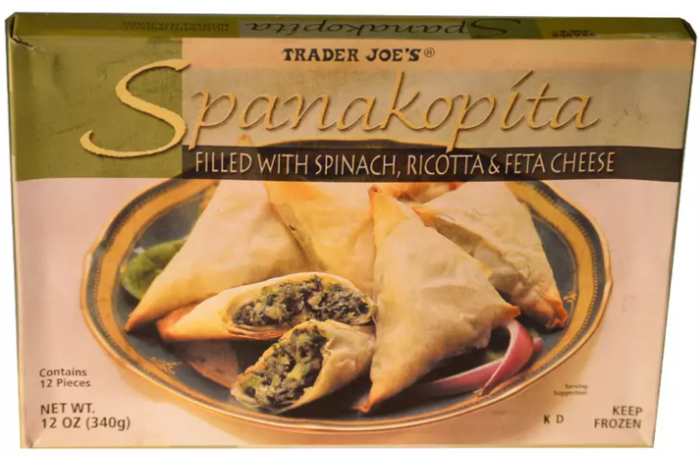 Trader Joe's Spanakopita is a warm and flaky phyllo pastry stuffed with spinach, ricotta, and feta cheese. The cheesy combination and flakey texture offer a satisfying lunch or late-night meal. They're affordable and bite-sized pastries that you can share with friends at a party. Unfortunately, when baking, expect some spillage, so put down some tinfoil at the bottom of your oven. Despite this, they're still one of the best Trader Joe's products to satisfy the munchies.
Spanikopita is another great food that can pair with cheese-flavored strains. If you want to add a twist to this savory treat, smoke a sweet-smelling strain to create a contrast of flavors. Candyland features earthy, sweet, and spicy aromas that can complement feta's aged cheese flavor. The Grapefruit strain is a citrus-heavy strain that can offset some of the savory aspects of the spanikopita.
Mini Dark Chocolate Mint Stars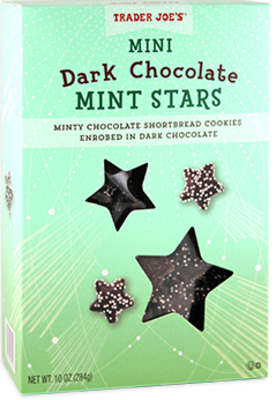 Trader Joe's knocked it out of the park with their delectable Mini Dark Chocolate Mint Stars. Compared to Thin Mints, they're more affordable and just as tasty. Enjoy a dark chocolate coating on shortbread cookies and notes of peppermint. While seasonal, they're worth the wait. Dark Chocolate Mint Coins can hold you over.
There's no better strain than the iconic Girl Scout Cookies strain to pair with your mint stars. This strain packs a skunky, earthy, and minty taste and a high dose of THC. Your mouth will feel completely refreshed after a bite of a cookie and a hit of this strain. For an added bit of chocolate taste, pair your cookies with Chocolate Thunder, a cross between Chocolope and Alaskan ThunderFuck. You'll even get hints of coffee in there, too.
Organic Cold Pressed Spiced Fuji Apple Cider

I love fruit juices, especially apple cider. This apple cider comes packed with cinnamon and clove spices. The cold-pressing technique delivers a fresh-tasting apple cider with a spicy kick. If you can't find this seasonal delight, go with Trader Joe's spiced cider.
When drinking this spicy apple cider, pair it with any apple-flavored weed strain like Apple Kush, Sour Apple, Green Apple OG, or Apple Jack. These strains contain a high concentration of the terpene alpha-farnesene, the compound that gives apples their green-apple aroma. If you can't find any apple-flavored strains, go with anything fruity or sweet.
The great thing about high-quality CBD oil is that you can mix tinctures in with just about anything. Take that tincture and mix a few drops in Trader Joe's spiced cider for a healthy boost.
Baked Cheese Crunchies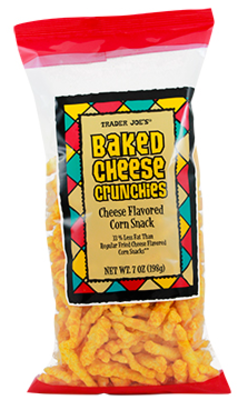 Although not as cheesy as the classic Cheeto's, these baked cheese crunchies are a worthy alternative for the munchies. They're crunchy, baked, and feature natural food colorings like annatto and turmeric to get that distinct orange hue. Grab a big bag of these and you're set for a night of munching out and revelry with your friends.
These baked crunchies are great, but they taste even better paired with a spicy and earthy strain like the legendary Jack Herer strain. If you love indicas, try the spicy and woody Afghan Kush strain. The Fire OG strain features similar orange tones, but packs an earthy and citrus aroma that can complement your cheesy treat. They won't be quite as spicy as Hot Cheetos, but they'll be just as tasty.
Dark Chocolate Peanut Butter Cups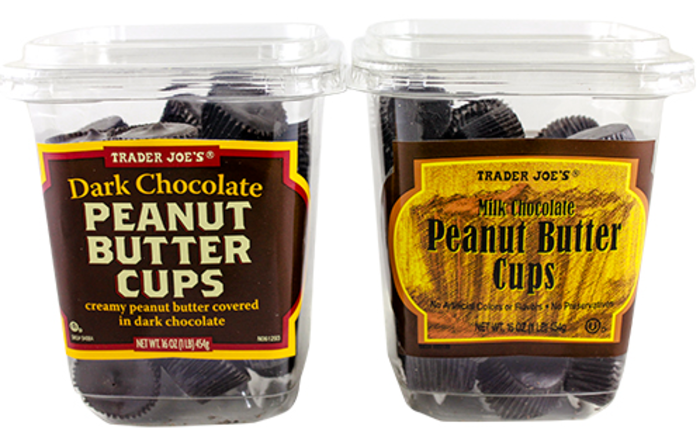 My girlfriend loves dark chocolate and by proxy, I do too. That's how I got turned on to Trader Joe's dark chocolate peanut butter cups. They're small enough to make for a delicious bite. You can also get them in milk chocolate, if you like, but I like the bitter dark chocolate flavor.
Dark chocolate and peanut butter work well together with nutty-flavored strains like the Pure Kush strain, which has sweet, earthy, and nutty aromas. Other nutty-scented strains include the Domina, Bubba OG, and CBD-rich Euphoria strain. Any chocolate or coffee-flavored strains will also do.
Any House Trader Joe Beer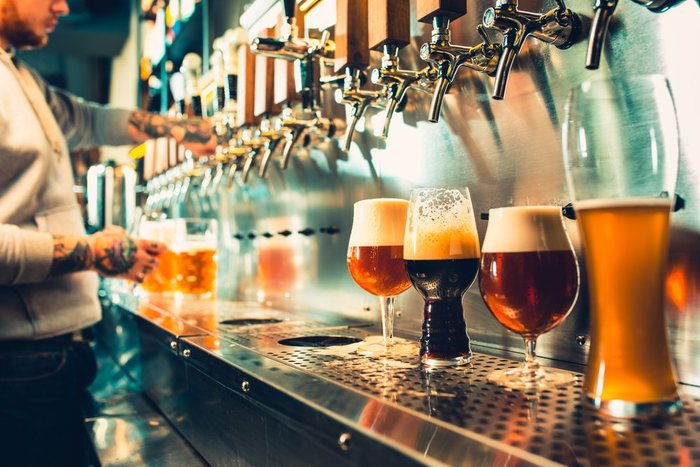 Trader Joe's has a solid selection of wines for just over $2, but they've also crafted a varied selection of budget-friendly house beers. Whatever beer style you're into they'll have it. Like the taste of hops? Try the KBC IPA. Looking for something smooth to day drink with? Give their Mission St. Session Pale Ale a sip. Other favorites include the Stockyard Oatmeal Stout and Josephsbrau Pilsner.
Beer and cannabis don't always mix, especially when overconsumed. Always remember to know your limits and not combine excessive amounts of cannabis and beer. For IPA's, go with a citrus-heavy strain like Tangerine or Super Lemon Haze. Pilsners can go nicely with fruity and sweet strains like Fruity Pebbles or Grape Ape. Stouts can pair with chocolate-flavored strains or anything sweet. Let your nose guide your pairings and have fun with it.
Now that you know what the best Trader Joe's products are, you can head to your nearest location and stock up for your next smoking session. It's better when you have all the snacks prepared and don't have to go anywhere while high.
Make sure to stock up on these items on your next Trader Joe's visit, and use Leafbuyer deals to get great prices on your favorite cannabis products from dispensaries near you!