Chocolate and Cannabis: A Passionate Love Affair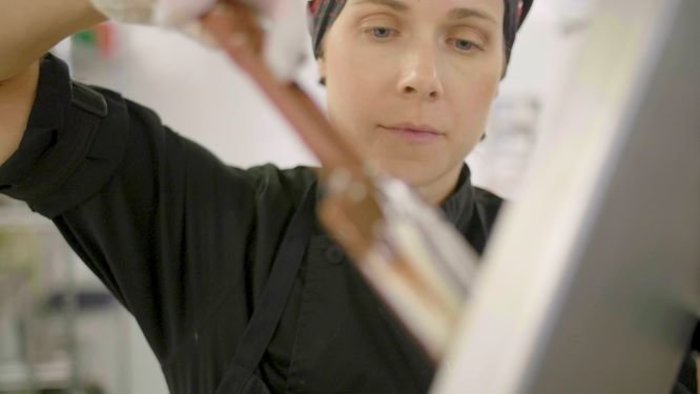 Gourmet cannabis edibles in the legal market have evolved dramatically from the homemade weed brownies from our college days. Today, edibles come in a variety of formats, from candy bars and gummy candies to baked goods and beverages. Although most edibles may seem like your run of the mill sweet treat, one edible company in Colorado provides an elevated, elegant, gourmet cannabis edible experience.
Lauren Gockley, the Director of Edibles at Coda Signature in Colorado, says she always had a fascination with cooking and baking because there was a "very clear, right and wrong way to do things." However, as a classically trained chocolatier, graduating from l'Ecole du Grand Chocolat in Tain l'Hermitage, home of the Valrhona Chocolate Company, the organic, versatility of chocolate stole her heart.
"While there are very clear parameters to work with, chocolate has an organic quality which allows a dialog, or interaction, which I loved so much," Gockley stated in an interview. "Chocolate has such a beautiful fluidity of form and provides a genuine connection with people," she continued, "you connect with people through nourishment of memories of flavors and aromas – providing a moment of bliss."
The Chocolate Connection 
That moment of bliss provided by chocolate is no accident either. As it turns out, chocolate contains three fatty acids which bind with the endocannabinoid system, similar in nature to cannabinoids from cannabis. In fact, chocolate may stimulate the release of anandamide, the body's own 'bliss molecule.' "There's an amazing connection between chocolate and cannabis, with similar chemical structures running in parallel, it makes a beautiful marriage of ingredients," Gockley explained.
So, when Gockley partnered with Elizabeth Cooke, President and Co-Founder, and Mark Grindeland, CEO and Co-Founder, they created a unique blend of confection, cannabis, and business expertise into one company, Coda Signature. Together, their combined mission is to enhance the cannabis experience by providing a more positive interaction; which includes a beautiful product, decadent flavors, and aromas which tickle the palette, as well as, produce a consistent, predictable effect. Gockley said, "Many people have had negative experiences with edibles in the past, so we knew we needed to create a quality product that was safe, reliable, and consistent." As such, they designed Coda Signature chocolates with an upscale, gourmet ambiance to cultivate the experience with enhanced flavors and heightened aromas.
Women Love Chocolate 
Coda Signature's product line also caters towards this growing cannabis demographic as well. Thought to help balance hormones during the menstrual cycle or even enhance sexuality, many women report craving chocolate at certain points in their cycle. Interestingly, a chocolate shortage was even once blamed for creating hysteria in nuns who consumed it regularly and were suddenly without it.
Gockley mentioned her own thoughts on the growing audience of women in the cannabis sector. "As we get older, we [women] want to be thoughtful about what we put in our bodies," she suggested. Referring to drinking, she continued, "Alcohol leaves a horrible feeling afterward and leaves me feeling tired, dehydrated, and achy. With cannabis, I feel calm, serene, and I wake up with no regrets!"
Coda Signature Takes the Cake and the Award 
Clearly, the company is onto something. After launching their brand in March of 2016, they did what no other company has ever done – won top accolades at Cannabis Cup after just three weeks on the market. However, the recognition didn't stop there. In 2018, Coda Signature received seven awards across three product categories including edibles, topicals and concentrates at HC Magazine's 7th annual THC Championship. In all, Coda Signature has won 13 awards in just ten quarters in the market, an unprecedented feat in the industry.
Beyond the Sweets 
Besides creating a delicacy in the gourmet cannabis edibles market, Coda Signature has also made a big splash in other product niches. Coda Signature's luxury topicals also brought home first place in the transdermal category for their Symphony Bath Bombs, as well as, second place in the Connoisseur category for its Restore Skin Salve. Additionally, the Coda Signature vape cartridges also received accolades.
This broad range of success in Colorado is prompting the company to expand to new markets with plans to launch the Coda Signature brand in California in early 2019. With both manufacturing and distributing licenses, Coda Signature won't be subcontracting their manufacturing processes. In fact, Gockley herself is overseeing the installation of the kitchen in California where she'll pass on her passion for chocolate and cannabis.
Gockley did warn, there is one drawback to working with chocolate, "People get upset if you don't have chocolate with you at all times. Add cannabis, and the demand is even 'higher,'" she laughed. If you'd like to sample the award-winning chocolates, topicals, or vape cartridges, you can find Coda Signature products in dozens of dispensaries all across the state of Colorado, and soon in California.