3 Extra-Special Recipes for Weed Brownies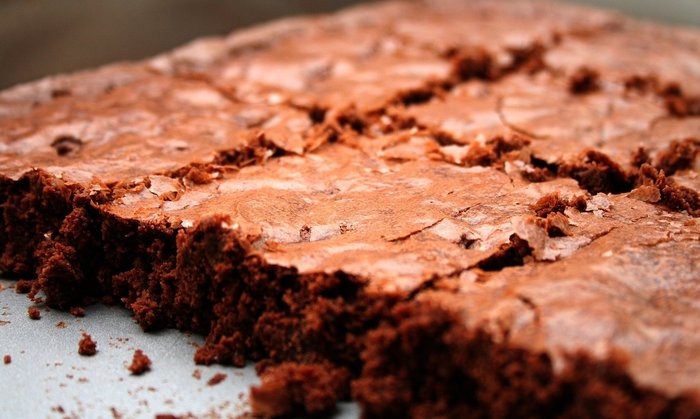 'Special Brownies' have been a staple of marijuana edibles for decades. But after 40 years, your basic weed brownie recipe is, let's face it, boring. And while a basic bud-brownie recipe is a good way to experiment with cooking with cannabis, we here at Leafbuyer would like to elevate your pot-brownie palate. So, I present you with three extra-special weed brownie recipes you can break out for extra-special occasions.
Keep in mind, just like a good cookie recipe, all three of these recipes require Cannabutter; a pre-infused and properly decarboxylated source of THC. More information on making cannabutter can be found here.
Merry Malibu-Jane Brownies
Summer may be over but don't tell that to these brownies. Made with coconut flavored rum, cannabis, and toasted coconut flakes, these tropical treats will give you a taste of the island life. Pair these brownies with this heavenly horchata recipe, close your eyes, wriggle your toes in the sand.
Ingredients:
4 Eggs
4 oz. Unsweetened Chocolate
2 cups Granulated Sugar
1 ½ cups All-Purpose Flour
1 ½ cups Grated Coconut, divided
2/3 cup Cannabutter, room temperature (depending on the strength of your cannabutter)
1/2 cup Coconut Rum
1/4 cup Powdered Sugar
2 tsp Baking Powder
1 tsp Vanilla Extract
1 tsp Salt
Directions:
Toasting the Coconut
Preheat oven to 325 degrees. Line a baking sheet with parchment or aluminum foil.
In a thin layer, spread 1 cup of the coconut onto the baking sheet and bake for 5-10 minutes.
While the coconut toasts, grease a 9×13-inch baking pan.
After 5 minutes, turn/stir the coconut and continue to toast until uniformly golden brown.
Turn oven up to 350 degrees after coconut is toasted. 
Brownie Batter
In a medium saucepan over low heat, melt the chocolate and cannabutter together.
Remove pan from heat and mix in sugar, eggs, vanilla, and coconut rum.
Stir in flour, baking powder, salt and 1 cup toasted-coconut.
Spread into greased pan and sprinkle remaining 1/2 cup of coconut on top of brownies.
Bake 25-30 minutes or until batter starts to pull away from the sides of pan.
After the brownies have cooled for 10 minutes, dust the top with powdered sugar.
Cran-Buddy Brownies with White Chocolate Chips
The way this dank dessert combines weed, white chocolate, and cranberries will have you giving thanks, just in time for November. These fruit-filled brownies pack a delectable punch of tastes and textures in every bite. Use this weed brownie recipe on November 22nd, and you can expect to have extra-thankful guests.
Ingredients:
6 Dark Chocolate
2 eggs
1cup fresh or frozen cranberries
1cup White Chocolate Chips
3/4cup Granulated Sugar
2/3cup All-Purpose Flour
1/2 cup Cannabutter (depending on the strength of your cannabutter)
1/4cup light brown sugar
1/4cup Dried Cranberries
1tbsp Cocoa Powder
1tsp vanilla extract
1/2tsp Salt 
Directions:
Preheat oven to 350ºF. Lightly grease an 8-inch square baking pan.
In a medium bowl, whisk the flour, salt, and cocoa powder together.
Put the chocolate and cannabutter in a large glass bowl and microwave for 30 seconds. Stir, and repeat until the chocolate and butter are completely melted and smooth.
Add the sugars. Whisk until completely combined. The mixture should be room temperature.
Add 2 eggs to the chocolate mixture and whisk until combined. Add the vanilla and stir. Do not overbeat the batter at this stage or your brownies will be cakey.
Sprinkle the flour mixture over the chocolate mixture. Using a rubber spatula, fold the flour mixture into the chocolate until most of the flour is incorporated.
Fold in the dried cranberries, white chocolate chips, and fresh cranberries.
Bake in preheated oven for about 30 minutes.
Pecan Pot Blondies
Everyone makes weed brownies, why not make Pot Blondies? Invert everyone's expectations about pot brownies when you drop these blonde-bombs on the dessert table. These nutty-buddy treats are studded with chocolate chips and toasted pecans, adding a crunchy texture that will blow you away.
Ingredients:
1 cup All-Purpose Flour
1 Large Egg
3/4 cup Milk Chocolate Chips
1/2 cup Cannabutter (depending on the strength of your cannabutter)
1/2 cup Brown Sugar
1/2 cup Toasted Pecans; chopped
1/3 cup Granulated Sugar
1 tsp Vanilla Extract
1/2 tsp Salt
Directions:
Preheat the oven to 350 degrees. Grease an 8-inch square baking pan.
Melt the cannabutter over low heat in a medium saucepan. Let cool for 5 minutes.
In a separate bowl, stir together the flour and salt, set aside.
Stir the brown sugar into the melted cannabutter until well combined.
Beat in the egg and vanilla and continue mixing until well incorporated.
Mix in the flour and salt until just incorporated.
Stir in the chocolate chips and pecans until blended in evenly.
Pour batter into prepared pan and bake for about 25 to 30 minutes or until a toothpick inserted in the center comes out with just a few moist crumbs clinging to it.
Let cool in pan before cutting.
Parting Words
Cooking with cannabis is a learnable science and new THC-infused ingredients, such as canna-flour and canna-chocolate, are being introduced which allow a lot of experimentation. You should have a basic understanding of THC edible dosing before you treat your friends to a bad experience from an overly potent portion.
The good news is, that practice makes perfect and the brownies from these recipes will stay fresh in an airtight container at room temperature or in the refrigerator for up to 1 week, or in the freezer for up to 3 months.
You can also research what cannabis strains are best suited to cooking/baking, the right terpene profile can act as its own secret ingredient. Bon Appetit!
Disclaimer: All information on this site is for reference purposes only. Leafbuyer is not responsible for the outcome of any recipe you try from the Website, or any website linked to from this site. You may not achieve desired results due to variations in elements such as ingredients, cooking temperatures, typos, errors, omissions, ingredient quality/potency, or individual cooking ability. Recipes available on the Website may not have been formally tested by us or for us and we do not provide any assurances nor accept any responsibility or liability with regard to their originality, quality, nutritional value, or safety. The cannabis amounts specified in this recipe are a loose suggestion. You should adjust the amount based on desired potency and the strength of your cannabis.