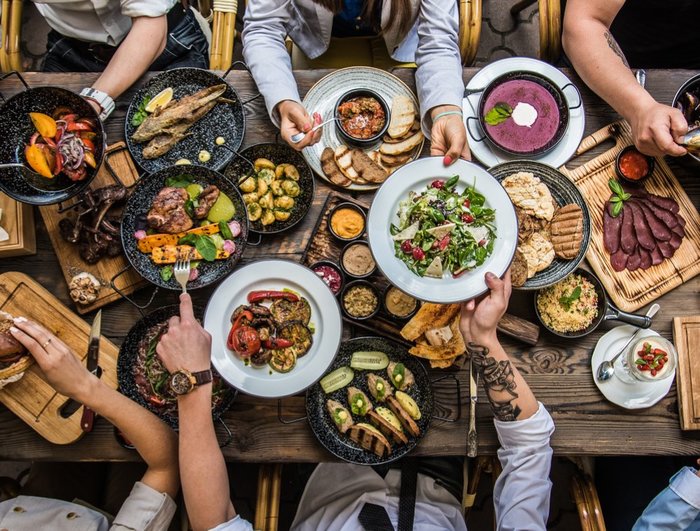 Labor Day Weekend is here, celebrating all workers in America with parades, sales, and of course... food!  We all know that protein is the star of any barbeque, and any self-respecting Grill Sgt. is going to pull out all the stops for the unofficial end of summer. A good side dish can elevate any meal, a good cannabis side dish can elevate your whole Labor Day Weekend. If you are ready to put the pot in potluck, you will need access to either canna-butter, canna-oil, and/or canna-milk to make these recipes effective.
Importantly, if you are new to cannabis cooking or unsure about the potency of a dish, you can always use less of the THC-infused ingredient.
Rasta-Red Potato Salad
What Labor Day Weekend grouping would be complete without the classic, potato salad. This cannabis side dish will get you feeling great.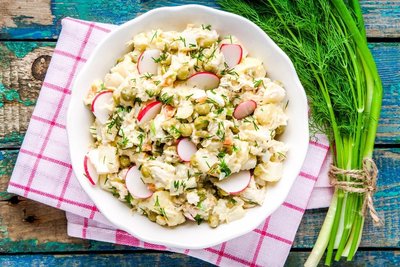 Ingredients
1 1/2 lbs small red potatoes, washed and cut into quarter inch cubes
1 large celery stalk; chopped
1/4 cup chopped green onions
1/4 cup fresh parsley; lightly chopped
3 tbsp cannabis infused olive oil
2 tbsp salt
1 tbsp fresh lemon juice
1 tsp Dijon mustard
1/2 tsp minced garlic
1/8 tsp cayenne pepper
Salt and pepper to taste
Instructions
Cover potatoes in a large pot with water plus a couple of extra inches. Add 2 tbsp salt and bring to a boil over high heat.
Reduce heat to medium and cook 7-10 minutes, or until potatoes have softened. Drain.
In a large bowl, add parsley and celery to potatoes. Toss until combined.
Emulsify canna-oil, lemon juice, mustard, garlic, cayenne and salt and pepper by whisking until well combined. Pour sauce over potatoes, toss to coat, and chill until serving time.
Ganja Garlic Mashed Potatoes
This cannabis side dish is another pot/potato marriage that is sure to elicit a new dance of the same name. Put a dollop of this on your plate or the dancefloor this Labor Day Weekend.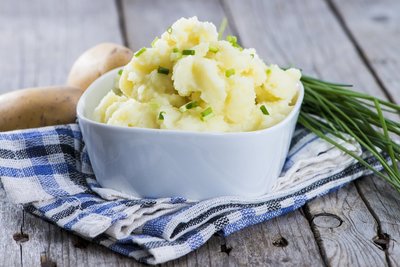 Ingredients
6 large russet potatoes; washed, peeled, and cubed
4 garlic heads
6 ounces of ricotta cheese
6 tbsp cannabutter
4 tbsp sweet butter
4 ounces (1/4 pint) of heavy cream
4 tbsp extra virgin olive oil
2 tbsp kosher salt
2 tbsp cracked black pepper
1 tbsp basil
Instructions
Preheat oven to 420 degrees.
Cut the top half-inch off of the unpeeled garlic heads.
In a baking dish, drizzle olive oil overheads and sprinkle with basil. Roast for 30-45 minutes or until garlic is fork-tender. (The garlic peel may burn.)
While garlic is roasting, boil cubed potatoes in large pot 6-10 minutes or until potatoes are fork-tender. Drain.
Lightly mash the potatoes before adding butter and continuing to mash.
Add ricotta, salt, pepper, and heavy cream, continuing to mash until smooth.
Squeeze roasted garlic out of the peel, onto the cutting board. Crush garlic with the side of a knife.
Add garlic into the potatoes, again whipping until smooth.
Get your pinky's out, this shindig just got fancy. Your Labor Day Party will be the talk of the town when everyone hears you served this upscale cannabis side dish.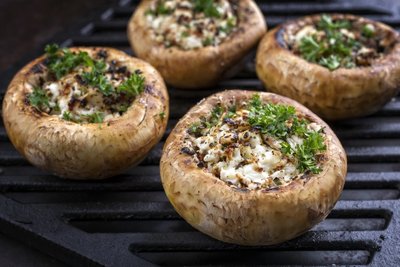 Ingredients
8 large white or portabella mushrooms; stems removed
4 cloves of garlic; crushed
4 tbsp freshly grated parmesan cheese
3 tbsp ricotta cheese
2 tbsp cannabis infused olive oil
1 tsp cracked black pepper
1/2 tsp paprika
Salt to taste
Instructions
Preheat oven to 350 degrees.
Wash mushrooms, pat dry. Finely chop any extra mushroom caps and all stems.
Sauté chopped mushrooms in canna-oil over medium-high heat 3-4 minutes.
Add garlic, salt, and pepper, continuing to cook for 3-4 minutes.
Remove from heat, transfer to a medium-sized bowl to cool 5-10 minutes.
Add ricotta and half of the grated parmesan cheese to bowl and mix.
Fill mushroom caps with cheese-filling and place on greased cookie sheet.
Sprinkle remaining 2 tbsp parmesan on top of mushrooms. Dust with paprika.
Bake 15-20 minutes.
Chili con Cannabis
Maybe you decided to saddle up to the bar and take on that burger-slinger at the grill. Are ready to ladle out justice for the downtrodden side dish? Labor Day Weekend only; Protein fight at the Cannabis-Side-Dish Corral!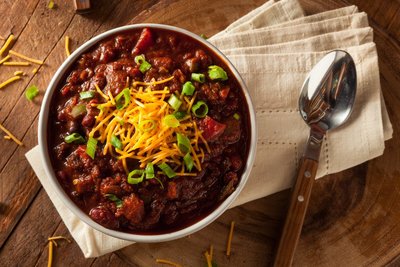 Ingredients
2 lbs of boneless beef chuck; trimmed and cut into ¾ inch cubes
(2) 15-ounce cans of black beans
(2) 15-ounce cans of dark red kidney beans
8-12 plum tomatoes
1 large sweet onion
1/2 cup dry red wine
3 tbsp minced garlic
2 tbsp brown sugar
2 tbsp chili powder
2 tbsp Worcestershire sauce
1 ½ tbsp cumin
1 tbsp dried New Mexico chili flakes
2 tsp Mexican oregano
Instructions
Rinse and drain all cans of beans, placing them in a large pot under low heat, stirring occasionally.
Coarsely chop tomatoes and sweet onion, add to beans along with Worcestershire sauce.
Heat 2 tbsp cannabutter in a large skillet. Add minced garlic and beef chuck. Brown chuck on all sides, forming a frond shape on the pan bottom for 6-8 minutes.
Deglaze skillet with red wine. Add skillet to the pot of beans.
Add remaining spices to the pot, stirring to fully incorporate. Simmer chili for a minimum of one hour, stirring often.
Stir in the last of the cannabutter before serving.
There you go! Now you have fantastic cannabis side dishes for your Labor Day Weekend festivities!