Cannabis-Infused Chocolate Ideas to Make Your Mouth Water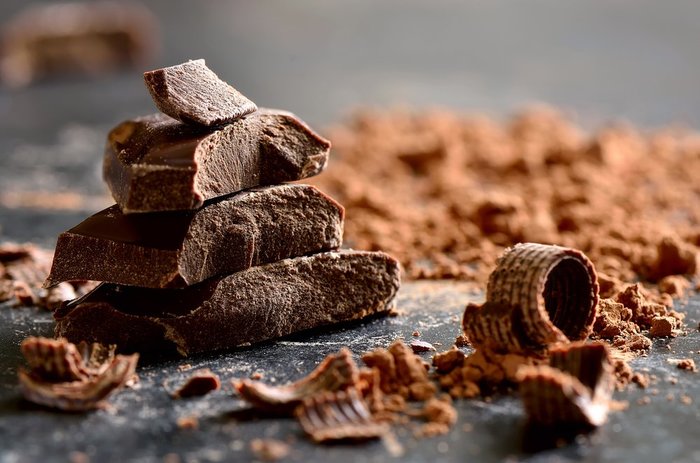 The legalization of cannabis around the country and world has brought along with it an inventiveness in the manner in which we can now enjoy the plant. Back in the day, a joint with some low-grade cannabis was really the only way most consumers knew how to get high, but now, that's all changing. And it's changing for the better.
Edibles are one of the largest markets within the cannabis industry, and cannabis-infused chocolate is one of the most popular forms of edibles. By 2022, it's estimated that cannabis-infused chocolates will take up 29 percent of the edibles retail market. Because of that growing demand chefs, bakers and regular people alike are figuring out creative ways to infuse cannabis into chocolate to create a memorable experience that tastes damn good while getting you nice and high.
Cannabis-Infused Chocolate Products
The way most chefs or bakers infuse cannabis into their products is by using a cannabis oil or cannabutter. Since oil and butter are in just about every type of chocolate – or food, period – the possibilities are literally endless when it comes to creating cannabis-infused chocolate products.
Medibles Brand has several cannabis-infused chocolate items you can purchase directly off of their website. From cannabis-infused chocolate peanut butter cups, cannabis-infused chocolate brownies and cannabis-infused chocolate covered pretzels. They have whatever you need when it comes to filling that chocolate fix and that getting-baked fix. What better way to enjoy your chocolate than to also get high after? It's a two for one situation that's truly hard to pass up.
If you, yourself, enjoy baking more than the conveniences of buying an already made product you can create your own cannabis-infused chocolate goodies right in your own kitchen. You can either make your own cannabutter or cannabis-infused cooking oil from scratch or purchase some from your nearest dispensary or online.
This can be a fun activity if you love the kitchen or just want to try something new with a friend or loved one. A happy couple is a couple who creates their own cannabis-infused chocolates and gets high together. You might even find you have a knack for creating cannabis-infused chocolates and create a treat that's unique.
Cannabis-Infused Chocolate Drinks
Chocolate drinks that are infused with cannabis are a road far less traveled for cannapreneurs in this industry. It seems everyone is so focused on what you can eat they're ignoring the drinks. Constellation Brands, on the other hand, sees the future in cannabis-infused beverages, so maybe they'll use the influx of money to create a chocolate infused beer or something along those lines.
But for now, the main option is the one that appears to be most obvious. Fall is quickly approaching so the pumpkin spice lattes will be making an appearance sooner than later. Instead of being basic, I challenge you to change the game and share some cannabis-infused hot chocolate. Hot chocolate is already delicious as it is, but with a few milligrams of cannabis added, it would truly shake things up this fall and winter.
Another option is the always classic chocolate milk. Or if you are not a big chocolate milk fan, create a cannabis-infused chocolate smoothie. Create your cannabis-infused chocolate and break it down in your blender then enjoy.
If you're feeling adventurous, maybe you can even create a cannabis-infused chocolate cocktail. Get creative, this might be your chance to get into an expanding market that can make you millions one day while you sip on your cannabis-infused chocolate drink somewhere on an island.
There are so many opportunities out there, with companies creating awesome products and laws changing so you can create your own recipes without fear of prosecution. Throw a party with your friends where everybody has to bring a dish with some sort of cannabis-infused chocolate.
Think of the possibilities.
One day, you very well could pass down your recipe for homemade cannabis-infused chocolate milk to your grandkids. But please, make sure they are of age and be responsible. What a time to be alive!
Disclaimer: All information on this site is for reference purposes only. Leafbuyer is not responsible for the outcome of any recipe you try from the Website, or any website linked to from this site. You may not achieve desired results due to variations in elements such as ingredients, cooking temperatures, typos, errors, omissions, ingredient quality/potency, or individual cooking ability. Recipes available on the Website may not have been formally tested by us or for us and we do not provide any assurances nor accept any responsibility or liability with regard to their originality, quality, nutritional value, or safety. The cannabis amounts specified in this recipe are a loose suggestion. You should adjust the amount based on desired potency and the strength of your cannabis.