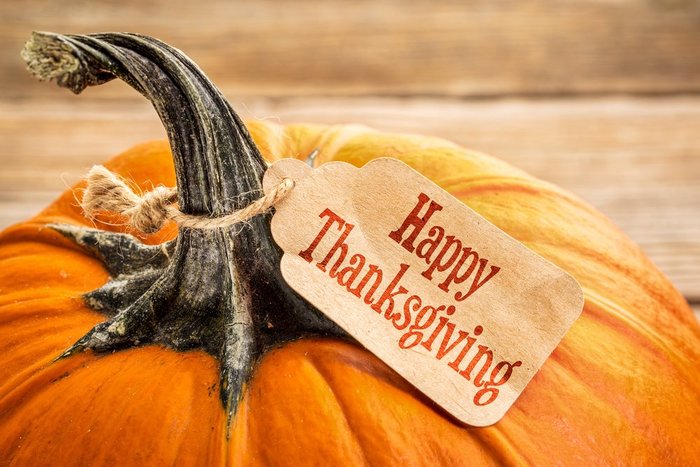 Thanksgiving (or should I say Danksgiving) is near, and that means the time for friends, family, and filling food has finally arrived! Just because Thanksgiving is traditionally celebrated with wholesome activities doesn't mean you can't shake things up this year with Leafbuyer's Thanksgiving edible recipes. Turn your holiday tradition on-end with a dinner that's as potent as it is delicious. These three Thanksgiving edible recipes are guaranteed to give you the chillest canna-holiday you've ever had. Not only are they incredibly easy to make, but they'll also knock the socks off your weed-loving dinner invitees too! So break out your favorite strain and your cannabutter and get ready to cook, because Leafbuyer has the three Thanksgiving edible recipes you need for this year's Danksgiving day celebrations.
Cannabis-Infused Stuffing
A traditional Thanksgiving meal just isn't complete without a good stuffing to go along with it. Packed with flavor from sausage, spices, and the turkey itself, stuffing is ideal for a little cannabis-infusion. Choose an earthy, wooden, or even slightly citrusy weed strain for this recipe – maybe the classic OG Kush! If you're a stuffing lover, this is a Thanksgiving edible recipe you won't want to miss:
Ingredients
2 loaves sourdough bread

1 loaf whole-grain bread

1/2 cup cannabutter

2 onions, finely chopped

1 lb sausage meat

5 stalks celery, finely chopped

1 1/2 tbs powdered sage

2 tsp dried thyme

2 tsp salt

1 tsp pepper

1/2 cup chicken broth
Directions
To make your stuffing, leave the bread to stale on the counter for an hour before you begin cooking. When they become slightly hard, cut the bread into quarter-inch chunks and set aside in a large bowl.

On medium heat, cook the sausage meat until the fat is rendered and the meat is just crisping and becoming brown. Remove sausage from the pan and set aside. Discard any excess fat from the pan at this point.

In the same pan as before, cook your onion on low heat, stirring frequently for about seven to 10 minutes or until translucent. Remove from heat and set aside.

Deglaze the pan with chicken broth and bring the liquid to a simmer. Add cannabutter and continue to heat until all the butter has melted, then take the mixture off the heat and set aside.

Add sausage, onion, celery, and spices to the bowl with the bread and combine until all ingredients are evenly dispersed. Pour the cannabutter broth over the entire stuffing mixture until bread is a little damp, but not wet.

Cook either inside the Danksgiving turkey or in a separate baking tray at 350 degrees for about an hour. Make sure to cover the stuffing with tinfoil if you're using a baking tray – it will keep the stuffing moist!
Groovy Danksgiving Gravy
If you're looking for a game-changing Thanksgiving edible recipe then look no further than Leafbuyer's cannabis-infused gravy. Just about any sauce can be improved with a little cannabis infusion, and this gravy is no different. Perfect for transforming an otherwise traditional turkey dinner into a weed-packed meal with every bite. Even better? Weed-infused gravy is hands down the easiest of our Thanksgiving edible recipes. Can anyone say, "puff puff pass (the gravy)?"
Ingredients
3 tbs cannabutter

1/2 medium onion, finely chopped

2 cups poultry stock

2 tbs flour

1 tsp powdered sage

1 tsp dried thyme

Thanksgiving turkey drippings (optional, but oh so good)

Salt and pepper to taste
Directions
Melt the cannabutter in a saucepan over low heat. Add onion and cook until translucent, about 10 minutes. Stir frequently and make sure you don't let the onion burn!

Once onion is done, add your flour to the pan and stir to coat each piece of onion thoroughly. Continue to stir over low heat for a minute or two to cook out the flour, then add stock, sage, and thyme. Increase heat to medium and bring to a simmer.

Reduce the gravy until thick and shiny. At this point, you may add the optional (but highly recommended) turkey drippings.

Salt to taste, strain the gravy, and serve!
Potent Pumpkin Pie
The humble pumpkin pie is (arguably) the best part of any Thanksgiving celebration with its flaky dough, seasonal filling, and a fresh topping of whipped cream. The only way to make it better? Add weed, of course! For cannabis-infused pumpkin pie, make sure to choose a weed strain with a sweeter terpene profile. No one wants their pumpkin pie with notes of diesel, chemicals, and skunk, after all! Spice up any Danksgiving celebration with this surprisingly potent Thanksgiving edible recipe:
Ingredients
1 1/4 cup flour

1/4 cup cold butter

1/4 cup cold cannabutter

1 tsp cane sugar

1/4 cup ice water

1 can pumpkin puree

1 can condensed milk

3 eggs

1/2 tbs pumpkin pie spice mix

1/2 tsp salt
Directions
Prepare the edible pie dough at least an hour in advance to allow time for the dough to chill. To make the cannabis-infused pie dough, combine in a large mixing bowl the flour, sugar, and salt. Cut both the cannabutter and regular butter into small cubes, about the size of peas, and add them to the bowl. Work the butter into the dough with a spoon until the mixture is crumbly and the butter is evenly dispersed.

Add the iced water one tablespoon at a time, stirring just enough to combine the water and flour. Do not over-mix this dough and remember that the mixture should feel crumbly and not-at-all wet and sticky.

Turn the dough onto a clean surface and gather into a tight ball. Wrap and store in the refrigerator for at least an hour, and up to a full week before using.

Before assembling your Thanksgiving edible pumpkin pie recipe, make sure to preheat your oven to the fan-favorite temperature of 420 degrees Fahrenheit.

Shape the pie crust by removing your dough from its wrapping and placing it on a clean, lightly floured surface. Evenly roll out the dough until about a quarter inch thick, then lift and place (gently) into a well-greased pie tin.

At this point, you will need to blind bake your pie crust, which simply means pre-cooking it a little so the filling doesn't make the crust all wet. Use specialized baking weights or (in a pinch) beans in parchment paper to weigh down the crust as you pre-bake it for ten to fifteen minutes, or until firm, but not browned.

For the pie filling, combine in a large mixing bowl the pumpkin puree, condensed milk, two eggs, pumpkin pie spice mix, and a dash of salt. Pour filling into pre-baked crust and place in oven. Bake for fifteen minutes at 420 degrees, then finish the pie at 350 degrees for another 40 minutes or until finished.

Remove your cannabis-infused pumpkin pie from the oven and allow it to rest for at least 45 minutes, or until room temperature. Serve with a large dollop of whipped cream!
Before You Cook Your Thanksgiving Edible Recipes
Before you get started on your Danksgiving feast, take some time to consider your dosages. Remember to pace out your Thanksgiving edibles if you plan to make all three recipes. Consider lowering these dosages if you have a low tolerance to weed, are cooking this meal for infrequent or non-smokers, or if your cannabutter is extra strong. It's easy to overdo it with edibles, especially when they taste this good. All warnings aside, you can really get creative with this! You only have one chance a year to try out these three Thanksgiving edible recipes, so make it count. Research weed strains to match your terpenes to your food flavors, or (if you're ambitious) you can try injecting the Thanksgiving turkey itself with cannabutter. Just enjoy your cannabis-infused Thanksgiving edible recipes and make sure to give thanks to whoever thought to make edibles out of more than just brownies.