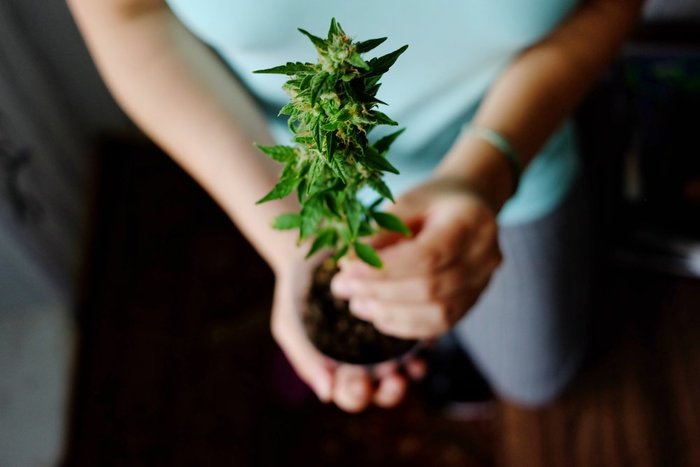 Cannabis horticulture is older than recorded human history. Archaeological evidence suggests that humans have been honing the genetic properties of cannabis for thousands of years, making it one of the world's first truly 'cultured' plants. The medicinal and spiritual qualities of cannabis are mentioned in some of the oldest religious texts, such as the Hindu Vedic Atharvaveda (2,000-800 BCE), which mentions Bhang as one of the five sacred plants of India almost 5,000 years ago.
But more recently, cannabis cultivation has taken off and gone scientific, with modern breeders refining tools, techniques, and most importantly cannabis strains first popularized in the 1960s. underground cannabis breeders can be thanked for many of the tremendous gains in diversity, potency, and overall quality of marijuana that has happened in the last fifty years. Here is a list of six influential cannabis breeders, that introduced legendary strains, or otherwise contributed to supreme cannabis genetics.
6 of the Great, Influential Cannabis Breeders
These breeders have all gone off in individual directions, taking genetic super-stock and creating some of the stickiest, tastiest, and the most potent bud known to man. There are so many influential cannabis breeders doing great work nowadays, that a list of six is by no means complete, but here are six names (in no particular order) that should get top mentions.
TGA-Subcool Seeds
Notable Strains: Ace of Spades, Agent Orange, Chernobyl, Jack the Ripper, Jesus OG, Qrazy Train, Querkle, Vortex
Subcool from TGA (The Green Avengers), is a long-time grower and breeder of cannabis. Originally, Subcool took interest in breeding because of the poor quality and selection of weed available in the U.S. south at that time. A known fixture in growing circles even during full marijuana prohibition, Subcool was active, vocal, and visible on the internet when many of his peers went silent. Now living on the Northern California, his gardens and genetics can be found up and down the coast.
Along with his long-term partner MzJill, Subcool spent decades perfecting strains, taking time to fully investigate a strain for special phenotypes. Subcool uses more traditional techniques when breeding, giving proper importance to the male, and is known for his use of super-soil in his gardens. In April of 2017, High Times bestowed Subcool with a lifetime achievement award for his work with cannabis.
Top Dawg
Notable Strains: 2 OGs, Chem 91, Star Dawg, Tres Dawg, Philly Skunk
Bringing much-deserved respect to the East Coast, Top Dawg began breeding with the original Chemdawg, to create the much sought-after Star Dawg, and effectively preserving underground genetics. After his first strains became popular in the early 2000s, Top Dawg began experimenting heavily with Haze genetics, incorporating them with his impressive Chem-stock.
Top Dawg seeds have some of the most highly prized genetics on the market, aficionados around the world seek these strains for their vaults and gardens. Fans of Sour Diesel or Chemdawg 91 will appreciate Star Dawg, a smoker's darling for over a decade. Haze lovers especially, will appreciate a Haze-dominant cross that finishes in 75-80 days.
Exotic Genetix
Notable Strains: Cherry Pie, Cookies & Cream, Kimbo Kush, Lemon Meringue, Trap Star, Tina
Germinating in a hydroponic store in Tacoma, Washington, Exotic Genetix opened in 2008 and has widely recognized as a quality breeder of quality seeds ever since. Winning awards annually since 2012, most recently at the 2017 High Times SoCal Harvest Cannabis Cup; a Best Indica for their Tina strain and Best Hybrid for Cookies & Cream.
Exotic Genetix has been consistently concocting visually impressive, high-caliber cannabis strains with high-potency and distinctive flavors. They have several line-ups based on popular strains like Tina, Mint Chocolate Chip, and Triple OG. Exotic Genetix also has an unofficial 'Dessert Menu' line-up consisting of some sweet crosses with a male Cookies & Cream, having such delicious sounding names as Banana OG, Blackberry Kush, Cherry Pie, Lemon Meringue, and Orange Valley OG.
Barney's Farm
Notable Strains:  G13 Haze, Liberty Haze, Amnesia Haze, Willie Nelson, Cookies Kush, Pineapple Chunk, Tangerine Dream, Critical Kush
Credit has to be given to the Dutch. Amsterdam's public hosting of High Times' Cannabis Cup really put a spotlight on cannabis breeding, through the patronage and rivalry between competing coffee shops. Barney's Farm has been a long supporter of the Cannabis Cup and very frequently a winner too.
Barney's Farm founder, Derry has cannabis cultivation roots going back to the 1980s. Having been part of a group of breeders who traveled across the Middle East and Asia cultivating and cross-breeding select Sativa and Indica strains. But don't let that romantic story fool you, Barney's Farm means business, and business is good. As one of the biggest coffeeshops in Amsterdam and winner of countless awards, Barney's Farm has proved to be both innovative and consistent with their genetics giving them a reliable reputation.
Green House Seeds
Notable Strains: Jack Herer, Flowerbomb Kush, Super Lemon Haze, Super Silver Haze, Master Kush, White Widow
Having already dipped my toe into the metaphorical canal, let me introduce my second Dutch company and my most controversial choice in this list, Arjan Roskam, self-proclaimed "King of Cannabis" and founder of Green House Seeds. You may recognize Arjan from his role in the docuseries Strain-Hunters a group whose core mission is "to find, document and preserve the best landraces of cannabis from the most remote areas of the planet." Green House is also the most decorated breeder, having won the High Times Cannabis Cup more than anyone else, at 34. But those reasons alone aren't why Green House Seeds should be listed, nor why it is contentious.
Having been around since 1985 Green House is a veteran seed company and was an early leader in the cannabis breeder's scene. Green House was also an early adopter of feminized seeds, which some breeders fear and disdain, and of crossbreeding Cannabis Ruderalis with the common Sativa or Indica to create 'Auto-flowering' plants. Both of these types of seeds are controversial for different reasons, but it is difficult not to recognize the innovation involved in creating them.
Vic High
Notable Strains: Killer Queen, Space Queen, Romberry, Orange Crush, Pink Grapefruit Cocktail
Taking his name from his high school alma mater, Victoria High School. In the early days of the internet, Vic could be found promoting his 'herb-growing' club called the British Columbia Growers Association (BCGA). The clubs main focus was to "facilitate the sharing of ideas, resources, and knowledge."
More of a 'grower's grower', Vic was adept at isolating key phenotypes and sharing them with other growers. Vic is such an influential cannabis breeder that Subcool-TGA has used Space Queen as a starting point for many of his most popular strains. Vic is also something of HTML specter, having disappeared from the internet chat rooms of the early 2000s. This has given him the dubious distinction of being treated as something of an urban legend, often leaving more questions
Epilogue
These breeders have been selected for their dedication to the plant and the culture. This list of six does not come close to summarizing the vast world of influential cannabis breeders. There are many more breeders coming out with impressive cannabis strains that could have been listed in their stead. Knowing the true source of your genetics allows you to better understand the generations of cannabis plants that went into breeding your favorite strain. And as you're appreciating that favorite strain, tip your hat to your favorite cannabis breeder.