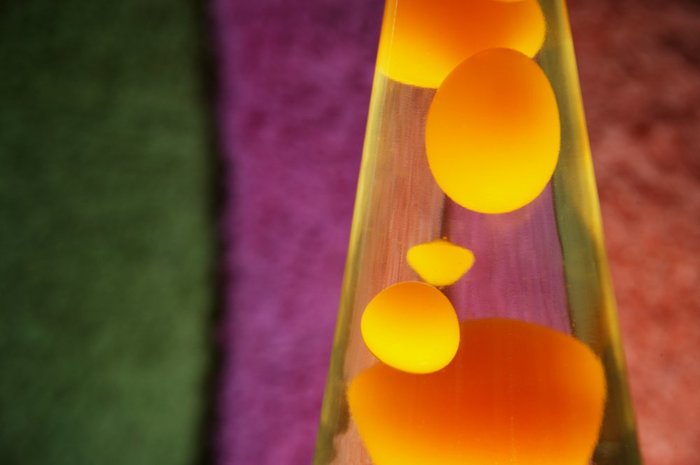 The lava lamp has been a mainstay interior decor item for fans of psychedelia since its inception in the early 1960s by a British entrepreneur. A lava lamp's liquid light show appealed to many consumers looking for an avant-garde piece to include in their colorful homes.
The emergence of psychedelia and pop culture references skyrocketed lava lamps' fame, even earning a place among the home of musicians like Ringo Starr, David Bowie, and Paul McCartney. Lava lamps have also solidified themselves in the cannabis community.
Inspired by a Self-Made Egg Timer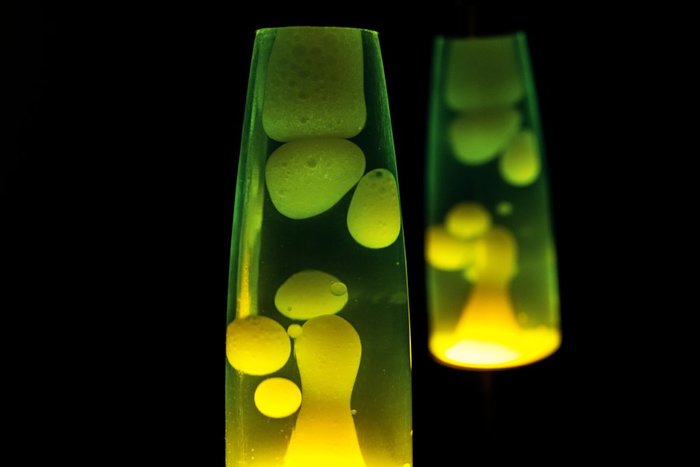 We can't talk about lava lamp history without talking about Edward Craven Walker. Edward Craven Walker was a British entrepreneur and accountant with an eccentric lifestyle. He claimed glory as a World War II pilot and settled down in Dorset, England where he made popular underwater nudist films. Needless to say, he was a successful man dabbling with taboos during his day.
Craven Walker came up with the idea for the modern-day lava lamp one day in the 1950s when he visited Queen's Head, a London pub, ordered a Guinness, and noticed a rather curious contraption sitting beside the liquor bottles.
The barkeep informed Walker that the glass cocktail shaker with water and blobs of oil sitting on the hot plate was a self-made egg timer made by deceased regular patron, Alfred Dunnett. An egg could finish cooking during the time it took the oil to rise after heating.
Craven Walker was gung ho about the concept and contacted Dunnett's widow to buy the patent. He bought the patent for under £20 (around $25). For the next decade, he would try to turn the egg-timer's mesmerizing design into an interior decor product for everyone.
The Astro Lamp
Walker's determination led him to find innovative ways to build his vision. He used an empty Orange Squash bottle, a non-alcoholic concentrated syrup, as a container for the water and wax, two mutually insoluble liquids, meaning they won't dissolve into each other.
A secret ingredient, most likely tetrachloride was added to the wax to give it more weight. Once the contents were inside and sealed, a bulb would heat the substances in a protective base. Craven Walker enlisted David George Smith to work out the kinks in his design and chemical formula.
In 1963, Craven Walker named his egg-timer-inspired product the "Astro Lamp" and based his operations in his backyard in Poole, Dorset. And the rest is lava lamp history.

The Lava Lamp Craze
Craven Walker and his wife, Christine Baer, would go around town trying to sell their new and exciting products to retail stores. They focused on marketing their lava lamps to high-end stores. Some retailers loved them, while others were disgusted and reviled by their design.
Craven Walker and company faced an uphill battle in turning on the public to this new form of light and decoration. He stepped up his marketing and branding efforts by creating his own company, Crestworth, and buying full-page ads depicting a luxury and sophisticated vibe.
What really set the wheels in motion were the 20 color combinations available for lava lamps. Consumers could choose from five fluid colors and four wax colors. Variations such as the "Astro Mini" and the "Astro Coach" gave consumers even more intriguing choices.
A Symbol of the Counterculture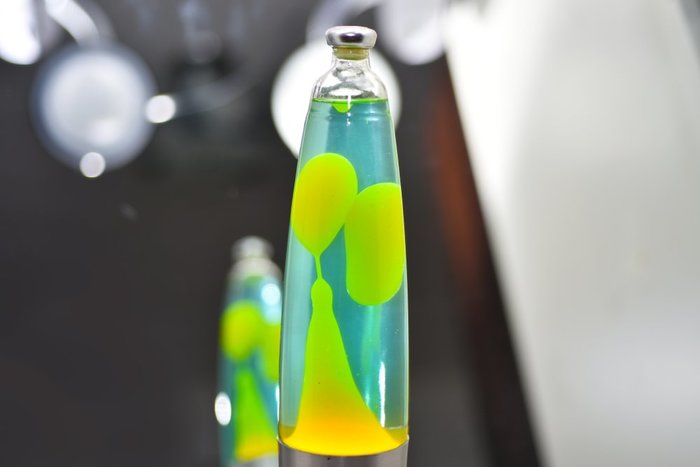 Although Craven Walker never intended lava lamp history to become synonymous with psychedelia, cannabis, drugs, and the hippie movement, it did. In the midst of the 1960s, psychedelic drugs were a common accouterment for rock shows from bands like Pink Floyd and the Yardbirds. British culture was soon enamored with the lava lamps trippy designs, which were especially interesting under the influence of psychedelics.
The lava lamp's clean-cut and glossy marketing ads got mainstream audiences on board, but their hardcore fans came from the psychedelic movement. The lava lamp's hypnotic swirls, globules, and vibrant colors paired perfectly with mind-altering experiences.
Going to America
The lava lamp craze was contributing to millions of lava lamp sales by the end of the 1960s. In 1965, two entrepreneurs named William Rubinstein and Adolph Wertheimer bought the American manufacturing rights for the Astro Lamp at a German trade show. Rubinstein and Wertheimer set up shop in Chicago, Illinois, and named their company "Lava Lite."
Megastars like Ringo Starr, Paul McCartney, and David Bowie all had lava lamps prominently displayed in their homes and recording studios. The lava lamp made its small-screen debut in popular television sci-fi programs like "Doctor Who" and "The Prisoner."
By the late 1970s and mid-1980s, people's interest in lava lamps wasn't as big facing stiff competition from blacklight posters.
A Resurgence of Interest
Walker's lava lamp sales were down to 1,000 units sold per year by the end of the 1980s. Luckily for him, antique dealer, Cressida Granger came upon one of these vintage lava lamps and reached out to Craven Walker hoping to buy the company.
At this point in lava lamp history, Craven Walker had set up his own nudist camp and was an avid nudist, albeit, with controversial opinions about who could attend his resort. Granger and Craven Walker met and decided that Cressida Granger and David Mulley would be partners in the company. Granger and Mulley took over operations shortly after when sales began taking off.
Britain was going through another psychedelic and hedonistic revival fueled by ecstasy, acid house music, and youth counterculture. Although drug use reigned supreme, so did lava lamps.
Mathmos
Craven Walkers' patent had expired in 1991 after 20 years of approval. Despite this patent nightmare, no one had noticed that the patent had run out. During the 1990s, the company saw a monopoly on lava lamp sales driven, in large part, by British youth and students.
According to the partnership agreement, Granger would gradually buy out interest in Crestworth. In 1992, Granger renamed the company to Mathmos and ran operations out of the facility using Craven Walker's machines and staff.
Craven-Walker would remain involved in business decisions as a consultant until his death in 2000. In 1998, Granger had acquired complete ownership of Mathmos and had driven up sales back up to levels in its heyday. One theory suggests that the Austin Powers movies contributed to the renewed interest in psychedelia.
Mathmos has remained steadfast in their emphasis on heritage and hand-filled bottles that still come from the same place they've always come from: Poole, Dorset, England. Mathmos has won two Queen Awards for Export and other design awards for their lava lamps and other products. The lava lamp turned 50 years old in 2013.
How do Lava Lamps Work?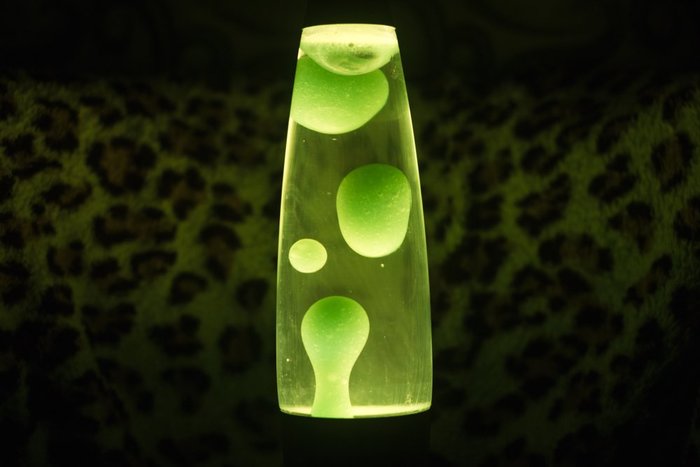 Lava lamps contain two mutually insoluble liquids: water and wax based. A secret additive agent makes the wax float to the top. A heat source encased at the bottom heats the wax making it expand, rise, and cool as it gets to the top of the lamp. Once it cools, it sinks down in a variety of trippy and elongated shapes.
Most lava lamps contain a small and rounded colored wax inside a glass container filled with a translucent liquid and a light bulb. Many vintage lamps contain incandescent or halogen bulbs to heat the bottle. Bottles are often tall and tapered. Its tapered end has more surface area per unit volume of liquid making liquids cool faster. A lava lamp's fluid mechanics is exemplified by the Rayleigh-Taylor instability.
Lava lamps can take anywhere from 45 minutes to an hour to heat the wax enough for it to begin rising in blobs. A room colder than room temperature may require a couple of hours of heating before the blobs rise.
Lava lamps don't give off much light at all adding to their moody ambiance and ability to elicit other moods. That's part of why they're staples in places like cannabis smoking lounges.†Lava lamps come in all different shapes and sizes including some limited edition ones. They will forever be associated with psychedelia and cannabis, but they also innovated the interior design world.
For the best cannabis deals, head to the Leafbuyer deals page!