Cannabis culture played across the big screen gives an unrivaled look at what the larger society views as a typical cannabis user. These cannabis movies often involve shenanigans, illogically ordered arguments, some aspect of law enforcement, and a lingering suggestion that maybe cannabis is not as harmful as the law would like to make it seem. In fact, many of these films suggest cannabis can be an outlet for exploring life, relationships, all the things that are absurd about the world, and the fascinating intricacies of life in a society that takes a plant too seriously.
Many cannabis-themed films are comedies, and being a stoner is not required to appreciate the humor. The classics, such as Cheech and Chong: Up In Smoke (1978), Cheech and Chong's Next Movie (1980), Reefer Madness (1936), Fast Times at Ridgemont High (1982), or Half Baked (1998) have been around for decades and they still carry with them the spirit of the cannabis user in an erratic, adventure-filled world where the plant is illegal in most places.
As marijuana legalization for recreational or medical use continues to gain support across the world, some people's beliefs and perspectives are starting to change. Cannabis legalization is most supported by millennials (born the late 1970s to mid-1990s), followed by generation X (born early-to-mid-1960s through mid-to-late-1970s), with baby boomers (1964-1964) and the silent generation (mid-1920s through mid-1940s) being the most opposed. And since streaming is now the preferred method of watching movies and television for millennials, this pro-pot generation has unprecedented access to a wealth of new and classic cannabis movies. It's only right that we take a moment to catalogue some of the best.
Between 2000 and 2010, cannabis culture was displayed through some noteworthy cannabis movies. Even though the social attitudes surrounding marijuana have certainly changed between the 1970s and 2017, these films have the sa
me reverence for whimsical adventure, zany characters, and celebrity cameos as the films before them, and even a bit of prescience regarding impending cannabis legalization.
Jay and Silent Bob Strike Back (2001)
Jay and Silent Bob are the lovable weed dealers found in many of comedian/actor/director Kevin Smith's films, including Clerks (1994), Mallrats (1995) Chasing Amy (1997), and Dogma (1999). After so many cameos (regardless of their unimportance to the plot), the weed-dealing duo finally got their own film. This story explores how the humble, high pair took a trip from New Jersey to Hollywood to hunt down what they are owed.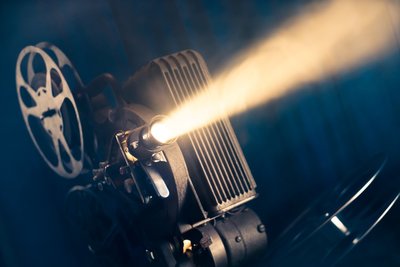 After comic films had begun to take off at the box office, the characters Bluntman and Chronic were bought by Miramax movie studio, catapulting the stoney weed-selling team on an adventure to track down their so called "movie check." With heists, fast food, the introduction of the internet, truckers with hidden knowledge, a goofball Forest Service Ranger (played by Will Ferrell), and a monkey all filling the screen, Jay and Silent Bob have created a stoner movie that Hollywood had coming.
Harold and Kumar Go to White Castle (2004)
Cannabis movies often speak for the common injustices of locking up users, or at least focus on characters avoiding being caught, but Harold and Kumar delve into a bit more social commentary. Harold and Kumar Go to White Castle focuses on two roommates who smoked a bunch of weed while watching TV and decided they needed something to satisfy their growing hunger. A commercial for White Castle came on, and their hunger combined with memories of eating those little burgers to drive them on a monomaniacal quest. White Castle must, above everything else (except weed), be consumed by the night's end.
After leaving their apartment, the two tumble through a whirlwind of absurd scenarios. First, after the learning White Castle nearest them had shut their doors, the plot throws Harold and Kumar on a journey that involves impersonating a doctor, making a jail break, meeting a man named "Freakshow," taking a leopard ride, indulging casual racism, and Neil Patrick Harris.
Grandma's Boy (2006)
Video games and cannabis culture, some would say, go hand-in-hand. Grandma's Boy is a movie about cannabis users working at a video game development company. Alex, the main character, is kicked out of his apartment by the landlord, who breaks his bong in the process. Bongless and homeless, Alex goes to live with his grandma and her two roommates, and his life at work and home would never be the same.
After discovering that his crush also smokes weed, Alex throws a wild house party and invites most of the people from the office. What unfolds next is a story of revenge, reward, relationships, integrity, and a man who wants robot legs, all brought together by the tan, weed-dealing Dante, and his lion.
Tenacious D and the Pick of Destiny (2007)
Awarded Best Stoner Film of the Year by High Times Magazine at the 2007 Stoney Awards, Tenacious D and the Pick of Destiny follows Tenacious D, a real-life comedy rock duo comprised of Jack Black and Kyle Gass, as they explore the band's origins. Mostly, this means the duo gets high as they rock around the world in search of the Pick of Destiny.
The Pick of Destiny is said to be fashioned from Satan's tooth and can give any who use it the ability to rock their way to fame. The movie follows the duo as they trip and bend through the world in search of the Pick, ultimately confronting the Devil himself, who takes his tooth back and is restored to full power on earth. To protect everything they care about, Tenacious D challenges Satan to a rock-off. A cannabis movie aimed at the music lovers and absurdists out there, Tenacious D delivers high laughs as a musical/ rock comedy.
Pineapple Express (2008)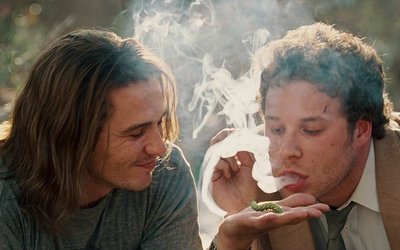 "If marijuana is not legal in the next five years, I have no faith left in humanity."
– Dale Denton
Within the first ten minutes of Pineapple Express, two things are clear: the filmmakers strongly disagree with marijuana prohibition, and this movie is going to be hilarious. Written by Seth Rogan and Evan Goldberg (the duo responsible for Superbad), Pineapple Express follows process server Dale Denton (Seth Rogan) as he navigates his stoney life. After stopping by his weed dealer's place (played by James Franco) and receiving a cannabis strain that only his dealer carries, he accidentally witnesses a murder. Unbeknownst to him, the murder involved a rival drug gang in town – the very same one supplying the cannabis to his dealer's supplier, Red (Danny McBride). Dale drops his roach and speeds away, alerting the criminals to his presence. In a panic, he goes back to his dealer's place.
The strain in question? Pineapple Express. Its exclusivity leads the criminals to the supplier, and a chase unfolds. Crushed cell phones, over-the-top fight scenes, cowardice and loyalty, police corruption, and friendship abound, wrapped up in a film so audacious, Pineapple Express the movie almost holds the same high – creative, euphoric, energetic – as the strain, making them the perfect pair.