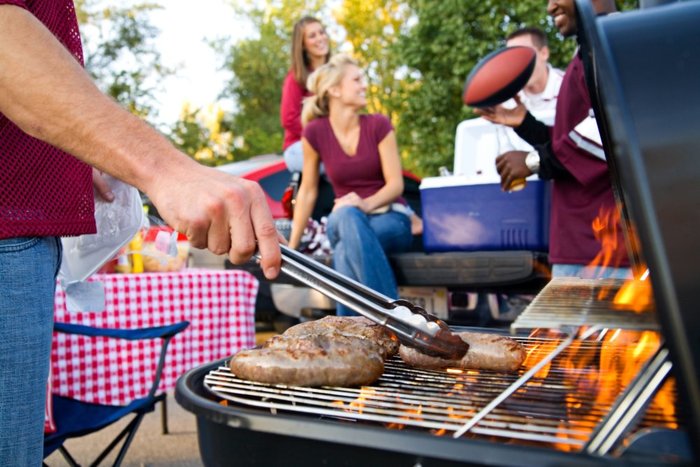 It's the end of summer, school is back in session and the 2018 NFL season is upon us. It's time for football, fans, and festivities, and nothing feels more festive than a good tailgate party. More people are toking and tailgating than ever, especially now that 5 states with NFL teams have legalized recreational marijuana with more states sure to follow. Whether you are home or away, here are some weed tailgating ideas to show your team pride with style. 
The Big Four
You can't achieve superfan status without perfecting the art of the tailgate.  The best tailgate parties can be broken down into four sections; Food, Drinks, Games, and Flair.  If your tailgate is missing even of these elements, it is not firing on all cylinders. 
To the rescue are some awesome weed tailgating ideas from each category that will have you dancing in the end zone. 
Food
An army cannot march on an empty stomach, and neither can a tailgate party, party. Food is king of the tailgate and sits atop a mighty grill throne.  
The tastiest weed tailgating idea is to grill-up some deliciously dank canna-burgers or pot-dogs.  Other tailgaters are likely to punt their inferior sandwiches after smelling what your grill is serving.  There are dozens of recipes for weed-burgers to choose from, or you can create your own bhang-ing beef patty. 
And a steaming cup of cannabis-infused chili might be the perfect warmth on those, especially cold game-days.  A thermos full of chili-con-cannabis can heat you up on a frigid January night keeping your head in the right place for the playoffs.  
For millions of folks, there is no party without a drink in their hand. If you are looking to kick up your brew game, a good weed tailgating idea might be to try some marijuana drinks. Picking up a case of THC or CBD-infused beer is bound to get you the first down. 
The market for weed-beer is just emerging; there are a few CBD-infused beers available and at least one THC-infused beer, from New Belgium Brewery called the Hemperor IPA. 
And for those non-beer drinkers, you can pick up some THC-infused hard apple cider to keep everyone happy-happy and hydrated. Those in the Pacific North West can pick up a Xylem Cider in Oregon or a case of Happy Apple Cider from over a dozen dispensaries in Washington. 
Games
Now that pangs of hunger are satiated, and thirsts are quenched; let the competitions begin!  Here are a few weed tailgating ideas to keep the crowd enthused and find out who is top dog. 
Scanning the scene at any tailgating parking lot, you will see scores of partiers playing the backyard game of cornhole. You will notice a familiar pattern of home-team colored cornhole boxes and maybe, dare I say it, a few road-team painted rectangles. 
But you can show your support for number 420 by showing off your weed-themed cornhole set. There are a variety of pot-leaf motifs and Rasta designs to choose from on Etsy and eBay. 
Flair
Flair is perhaps the hardest category to explain, but the most obvious when you see it. Flair is like going for the extra point and the 2-point conversion. 
Flair is the guy who turned a side-car on a Harley into an epic-level barbeque smoker, or the RV that rolls up with an air-brushed Tom Brady on the side.  It is going beyond the average, and accessorizing, customizing, and radicalizing something into a monstrosity of ingenuity and showmanship. 
If you have a favorite bong or another smoking device that is often getting passed around the party, a great weed tailgating idea for 2018 is to customize your piece using your team's colors or logo. 
There are few techniques when painting on glass that should be researched first. Also, etching your team's logo on the glass is not as difficult a project as you might think, as noted by this Martha Stewart project. 
Another flair idea is getting one (or more) Joint Smoking Power-Hitters for your 2018 season tailgate parties.  These joint smoking devices, such as the Buddy Power Hitter and the Piff Power Hitter enable tailgaters to "shoot" the smoke from a joint.  Smoking a joint is always more fun when you can shoot smoke at someone else. 
Buddy Power-Hitters come in a variety of colors, buying more than one lets you mix and match up team colors. Plus, these bad boys are already football-shaped, making that hail-MaryJane pass an inevitability. 
Final Tips
Plan Ahead: Make a checklist of all the items you want to bring. Prepare the food, THC-infused or not, the day before. Pre-purchase and chill the weed beer/cider. It's also a good idea to clean your pieces before gameday.

 

Pack Ahead: Games, tables, chairs, etc. should all be packed ahead of time. Spare batteries for vape-pens should be charged, spare lighters, rolling papers, and drink cozies should not be forgotten, in case you break your bong.

 

Be Safe: Alcohol and cannabis consumption should be done responsibly. Eating THC can have negative effects if done in excess.

 

Be Respectful: Obey the law, don't be rude, keep it civil, and have fun!