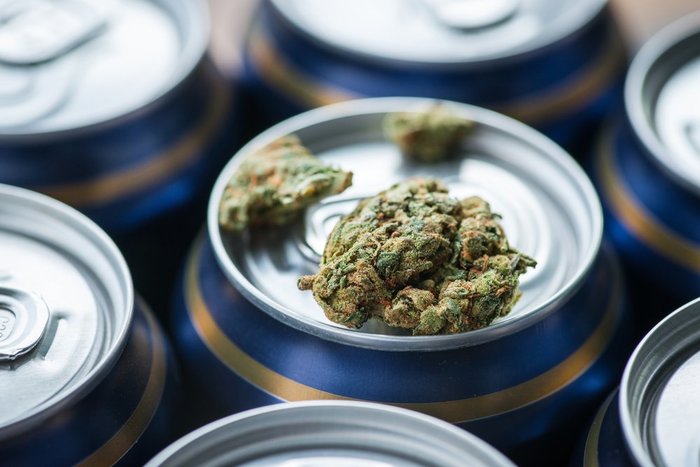 The rise of industrial hemp created a significant demand for CBD and hemp-based products. For those who don't know, industrial hemp is an agricultural crop that is a relative of the cannabis sativa. Unlike a majority of the cannabis sativa plants, industrial hemp contains more CBD than THC. In fact, industrial hemp contains less than 0.3 percent THC, which is the legal limit of THC in hemp-based products. This is why there are so many new CBD companies opening up with crazy CBD infused products. From hemp gummies to hemp lotions, hemp oil can be introduced into nearly every food or drink. As more and more hemp products began to pop up, it was only a matter of time before the market saw a hemp brewed beer. The wait is over, for The Hemperor is here!   
New Belgium's The Hemperor

 
New Belgium, a leading craft brewing company, has created an entirely new and original beer called, The Hemperor. This unique play on an India Pale Ale (IPA) combines hops with hemp seeds to create a beer unlike anything else. In fact, it has created its very own category of beer known as HPA. The Hemperor is the first product that blends the cannabis industry with the alcohol industry. Not that this beer will get consumers high (it won't), but it's still one heck of a concept that unites two completely separate sectors. 
New Belgium has gone above and beyond with this craft beer. Its insanely unusual flavor and aroma are not what you would typically expect from an IPA. This hoppy beer has that same IPA finish that craft connoisseurs love, with an intense burst of dank flavor. Every sip of The Hemperor tastes like a nice, fat, bong rip of some stellar cannabis. The hemp derived terpenes blend wonderfully with original hops. Consumers report The Hemperor as being bitter and sweet with an earthy finish. No joke, this beer tastes like cannabis in a bottle.  
Details of The Hemperor:

 

ABV: 7.0%         Yeast: Ale Yeast

IBU: 55               Hops: Nugget / Cascade / HBC 522 / Simcoe

Calories: 200     Malts: Pale / White Wheat / Midnight Wheat
The Hemperor is available (almost) nationwide (sorry, Kansas), and if you ever find yourself in Fort Collins, Colorado, stop by New Belgium's brewery to get a fresh Hemperor on tap. If you're having troubles finding The Hemperor near you, use New Belgium's case locator, here.  
Future of Hemp Beer

 
The Hemperor is just the beginning for hemp-based beers and possibly even cannabis-infused beers. New Belgium is not the only large brewery getting their foot into this industry. Blue Moon is working closely with a large cannabis manufacturer, Ebbu, to create a line of marijuana-infused beers. However, other smaller breweries have been forced to shut down their production of hemp and CBD beers. Black Hammer Brewing was recently forced to stop production of their CBD beer line and is now going through an approval process to again begin production.  
As industrial hemp gets closer and closer to federal legalization, we will continue to see more and more derived hemp products. It's safe to say we could see HPA's become a full category in the craft beer world. We may even see a full-blown THC beer one day.
Until legalization becomes a reality, we will likely see more hemp beers coming out.  
Stay tuned, to learn more about hemp beer and hemp-derived products, here.