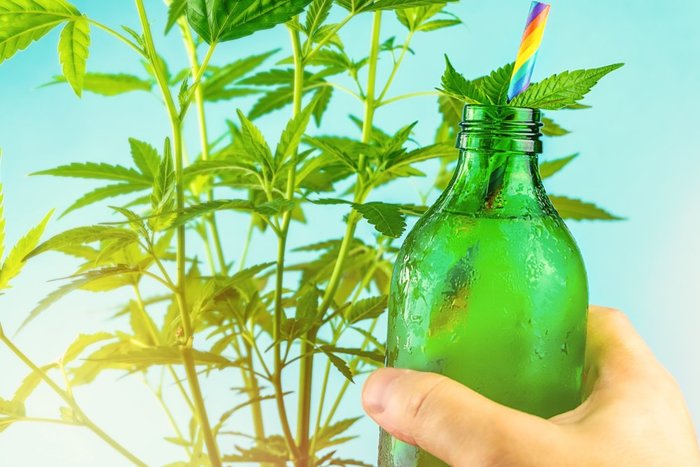 Cannabis cooking is all the rage. As marijuana gets legalized in more places and becomes more accepted in mainstream society, more and more professional chefs and home-cooks are looking to spice up their plates by spiking their meal with food-grade THC or CBD ingredients. This popularity is evident by a new breed of television programming — cannabis cooking shows. 
Of course, not everyone wants to be a chef, and not all of us want to eat a whole cannabis meal; some of us prefer smaller doses with our favorite cannabis-infused drinks instead.  
There really is nothing more refreshing than drinking your weed while watching chefs compete on Bong Appetit or Cooking on High. So, if you are like me, and prefer a few dank drinks as opposed to a 420-course bud-laden buffet, then I have 3 cannabis drink recipes to quench that thirst.  
Cannabis-Infused Liquids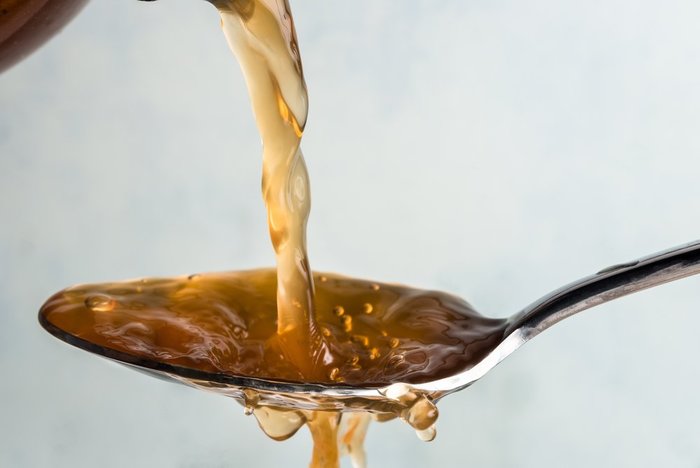 Similar to making edibles, cannabis drinks require a properly decarboxylated THC or CBD-infused ingredient to mix into your beverage. Some of the more common infused ingredients for drinks include: 
Tinctures (alcohol or glycerin based)

Infused simple syrups
Cannabutter
Infused honey
Dissolvable powder

s

Infused alcohols (Green Dragon, etc.)
Having cannabis-infused ingredients at the ready is the best way to control your dosing and the easiest way to follow any liquid marijuana recipe. 
Cannabis Drink Recipes
Whether you're already an enthusiastic weed-drinker or are just interested in delving into the world of deliciously refreshing cannabis drinks, in the meantime, just kick back, relax, and grab a bit of your favorite strain to enjoy while you read about some of Leafbuyer's favorite cannabis drink recipes!
Pomegranate Pot Lemonade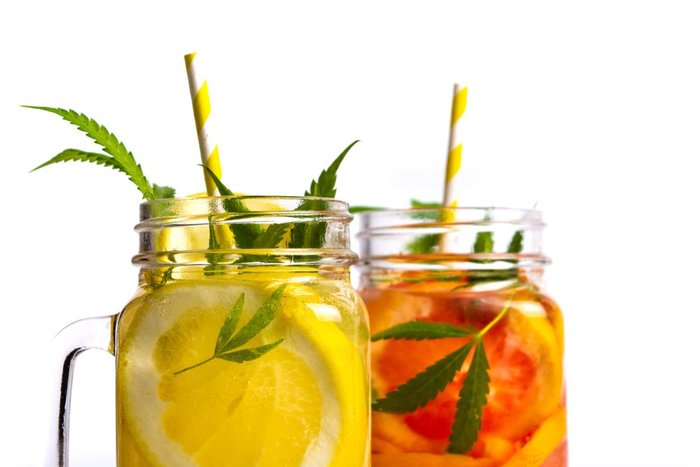 Ice-cold lemonade is truly one of the great pleasures in life — and it's even more sensational when infused with cannabis and pomegranate juice! This cannabis drink recipe is super easy to make, and it gives you some room to experiment based on your personal preferences as well!
The easiest method of approach is just to add?a cannabis tincture?or some infused simple syrup right into your cold glass of homemade lemonade — and after you master the art of making cannabis syrup yourself, you can also add that potent extract to any drink you want!
When life hands you lemons, feel free to add some of these ingredients:
Ingredients: 
6 cups cold water
2 cups lemon juice (8-10 

lemons

)

2 cups ice
1

½ 

cup

s

 

sugar

 (less if using simple syrup)

 

2 oz pomegranate juice
1-2 

tbsp

 cannabis 

tincture

 

or

 

2-4 oz infused simple syrup
Optional: pinch of salt
Directions: 
Add cold water to a pitcher.

Add sugar to water; stir until the sugar is dissolved.
Cut le

mons in half. Using a press, squeeze lemon juice into the pitcher.

Add pomegranate juice and (optional) pinch of salt to pitcher, and stir to combine.
Add Ice. 

Enjoy!
Now you have the option to add your cannabis-infused ingredient to the entire pitcher or to add smaller doses to individual glasses of your delicious lemonade. Either way, a sip of this reefer-refreshment will feel like six more weeks of summer!
Hot Canna-Apple Cider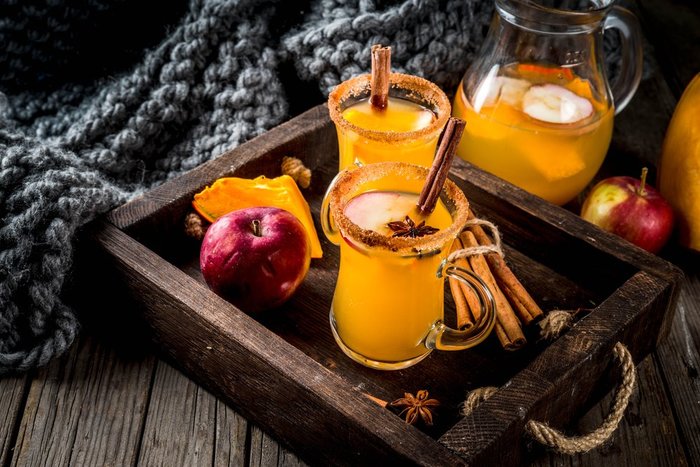 When the chill of fall starts to settle in the air, nothing tastes better than a cup of spiked hot apple cider — except, of course, this cannabis drink recipe that will get you as high as the temperature gets low!
Here's a few things you will need:
Ingredients: 
6 cups apple cider (or unfiltered apple juice)

1 ½ cups Applejack or apple brandy
¼ cup 

light 

brown 

sugar

6 tbsp 

lemon 

juice

3 tbsp 

cannabutter

6 cinnamon sticks
Grated 

nutmeg
Directions: 
In a large pot, add cannabutter, brown sugar, and Applejack over medium heat, stirring frequently, until brought to a simmer.

Simmer until the sugar and butter have both melted, taking care to not allow the mixture to boil

 — just simmer!

Stir in cider, lemon juice, and cinnamon sticks, and then bring mixture to a boil.
Remove from heat. 

Allow a few minutes for 

everything 

to steep before serving. 

 

Garnish each cup with sprinkled nutmeg and a cinnamon stick.
So, mix up a batch of liquid warm fuzzies to sip as you watch the leaves begin to change color!
The Mari-jito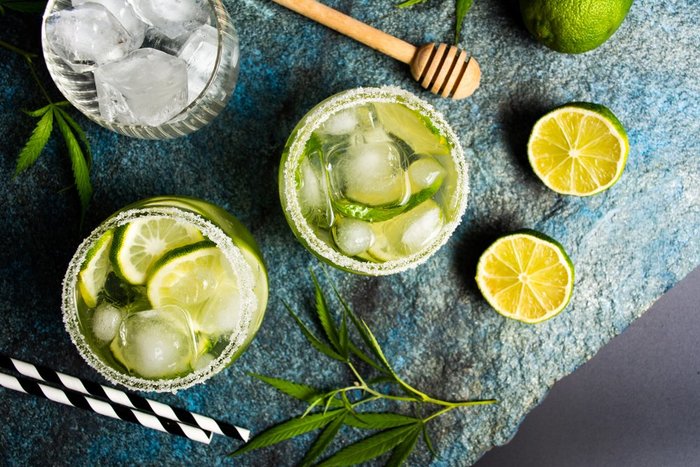 Mojitos are great cocktail drinks for hot summer days and even hotter club nights. This cannabis drink recipe might help you sneak Mary Jane into the club by using a cannabis-infused rum. This Lady-Jane laced Latin recipe will give you enough marijuana mojitos for about four people. 
The Mari-jito is as great a drink for a cocktail party as much as it is appropriate for Taco Tuesday, so here's what you'll need to get to blow your taste buds away with a delectable cannabis drink:
Ingredients: 
1 bottle club soda

4-6 oz cannabis-infused rum 
4-5 limes
Fresh mint leaves
4 

t

sp

 

sugar

 (white, granulated)

 

A 

few 

dash

es 

of bitters

 

Ice
Directions: 
Start with 4 glasses. Add a teaspoon of sugar to each.

C

ut lime

s 

in half and, using 

a press,

 squeeze juice from half a lime into each of the glasses. 

Add a dash of bitters to each of the glasses.
Add a few (3-4) fresh mint leaves to each of the mixtures and, using 

a 

wooden 

spoon/

pestle, 

carefully muddle (crush) the mint leaves into the drinks.

 

Pour an ounce of marijuana rum into 

each 

glass and add 2-3 ice cubes. 

 

Top off the mojito cocktail mixtures with club soda to the brim.
Stick a fun straw in each drink, and your home-made Mari-jitos are ready to be enjoyed!
Share your smooth and relaxing cocktails with your friends and family alike — it's sure to be a hit!
There you have it — 3 dangerously delectable dank-drinks to quench any cannabis enthusiast's thirst. These cannabis drink recipes are perfect for hot summer days, cool autumn nights, or just about everything in-between. They might even be the perfect beverage to enjoy while watching your favorite cannabis cooking show. Cheers! 
FOR THE BEST CANNABIS DEALS, CHECK OUT THE LEAFBUYER DEALS PAGE!