Two of the Best Cannabis Cuisine Cooking Shows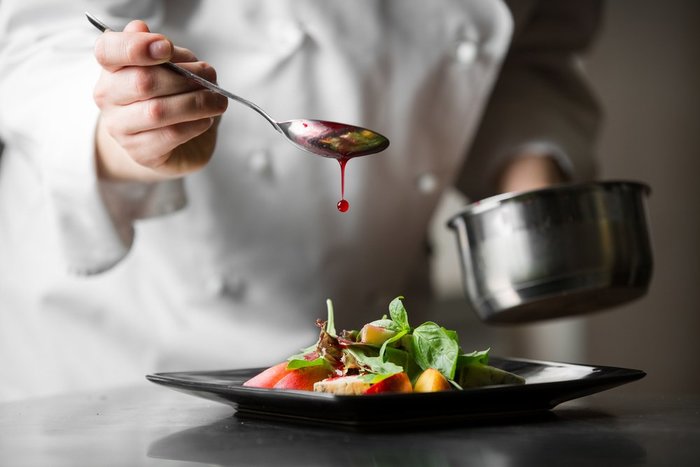 Cannabis, television, and cuisine fit together almost perfectly. So, of course, it was only a matter of time before Hollywood combined the three. Pretty soon Netflix and Hulu will have entire Cannabis sections filled with shows focused on the plant – if they're smart. There are an abundance of shows and movies out there with the theme of cannabis being the driving force, but cannabis-infused food shows are relatively new. It would behoove Food Network to jump on the bandwagon before it's too late. But where they have dropped the ball networks like Vice's food network Munchies and streaming magnate Netflix have filled the void. Thanks to these execs, getting high and watching people cook food that can get you high got a hell of a lot easier.
Bong Appetit
Bong Appetit, is in its third season of production Bong Appetit is a cannabis cuisine culture show. It's similar to Diners, Drive-Ins and Dives but with a cannabis theme. Host Abdullah Saeed, who is known for his role as stoner and friend of the Guy in HBO's hit cannabis show, High Maintenance, travels to cannabis-friendly states and looks into what they have to offer in the cannabis cuisine space.
This show explores the ever-growing industry that is cannabis-infused cuisine by exposing the audience to more than the baked goods or gummies we are all accustomed to hearing about or seeing. As clever as it is eye-opening, this series shines a light on niche markets throughout the country. Cannabis tourism goes hand in hand with cannabis-infused cuisine and Bong Appetit gives the audience a roadmap of how to get the most out of their experience.
Bong Appetit goes above and beyond, for example on one of their episodes which were released on YouTube Saeed travels to Seattle, Washington. There he finds a company that creates a cannabis-infused elixir that can be used for anything from cocktail mixing to crepes.
Saeed starts in their factory where he sees how their craft products are created, from organic products of course, and he also learns a bit about the laws in the state.
Afterward, he arrives at a "bud and breakfast" where he is allowed to freely smoke, as you are only allowed to use cannabis in designated spaces in Seattle, and enjoy the cannabis-infused products. He eats a breakfast prepared by the owner of the bud and breakfast, which is also infused with the elixir he just saw being created. A delicious crepe and egg-based dish, drizzled with the elixir on top. It looks as delicious as it gets him high.
He then enjoys another tasting of cannabis-infused foods before getting a massage with cannabis oils. It is truly an experience that anyone can enjoy, and Bong Appetit helps spread the word to get people more involved in this booming and fun industry. Cannabis tourism is awesome and on the rise.
Cooking on High
Now, if you're more into the competitive nature of cooking culture Netflix's show Cooking On High should be right up your alley. The first-ever competitive cooking show with cannabis-infused foods, Cooking On High puts renowned cannabis chefs up against one another to win the competition which is decided by a panel of celebrity judges and cannabis enthusiasts.
Unlike Chopped or Top Chef, the show is much more lighthearted and the judges are more privy to the cannabis aspect of things than the cuisine. Nonetheless, the show is entertaining and the chefs are highly talented.
Once again, this show looks to separate cannabis-infused cooking from the norm. Every dish that is prepared looks like it could be on one of the Food Network's competitive cooking shows, the only difference is that the key ingredient is cannabis. Each judge consistently comments on the fact that they cannot taste the cannabis at all, and it is not until their thirty-minute break, where they let the cannabis kick in, that they even truly acknowledge it at all.
Every episode is centered around a specific type of food, like breakfast food or Spanish style. The chefs know exactly what they are cooking so they have all of their ingredients. Only the type of cannabis they use is the varying factor and most of the chefs use either a cannabis oil or cannabutter to infuse it into their dishes.
The cannabis strain that is to be used each episode is presented by cannabis guru Ngaio Bealum right before they begin to cook. He explains the effects of the strain on the body and a bunch of other things that seem to go over the judges' heads for the most part.
The chefs then start cooking and the judges, along with the audience, watch their method as they cook on screen. They each get thirty minutes to complete their dish, then thirty-minute break to let the effects of the cannabis set in on the judges, and then their dishes are judged. The show is fun and carefree, as it does not feel like the chefs truly care who wins or loses.
Just the chance to expose audiences to something different from the standard when it comes to cannabis cuisine seems to be the purpose of this show and the chefs who participate.
Cooking Shows to Enjoy High
This show was mentioned earlier but Diners, Drive-Ins, and Dives is a fantastic show to enjoy while under the influence of cannabis. Although the show does not feature cannabis cuisine the food that is covered by enigmatic chef Guy Fieri will certainly get your taste buds watering. Guy travels across the country in his badass car and tries even more badass food from some of the best diners, drive-ins, and dives in America. Everything from burgers to Italian food to barbeque is covered in the show, and the viewer gets to see how different chefs have different approaches to similar menu styles. Although this show is not made for the cannabis enthusiasts, they were definitely subliminally in mind when this show was conceived. I've yet to finish an episode of this show where my high mind was not only intrigued but hungry.
Although it is not exactly food, beer is a major staple in any stoner's diet. Beer and liquor companies around the world are catching onto this too, investing millions in the cannabis industry. And Viceland's show Beerland is one that you must check out if you are ever bored and stoned. Another competition show, their host Meg Gill, travels around the country trying to find some of the best microbreweries. Typically, she goes to three breweries, tastes their product and talks to their owners about how they started in the business.
At the end of each episode, she picks the best brewer who then gets the opportunity to be distributed by Gill's own brewery, the well known Golden Road brand. Great while high, this is another show that's not just about the beer. It's about the people who are building these companies from the ground up and the communities they serve.
Also, many of these brewers are home brewers who have their own unique approach to creating. So, you might even learn a thing or two. Regardless, it's hard to go wrong with a cooking show while high.
Tune in to shows like The Mind of a Chef, Anthony Bourdain: No Reservations or even Chopped, just to name a few more. Regardless of your choice, as long as you're enjoying the benefits of the beautiful cannabis plant, you're bound to have a good time. Tune in and toke up.