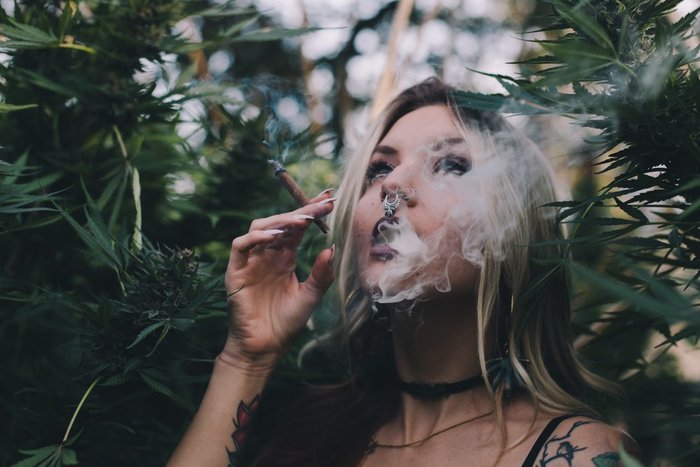 Are you interested in learning more about cannabis and cannabis tours in the great state of Oregon? Do you enjoy marijuana consumption but wish you had further knowledge about the growers and cannabis dispensaries in your surrounding areas?
You're in luck. In addition to supporting the legalization of recreational marijuana use across the state, it seems that companies across Oregon also wants to make sure users (and skeptics) are as informed as possible about the wonderful world of weed.
Check out these cannabis tours in Portland and the greater Oregon area and make sure your thirst for knowledge and awesome bud is sated
The Potlandia Experience
We've all heard of the show Portlandia, which has helped solidify Portland's reputation of being a generally weird city for generally weird people to live. But Portland is known for more than just its oddities it's known for its pot. 
The Potlandia Experience is a marijuana tour run by Great Oregon Tours. This is a perfect tour for those wishing to learn about cannabis culture in Oregon's most popular city. Your tour guides are experts in tourism and have definitely done their research with growers, dispensaries, and the beautiful bud itself. You'll learn the difference between indica and sativa strains of marijuana, as well as the two main components: THC and CBD. So climb aboard the Pot Tour Bus and prepare for an education, entertaining trip to some of Portland's prime dispensaries, one seriously awesome distillery, and food carts (because what's weed without the munchies?).
Time: 11:00am kick-off; 4 hour 20 minute tour
Cost: $75 per person, two person minimum
Can I smoke on the tour? A Potlandia representative told me, "I cannot confirm nor deny what happens on the Pot Tour Bus, wink wink wink!" (He legitimately said the word "wink" three times. You do the math.)
Are private tours available? Not specifically, but you could purchase 14 tickets for one tour and fill up the bus!
BridgeTown Weed Tour
If you've been to Portland, you probably noticed that in addition to all of the weed-friendly people, places, and events, there are also quite a few bridges. So it makes sense that these next cannabis tours fall under the title of BridgeTown Weed Tour. Pick one of three tours to best fit your educational and experiential desires. Learn to cook with cannabis, find out how it's grown, or experience nightlife in a different state of mind. While you're out, you'll also stop at some of Portland's top cannabis boutiques, and wrap up at a 420-friendly smoking lounge. All tours are approximately 4 hours in length and include a gift jar.
Can I smoke on the tour? Yes
Are private tours available? Not specifically, but you could purchase 12 tickets for one tour and fill up the bus!
Your tour options include:
The Grasshopper Tour, with visits to a growing facility, shopping time at cannabis retailers, and of course a stop at the food carts.
The Earlybird Brunch, which begins with a multi-course brunch, includes a workshop on cooking with cannabis, and a stop or two at some great cannabis retailers.
The Niteowl Tour, a night out with a ticket to a comedy club and a trip to those wonderful cannabis retailers.
Time: dependent on the tour you choose; all tours approximately 4 hours
Cost: $99 per person **limited time $79.00 special for all tours! Promo code: STAYLIFTED**
Portland Canna Bus
Are you hoping for an up-close experience with the cannabis industry, including some of Portland's unique dispensaries, grow shops, and laboratories? Portland Canna Bus is the tour for you. This company offers luxury party buses and limousines and focuses on educating those who want to learn, all while providing a fun and enjoyable experience.
In addition to a personal tour, each dispensary, analytical laboratory, and grow shop offers goody bags, educational materials, discounts, and free samples. (Note: This is the only tour on the list that offers samples of cannabis products, which is a big plus!) Depending on the time of year for which you book your tour, you may even visit a legal commercial grow facility or go behind the scenes at an extractor manufacturing facility
Time: Contact for timing
Cost: Contact for pricing
Can I smoke on the tour? Yes
Are private tours available? Yes
High 5 Tours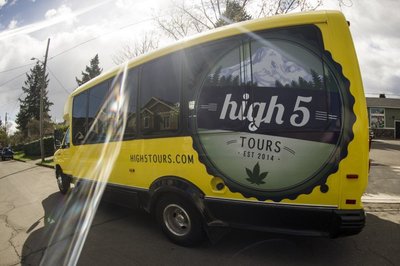 Portland is a city of diverse interests and styles, and High 5 Tours guests to dispensaries and companies that reflect that diversity. These fun and unique tours dive into the growing cannabis industry in Portland, blending education and culture into one enjoyable experience. In addition, the Yellow Pot Bus that will drive you around is a safe and legal place to consume cannabis, as it comes complete with a private smoking area and even offers a selection of smoking devices.
Can I smoke on the tours? Yes
Are private tours available? Yes
Tour options:
CannaPDX stops at an apothecary (featuring organic cannabis in many forms, as well as non-cannabis herbs), a craft beer brewery, and a high-end marijuana dispensary. Wrap up the tour by crossing two of Portland's bridges and driving past the iconic neon Portland, Oregon sign.
Time: 4:20pm kick-off daily (there it is again); approximately 3 hour tour
Cost: $75 per person
Cannabis Grow House and Dispensary Tour takes you on the journey from plant to pipe, with stops at an herbal apothecary, an indoor medical cannabis grow facility, food carts (you'll probably have the munchies at this point), and one of Portland's fine dispensaries. This tour ends at the Saturday Market, where you can browse and buy locally-made art, clothes, and food.
Time: 4:20pm kick-off daily (there it is again); approximately 3-hour tour
Cost: $75 per person
Coffee and Cannabis picks you up at a coffee shop and drives you to a dispensary where you can purchase some bud. From there, you're swept off to one of Portland's finest coffee roasting facilities for a tour (free espresso included). You'll then head to one final recreational marijuana dispensary and wrap things up at the food carts.
Time: Wednesdays at 12:00 pm; approximately 3-hour tour
Cost: $65 per person
Multnomah Falls Adventures is perfect for the outdoor lover. You'll make a stop at an herbal apothecary to stock up on your favorite cannabis (and non-cannabis) products, then head out to the Columbia River Gorge for a gorgeous (get it?) scenic overlook, historical exhibits, and a gift shop. From there, you'll visit Oregon's highest waterfall, Multnomah Falls, and wrap up your tour with an ice cream sandwich.
Time: Mondays and Fridays at 11:00 am; approximately 4-hour tour
Cost: $95 per person
Stoner Eclipse is not your regular High 5 tour. This all-inclusive weekend adventure includes food, camping gear, and protective glasses for next week's solar eclipse. Be sure to bring your own cannabis for this once-in-a-lifetime tour!
Time: Saturday, August 19 – Monday, August 21, 2017
Cost: starting at $750 per person
Oregon Weed Tours
Are you a fan of calling it like it is? So are Oregon Weed Tours. You can guess what they specialize in. Operating out of Oakland, OR, this tour company offers vacation tours and packages that are sure to be a hit with anyone interested in cannabis.
Can I smoke on the tour? Yes
Are private tours available? Yes
Tour options:
The Grow and Processing Sites tour stops at a top dispensary, a recreational grow site, and/or a processor for making edibles, extracts, and concentrates. Guests are educated about the differences between indoor and outdoor growing, specific growing tips to ensure high-quality cannabis, the diagnosing the health of cannabis plants, and the process of trimming and curing marijuana. As an added bonus, if you schedule your tour during the trimming season, you get to try out your hand at manicuring bud.
The Medical Information tour stops at a top dispensary before teaching guests about the history of the Oregon Medical Marijuana Program and how that program lead to the drug's legalization.
The Let's Enjoy Oregon Nature! The tour begins at a local dispensary, then drives you to your choice of recommended local tour destinations, such as river rafting, waterfalls, swimming holes, camping trips, or hiking experiences.
The City Life tour kicks off at a local dispensary, then takes you to your choice of recommended local bar, club, or brew house. Take your time exploring the town, the van will be waiting for you when you're ready to move on, or if you just want to hop in for a private smoke.
If these cannabis tours weren't enough, this impressive company also offers 420 friendly lodging tips, airport pickup, and customized experiences for your entire vacation.
Blazing Trails Tours
Enjoy cannabis tours or enroll in a class with Blazing Trails Tours, located in Bend, OR. Learn about cannabis consumer safety information, the history and laws of marijuana in Oregon, and the science behind cannabis and its use.
Can I smoke on the tours? No
Are private tours available? Yes
Options:
Bend Cannabis Tour, which shows you another side of Bend with industry guides and marijuana facts. From medical marijuana to growing cannabis to understanding dispensaries, this tour offers an educational (and delightful shopping) experience.
Time: 2 hours 30 minutes
Cost: $59 per person
DIY Cannabis Class introduces you to the process of making cannabis tincture, topical ointments, and capsules. You will learn how to use the best dosage and products to attend to your body's aches, pains, and needs. In addition, you will get information on the endocannabinoid system and enjoy an open discussion in a welcoming environment.
Time: 1 hour 30 minutes
Cost: $59 per person
HomeGrown Weed & Wine Tours
Some folks advise against combining marijuana and alcohol products. Others, like HomeGrown Weed & Wine Tours, say otherwise. These entertaining weed and wine tours visit local wineries and dispensaries throughout Willamette Valley. Prices vary as follows depending on the day of the tour:
Double Puff Tour
Fridays at 11:00 am; 4-hour tour
$79 per person
Ultimate Tickle Your Taste Buds Tour
Saturdays at 10:00 am; 6-hour tour
$119 per person
Slowed Up Sip & Smoke
Sundays at 1:00 pm; 4-hour tour
$99 per person
Can I smoke on the tours? Contact for regulations
Are private tours available? Not specifically, but you could purchase 14 tickets for one tour and fill up the bus!
---
Please note that all tours have a strict policy that all guests must be 21 years of age or older, or must have a valid medical marijuana patient card. In addition, marijuana is not usually supplied on these tours but is available for purchase. So go forth and conquer Oregon's marijuana culture with these cannabis tours, and leave your worries behind!
Author: Daphne Eccleston