Four 420-Friendly Hotels in or Near Portland, Oregon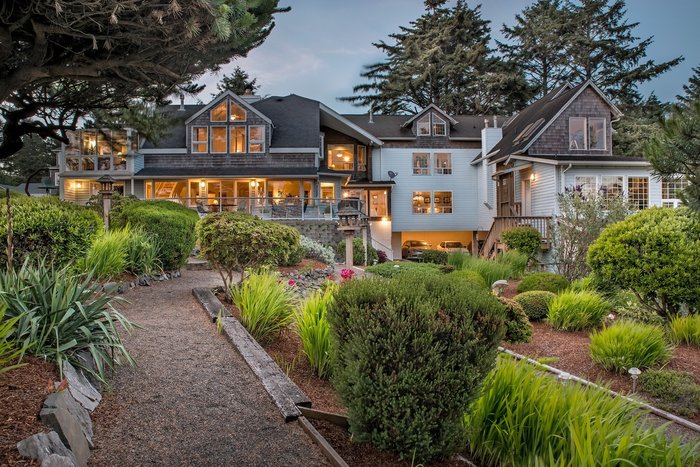 Ever since Oregon recreationally legalized marijuana in 2015, out-of-state visitors have flocked to the Northwestern state to experience its beautiful scenery, its thriving marijuana community, and the variety of exploration opportunities while legally consuming the plant most of us know and love. To the advantage of medical marijuana consumers and recreational users, there are different hotels and bed & breakfasts located near or in Portland that are unique, cozy, and ideal for any weed lover. Read on to find out which 420-friendly hotels/bed & breakfasts you can check out in the future.
Although recreational marijuana is legal in Oregon, it's illegal to consume weed indoors unless it's on your own private property and/or if you received approval from a landlord to consume it inside an apartment building or townhouse. Regardless, various Oregon 420-friendly hotels and bed & breakfasts offer opportunities for guests to smoke weed outside the premises either in a specific smoking area and/or anywhere outdoors within the establishment's property. Below is a list of 420-friendly hotels/bed & breakfasts where you can get the best of both worlds: a beautifully scenic experience and legal marijuana consumption.
Jupiter Hotel
This was Portland's first 420-friendly hotel, and it's more of a partying hotel intended for people to have an enjoyable time and experience the hotel's good vibes. According to DailyLeaf, Jupiter Hotel provides guests with 420 packages, which consist of boxes full of different weed-related information and a tourist guide to the marijuana market in Portland.
According to DailyLeaf, Jupiter Hotel partnered with DOPE Magazine to deliver hotel guests a marijuana-friendly package, and examples of some of the freebies include DOPE Magazine apparel, coupons and flyers to nearby dispensaries and delivery services, natural snacks, and a mason jar filled with classic weed necessities.
Although you cannot smoke weed inside your hotel room because of Oregon's health laws, you're given all kinds of goodies that are needed to enjoy an elevated visit in Portland.
Mt. Scott Manor Bed & Breakfast:
This uniquely cozy 420-friendly bed & breakfast is only a few minutes away from Portland, and it has a beautiful mountain view and a private forest accompanied by wildlife resident deer, according to KushTourism. This 420-friendly bed & breakfast allows for marijuana usage outside the establishment, and the owners have stated the following about this matter: "We are happy to live in a state with legalized cannabis, and we are proud to support cannabis users seeking a relaxing B&B experience."
Furthermore, Mt. Scott Manor is only thirty minutes from the gorgeous Columbia River Gorge, forty-five minutes from snow on Mt. Hood, and a little over an hour from the glorious Oregon Coast, according to KushTourism.
McKenzie Orchards Bed & Breakfast Inn:
This specific 420-friendly bed & breakfast opened in 2009, and it's located in Lane County alongside the McKenzie River. The inn is full of cool amenities, beautiful outdoor scenery, and of course, specific outdoor smoking areas to legally consume weed. The owner, Tom Reid allows guests to smoke weed outside on the front porch or back patio, as an extension of hospitality, according to KushTourism. Reid's intention is for guests to enjoy their stay, and if they want to consume marijuana, he willingly lets them do so.
In addition to this bed & breakfast being 420-friendly, it's also dog-friendly; therefore, many guests are drawn to this specific inn. Other interesting features include large food menus including meals for guests with diet restrictions, wine and appetizer tastings, and an art gallery featuring local artists.
Ocean Time Bed & Breakfast:
Ocean Time bed & breakfast is in Lincoln County, which is only about two hours away from Eugene. Ocean Time allows for marijuana consumption on its property, but guests must bring their own weed. Ocean Time recently opened in 2016, and many guests choose to stay here because they want marijuana usage to be a part of their stay, according to the inn's owner, Deb Cardy.
In a RegisterGuard article, Cardy said the following about her unique 420-friendly inn, "They can smoke in bed. They can in the bathtub. They can smoke at the kitchen table. They can smoke watching TV. They can go outside. They can do whatever they like. I have a meditation garden. I've got a fire pit." 70 percent of guests come from out-of-state, according to Cardy, which really says a lot about this special 420-friendly bed & breakfast.
If you're thinking about visiting Oregon, and if you're interested in staying at a 420-friendly hotel/bed & breakfast where you can legally smoke weed, enjoy the beautiful sights, and have a relaxing stay, deeply consider staying at one of the wonderfully unique places listed above.
When you are on your way to Portland, Oregon, be sure to stop by The Grass Hut 2. They carry your favorite products such as edibles, flower, concentrates, and more!
Find their deals at Leafbuyer.com!