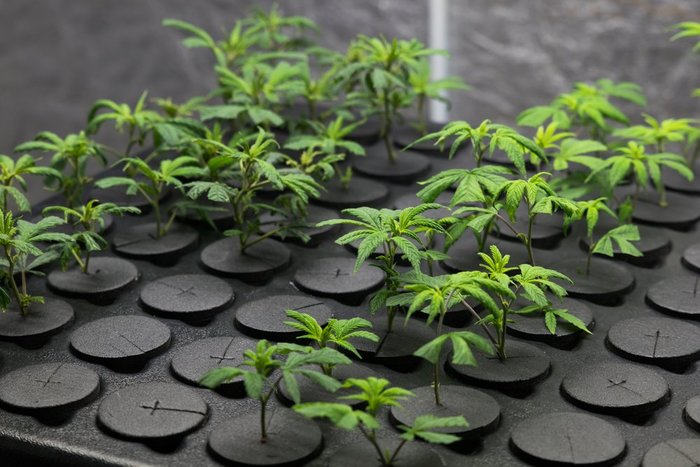 Portland, Oregon is a beautiful city with a culture unique to itself. Throw legal marijuana in the mix, and Portland is the place to be! Oregon's recreational marijuana market has grown exponentially since opening day. From high-end cannabis concentrates to top-shelf flower, Portland's marijuana industry is thriving. However, many consumers still prefer cultivating their own cannabis rather than purchasing recreational weed. It allows the consumer to control the cultivation process from start to finish and set the quality standards they desire. Either way, if consumers are interested in starting an at-home grow, they require a reliable source of marijuana clones in Oregon.
Purchasing Marijuana Clones
Finding the best clone is not always easy and is one of the most important steps to any successful grow. If the clone is already withering, odds are it is going to be a fierce battle to maintain the health of the plant. Make sure to get a healthy clone to ensure a smooth start to the cultivation process.
Things to Look for When Purchasing Clones:
Make sure the clones contain zero pests, noticeable diseases, viruses, or bacteria.

Double check the yield, height, and flowering time of the strain.

Make sure the strain of the clone fits the environment of the grow.

Ask for proof of authenticity for "rare" marijuana clones.

Ensure the clone has a well-developed root system.
The price of a marijuana clone varies per strain. Some of the more famous cannabis strains will cost more than the clone of a less popular strain. On top of understanding what to look for when purchasing a marijuana clone, it is essential to know the different types of marijuana clones. Understanding where the clone is at in its stages of growth is essential to transitioning the clone to a new environment successfully.
Marijuana Clone Sizes:
Babies: 7-8 inches tall
Teens: 8 ? 15 inches tall
Adults: 15 ? 24 inches tall
Most recreational and medical marijuana dispensaries can guide cultivars to the best available clones in their shop. However, it can be challenging to find a dependable supplier of premium marijuana clones. Portland is home to some the highest-quality marijuana clones in Oregon. Here is a list of 5 top-notch dispensaries in Portland with a stellar collection of marijuana clones!
Top Five Dispensaries for Marijuana Clones in Oregon
Satchel
Satchel is a premium recreational marijuana dispensary located conveniently at 6900 North Interstate Avenue in Portland, Oregon. Satchel is on a mission to build a safe, honest, and educational environment for all consumers. This recreational dispensary is ideal for consumers looking for platinum cannabis. It is no shock Satchel's shop is a local favorite with the plethora of marijuana products they carry. From potent concentrates to delicious edibles, Satchel has it all. In particular, Satchel is one of the best suppliers of premium marijuana clones in Oregon.  Their collection is first-come-first-serve and is constantly rotating.
Available Clones:
Alien Bubba
Candyland
Cannatonic
Do-Si-Dos
Lemon Skunk
Mango Kush
OG Kush
White Super Skunk
Rude Boi
*Each clone is around $20 to $30.
Progressive Collective
Progressive Collective is one of Portland, Oregon's most popular recreational dispensaries. Their first-class shop is at 9810 East Burnside Street in Portland, Oregon. Progressive Collective is well-known for its consistent and reliable service. It is also the ideal one-stop-shop for many consumers. Progressive Collective is also home to an excellent collection of marijuana clones. It may even be one of the largest clone selections in town!
Available Clones:
Agent Orange
Black D.O.G
Blue Lights
Canna-Tsu
Forum GSC
Harle-Tsu
Jacky White
Loompa Goo
Tahoe Sap
*Each clone is around $20 to $40.
Yesca Cannabis Company
Yesca Cannabis Company has been a part of Oregon's marijuana market since 2015. They strive to provide the Portland community with a professional, compassionate, and reliable cannabis shop. Yesca Cannabis Company is a recreational dispensary located at 9952 Southwest Beaverton Hillsdale Highway. Their quaint shop is a local favorite for its quality selection of products. Yesca Cannabis Company is also known for their premier collection of marijuana clones. While their menu is always rotating in new strains, their shop is relatively consistent with their supply of clones.
Available Clones:
Obama Kush
Durban Poison
Kosher Kush
Harle Tsu
GSC
Sour Diesel
*Each clone is around $20 to $35.
Five Zero Trees
Five Zero Trees is a unique recreational and medical marijuana dispensary with multiple locations throughout Oregon. Their shop puts a focus on the quality of their marijuana products and works with only the best local vendors. Five Zero Trees has a broad selection of edibles, concentrates, and flower. Their Portland locations are particularly known for having a stellar collection of marijuana clones. While their strain selection is not the largest, their clones are some of the best in town. Five Zero Trees works directly with Archive to keep their shops stocked full of quality clones.
Available Clones:
Forum GSC
GG4
Rude Boi OG #1
Sour Diesel
*Each clone is around $30 to $40.
Home Grown Apothecary
Home Grown Apothecary is the ideal local pot shop for any consumer who enjoys high-quality, reliable, and affordable marijuana. Their compassionate staff takes pride in assisting consumers to find the right cannabis products for them. Home Grown Apothecary has everything a cannabis consumer could need in one stop. Their well-rounded menu is full of high-end concentrates, edibles, and flower. However, Home Grown Apothecary is most popular for its stellar collection of marijuana clones. To claim a clone from this happening shop, it is always a good idea to pre-order before the harvest. Keep an eye out on their menu for when pre-order clones are available.
*Prices and strains vary per harvest.