On April 20th, also known as 420, countless parties, celebrations, festivals, and events take place in different cities across the world. That is why we've compiled a list of the top five cities for 420 celebrations and festivals.
If you're a medical cannabis patient, cannabis enthusiast, hippie, stoner, or all-around fun-seeker, you've probably celebrated 420 at least once before. Over the years, 420 has become a popular and special holiday that's celebrated by people all over the world because they can openly celebrate the significance of cannabis and what it can do for others.
Top Cities for 420:
As time goes on, more and more U.S. states and countries are legalizing cannabis. In places where recreational cannabis is legal, 420 celebrations and festivals are quite common. The top cities for 420 events are in Colorado, California, Canada, and the Netherlands.
Denver, Colorado
Since Amendment 64 was approved six years ago, Denver's 420 celebrations have ramped up significantly. Last year, Denver held a 420 rally that was free and open to the public. During the rally, several musicians performed, which doubled as a concert and 420 celebration. This type of 420 rally will occur again this year, and there are other events happening too.
The Mile-High City is known for hosting cannabis-friendly events and celebrations on 420, and this year is no different. There are various 420 events, parties, and festivals you can attend, including one festival at the Civic Center Park in downtown Denver.
Are you going to be in the Greater Denver area for 4/20? Check out one of Lightshade's many locations for great cannabis deals. Just mention Leafbuyer and save some cash!
This is a popular spot where stoners and cannabis lovers light up at exactly 4:20 p.m. There are estimates of 80,000 plus participants attending this festival each year.
Additional 420 events that'll take place on or around 420 include:
Vancouver, British Columbia, Canada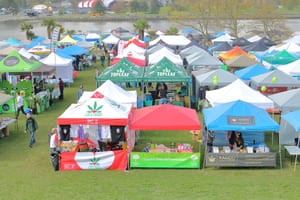 Every year in Vancouver, British Columbia, cannabis enthusiasts gather around the downtown Vancouver Art Gallery to celebrate 420.
Initially, this annual 420 celebration took place at Vancouver's Victory Square in 1995, where roughly 200 people openly celebrated cannabis and listened to music. In the late 90s, the location changed to the Vancouver Art Gallery in Vancouver's downtown financial district to accommodate more people.
As the years went on, admission to Vancouver's annual 420 Event and Farmer's Market significantly increased. In 2007, Vancouver held the world's largest 420 celebration. Since the 2000s, Vancouver's annual 420 event got busier and busier, especially after the popularity it received on YouTube and coverage from different media outlets.
Attendance rates dramatically increased over the past few years, and now over 10,000 people regularly attend this 420 celebratory event.
This year is the 24th annual Vancouver 420 Event and Farmer's Market. The event includes day-long music, public speakers, an open-air public cannabis farmer's market, and it's open and free to the public. This special 420 celebration will be at Sunset Beach Park in downtown Vancouver from 12-8 p.m.
Most attendees show up around the time of the 4:20 countdown and annual free joint toss, which are both event traditions. Aside from getting lifted and sharing laughs with friends, you can peruse around the farmer's market to see different forms of cannabis and extracts, take a stroll down Vancouver's 'pot block,' or maybe even share a joint with some friendly Canadians.
San Francisco, California
San Francisco is known for being one of the most popular 420 celebratory spots. The Gathering at Hippie Hill in the San Francisco bay area is an annual tradition where thousands of hippies, cannabis enthusiasts, and Silicon Valley techies gather for one unforgettably huge toke session.
Hippie Hill is in the Haight-Ashbury district, and it's a free event that's open to the San Francisco community and neighboring areas.
In previous years, this 420 gathering has been unofficial and unpermitted, meaning that those who know about it and want to attend do so. However, due to the event's lack of organization, leftover trash was neglected, which became a city concern.
To maintain the upkeep and tradition of this 420 gathering, last year, San Francisco officially permitted the event. This resulted in sponsorships, food vendors, increased security, sturdy fencing, DJs, and more.
The 420 celebration at Hippie Hill starts around 9 a.m. and ends a little after 4:20 p.m. Many people visit Hippie Hill to enjoy this fun event even if they don't want to light up. Regardless, security is checked at both entrances, and nobody under eighteen can enter the perimeter.
If you have a liking for cannabis, enjoy being around others, and are over eighteen, check out the Gathering at Hippie Hill this 420.
Los Angeles, California
Los Angeles is another popular city to visit for 420. Numerous parties, festivals, and events occur throughout Los Angeles on 420 and the weekend of, including Abracadabs Festival.
This festival will be at Heritage in Adelanto from April 21st-22nd, where you can celebrate cannabis all weekend long. This 420 festival strives to unify the community through cannabis concentrates, music, and art.
Another event you might enjoy is the 420 Festival at the Belasco Theater from April 20th-21st. Attendees can enjoy a huge music lineup while toking and celebrating cannabis for $15.
If you're a Pineapple Express fan, you can attend 420 Fest: Pineapple Express. This is a 420 celebration plus the screening of the movie Pineapple Express. You can expect 420 vendors alongside a full bar, photo booth, food vendors, and more.
Keep in mind though that many Los Angeles 420 cannabis events might require guests to show a valid medical marijuana ID for entry.
Amsterdam, Netherlands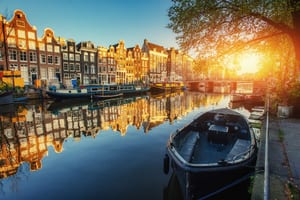 Lastly, one of the top cities to celebrate 420 in is Amsterdam, where laws regarding cannabis consumption are lax and have been for several decades.
Amsterdam hosts an annual 420 Festival, which is an entire day packed with cannabis-related activities to celebrate Amsterdam's most notorious crop. At Amsterdam's 420 Festival, participants can enjoy live music, smoke-out protests, and other entertaining activities centered around cannabis.
The 420 Festival is located outside Amsterdam's City Hall, and although admission costs 26 euros per person ($32 USD), admission tickets include access to the 420 after-party at The Sand.
The Roll Up
If you live in any of these top cities for 420, consider checking out a festival this upcoming holiday. If you love cannabis and what it can do, why not celebrate the beauty of it with those who feel the same way on this special holiday?
Learn about marijuana prices in the U.S. versus the rest of the world here.
Find out more about the 420 Games by reading this interesting article.