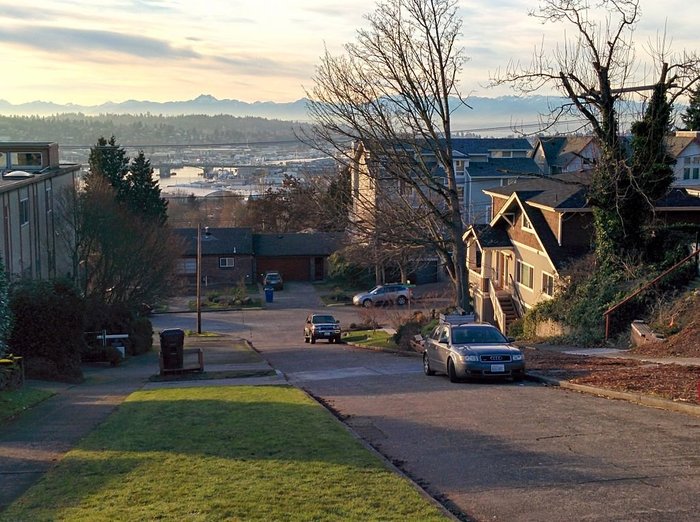 Seattle is one of the most marijuana-friendly cities on the planet. Thanks to the passing of I-502 in Washington State, recreational cannabis has been legal and for sale in the Emerald City since 2014. Seattle is packed with tons of great dispensaries featuring buds, edibles, topicals and other 420 treats from a plethora of local producers. The city as a whole is great for stoners, with its beautiful scenery, artsy vibe, live music and great food everywhere. But if we had to pick one neighborhood that is most amenable for stoners, the happening Capitol Hill district rises above the rest.
Capitol Hill is just north of downtown Seattle, and it's a neighborhood that should not be overlooked by any cannabis enthusiast visiting the Pacific Northwest. Head over to The Cap on a Friday or Saturday evening and you will be immersed in Seattle's busy nightlife scene. Two city blocks are often closed down, giving walkers the chance to meander around the neighborhood without fear of getting hit by a bus or car. Street performers play some interesting tunes as the crowds walk by, and sometimes pedestrians will join in with the performers and do some freestyle rapping. Sheetrock buckets turn into drumsets, and passers-by join in on the fun to create a lively musical atmosphere — and that's before you've even walked into a bar or venue.
Capitol Hill is home to Neumo's, one of the premier live music establishments in the Pacific Northwest. From big-time bands of the day to local DJ nights, Neumo's is usually packed with music lovers on Friday and Saturday nights, and often during the week as well. The Neumo's complex includes two sister venues, Barboza and The Runaway, which are both located within the same building as the main club. There are often lines out the door for these venues, so on a busy night prepare to wait for a few minutes before gaining entry into the party.
Just across the street from Neumo's is Comet Tavern, an old-school Seattle bar that some of the city's biggest music legends (like Soundgarden and Alice in Chains) used to call their home-away-from-home. The bar has a great selection of beers on tap, and the Skee-Ball machine is enough to keep any stoner entertained for an entire evening. The Comet Tavern gives Seattle natives and visitors the chance to get a feel for what the city's nightlife was like before all the tech money came in and changed Seattle forever.
There are some "dope" hot dog stands chilling in Capitol Hill. You might want to try the classic kielbasa with cream cheese dog that is all the hype in the PNW. There is a cluster of slightly more upscale restaurants in The Cap, as well as a couple pizza joints worth checking out. Definitely go to Hot Mama's for some scrumptious New York City style pizza, head over to Quinn's for some good ol' American dining or visit Paseo for a delicious Cuban sandwich. Asian food of many varieties is all the rave in Seattle, and you'll find a plethora of options within short walking distance from the heart of Capitol Hill to satisfy your cravings.
Also, make sure you stop by the Unicorn for some of their delicious carnival fare. Burgers, corn dogs, and the famous Unicorn Dog can all be yours for a reasonable price. There's a slew of arcade game machines in the lower floor of the bar, always a fun option for the cannabis lover. And don't leave town without trying Unicorn's desserts. How does a deep fried Snickers sound after a night of toking on some herb? Or maybe you prefer some fried peanut butter cookie dough (aka Unicorn Droppings) to satisfy your munchies?
Capitol Hill is one of the most open-minded neighborhoods in the entire United States. The crosswalks are rainbow colored, there's a smell of sweet marijuana smoke in the air, and people from all walks of life are accepted and embraced. There is no shortage of unique characters roaming around Capitol Hill, and you'll feel at home no matter what your background or worldview. Seattle is a progressive city, and Capitol Hill is a hub for diverse thought and personal freedom.
If you need to stock up on some "supplies" in the Capitol Hill area, the famous Uncle Ike's Pot Shop is not too far away. Its Capitol Hill location features goodies from the likes of Artizen, Gecko Growers, Phat Panda and many more of Washington's top grow houses. The shop offers pre-rolled joints and edibles for as low as $3. A nice 420 Bar is always a great way to enjoy a mellow evening and take in the sights and sounds of The Cap. Uncle Ike's is one of Seattle's first dispensaries, and their friendly budtenders will help you achieve the buzz you're looking for at a price that won't empty your wallet.
Capitol Hill is easily accessible by public transportation, allowing 420 enthusiasts to enjoy their high without worrying about driving home after a night of partying. Seattle's bus system is reliable and affordable, and it's easy to arrive at The Cap from any location in the city. If you're into ride sharing services, an Uber or Lyft is never more than a minute or two away in Capitol Hill. With so many options for employing your own personalized designated driver, there's no excuse for not enjoying a stony evening out on the town!
One of the best parts of The Cap is the famous Cal Anderson Park. With baseball and soccer fields, a wading pool and plenty of space for a picnic, Cal Anderson Park is a great meeting spot for the people of Seattle. Recreational sports leagues congregate in the park for some seriously fun competition, and the games go until late at night thanks to the park's lighting system. Softball, soccer, kickball and flag football can all be played on the park's sports turf. There are basketball courts, dodgeball courts and caged tennis courts. Bring an acoustic guitar and do a stoner singalong with your best "buds" on the park's lawn, or simply take a stroll past the water fountain. There's also a Light Rail station, adding yet another option for getting to and from Capitol Hill without getting behind the wheel of a car.
Seattle is a cannabis-friendly city, and each neighborhood has its own merits for 420 lovers. There is a slew of great dispensaries in the SoDo (South Downtown) neighborhood. The lovely Fremont area is home to some of the city's best dispensaries, coffee shops, fried seafood and beautiful views of downtown Seattle. Ballard has some of the most happening bars and live music venues in the state of Washington.
But Capitol Hill might just be the best area in the city for stoners looking for a good time. There's never any shortage of live music, good bars and delicious munchies in The Cap. So take a few puffs of your favorite strain, lock up your designated driver or public transportation method for the evening, and head over for some heady good times in this unique neighborhood just outside of downtown Seattle. You'll have an intense and unforgettable evening, and you'll feel right at home as a cannabis lover.
There's nothing to lose!