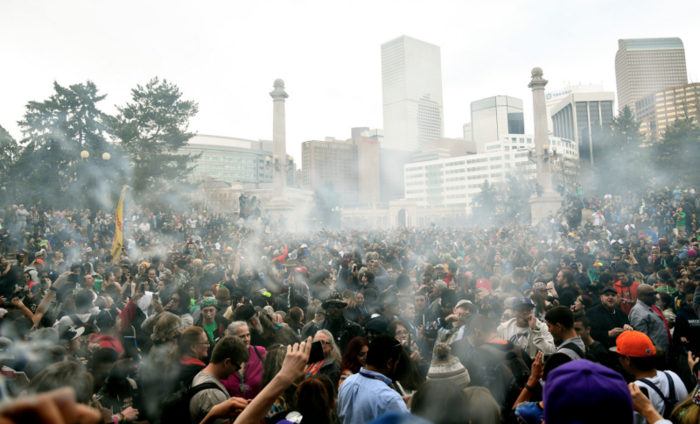 Colorado is home to the first legal marijuana market in the United States. Though 420 had long since been an inspirational totem in Colorado marijuana culture, the annual protest/celebration has  taken on a life of its own — attracting world-class entertainers, performers, and brands to the growing industry.
Dispensaries, infused-product manufacturers, and head-shops all recognize marijuana's favorite holiday as one of the best times to introduce their brand through highly competitive and downright excellent deals. With this in mind, we bring you the best 420 deals in Colorado.
A Cut Off the Top
One of the best shops in Denver for medical cardholders to get cannabis oil, A Cut Off the Top is offering cardholders their unparalleled products at prices that boggle the mind. Here is what they are offering:
Two (2) ounces for $220

Shake ounces for $60

20% of hash oils (including chroma, aka the best tasting hash oil in the galaxy)

$100 ounces

$5 grams

Four (4) prerolls for $12
Additionally, A Cut Off the Top is home to the "Masta Blasta", a hash oil-infused preroll for the low price of $10.
Buddy Boy Brands
Buddy Boy Brands is one of Colorado's top cannabis brands. Operating seven locations in the Denver Area, the company provides year-round deals which are consistently attractive. As an extension of this, Buddy Boy Brands is dropping their pricing through 4/24 to celebrate the industry's favorite holiday. Here is what you can get:
Recreational:
$125 ounces (tax included)

Buy one get one for $4.20 on Dixie products

Buy any four (4) edibles or beverages and get 20% off
Medical:
Member ounces for $69

Nonmember ounces for $99

Grams of hash for $15

Two (2) ounces of hash for $710
Sante
Sante has two locations in Colorado: one in Denver and the other in Durango. Both well-organized and friendly, the budtenders at Sante express a depth of product knowledge which allows each transaction to feel like a friendly – albeit informative – conversation. The staff friendliness is further complimented by the experience of their incredible strains. When it comes to the best deals in Colorado, 420 would be remiss without mentioning Sante. Here's what you can get:
(Note: these promotions are for the Denver location)
$15 1/8ths (tax included)

$20 grams of select concentrates

$42 for a ½ ounce foot-long preroll

Buy one get one for $1 on all Blue Kudu chocolates
Additionally, if you spend $30 or more, you are eligible for a $.01 preroll and a voucher for a free burrito from the Rio Grande Restaurant & Cantina. Aside from the burrito voucher, all offers are valid until 4/26.
Lightshade Labs
Lightshade Labs is another one of Denver's most prominent dispensary chains. Offering six locations in the metro area, Lightshade is home to products and pricing that already put them on the list of best deals in Colorado – 420 included. Here is what they are offering this year:
$20 1/8ths

Seven (7) 0.4 gram joints in a carrying tin for $20

$20 grams of premier concentrates

$20 edible package
All offers are valid through 4/23.
Starbuds
Starbuds is home to Cannabis Cup-winning strains, friendly and knowledgeable budtenders, and highly competitive, if not downright stunning, prices. When it comes to their 420 deals, the brand is changing the game. Here is what they are offering in 2017:
$10 shake 1/8ths

$69 shake ounces

500 mg Co2 cartridges for $24.20

$89 ounces (select strains)

$14.20 kaviar prerolls (hash oil dipped cones!!!)

$5 off all dixie products

$4.20 house joints
These deals end today, so be sure to stop by before 7 p.m.
The Clinic
A brand extending multiple state lines, The Clinic remains one of the industries finest retail brands. Every year, the Clinic donates time and resources to improving the communities they serve. In addition to their social campaigns (aka more importantly), the Clinic is a goldmine of quality products. Here is how they helping you celebrate this 420:
Everyone:
Clones and Lab cartridges are buy one get one 50% off

25% off Bubba Kush seeds
Recreational:
$149 ounces on select strains

$199 for eight (8) grams of budder

$299 for eight (8) grams of live resin
Medical:
$129 ounces of flower (all strains)

$420 ounces of budder

½ ounce of live resin for $420
These deals go through Sunday April 23rd.
LivWell
LivWell is one of the fastest growing cannabis companies in Colorado. Amassing fourteen locations, with seven (7) locations in the Denver area, LivWell has come to represent great products, excellent service, and – most importantly – industry changing specials.
All customers:
Four (4) prerolls for $20

20% off gold shelf flower

Mountain High Suckers 4 for $20
Recreational:
$79.99 ounces from Los Suenos farms

$25 grams of Lab budder

4 for $20 on all Keef Kola sodas

Leafs by Snoop edibles 20% off

Get five (5) 10mg cookies from Sweet Grass Kitchen for $15

Two (2) 30mg Sweet Grass Kitchen brownies for $20

Buy Evolab Fresh Terps and get a one gram chroma dab jar for $.01
Medical:
400mg stealth stick for $.01 with any purchase

$89.99 ounces for members

4 for $20 500mg Neos oil cartridges
These deals end 4/23.
While these are some of our favorite deals, the best 420 deals in Colorado are certainly not limited to this. With hundreds of dispensaries across the state, some in more competitive markets than others, deals ebb and flow with their own appeals. Regardless of the deal or dispensary you choose, have a fun and safe 4/20 weekend.
Trill Cannabis Centers
Operating two locations in Denver and Boulder, Trill has been an established Colorado brand since 2010. In those seven years, the company has continued to support medical consumers and recreational consumers through excellent pricing, delicious products, and stupendous plant genetics. When it comes to the best 420 deals in Colorado, Trill is offering the following:
Recreational
24.2% off any edible or concentrate
Buy a gram, get one for $4.20
$142 premium ounces
Four (4) 1-gram prerolls for $42
Medical
Live resin grams for $34.20
Top shelf ounces for $99
4.2 gram 1/8ths
$4.20 grams on top-shelf strains (up to two ounces)
Buy an ounce, get one for $42
Denver Kush Club
Located in the Five Points neighborhood near downtown, the Denver Kush Club has daily specials, a point-based rewards system, and even a student discount. Beyond their excellent products, plants, and pricing, Denver Kush Club is known to host some of the best 420 deals in Colorado year after year. This year, their 420 offerings include:
For all customers:
Free Kush Concentrates vape pen with purchase of two (2) or more Kush cartridges
Buy one get one half-off on any gram of Kush concentrates
25% off 1/8ths
30% off edibles
A $4 joint with any purchase
50% off all DKC apparel
Recreational:
Seven (7) gram slabs for $125
Ounces between $90-$111
Medical:
Seven (7) gram slabs for $105
Ounces from between $70-$90
These deals expire 4/21 or when they run out of product.
Natures Kiss
Natures Kiss has been serving the Englewood community for a number of years. In that time, they have developed outstanding products and cultivated some truly excellent cannabis. Home to over 50 strains of flower and 40 types of hash, their selection is downright mind-blowing. Here is what makes their offerings for 420 the best deals in Colorado:
Recreational:
$30 1/8ths (tax included)
$7 joints
100 mg gummies for $15
Wax grams for $20
Shatter grams for $25
The Party Pack – 100 mg chocolate bar, 80 mg Cheeba Chew, 100mg infused drink, two (2) grams of hash, and two (2) top shelf 1/8ths for $199
Medical:
1/8ths for $10
Ounces for $75
Prerolls for $3 each or 10 for $20
Gummies (260 mg for $16 or 500 mg for $30)
Rosin grams for $15
Wax grams for $20
Shatter grams for $25