Hashtag Dispensary in Seattle, Washington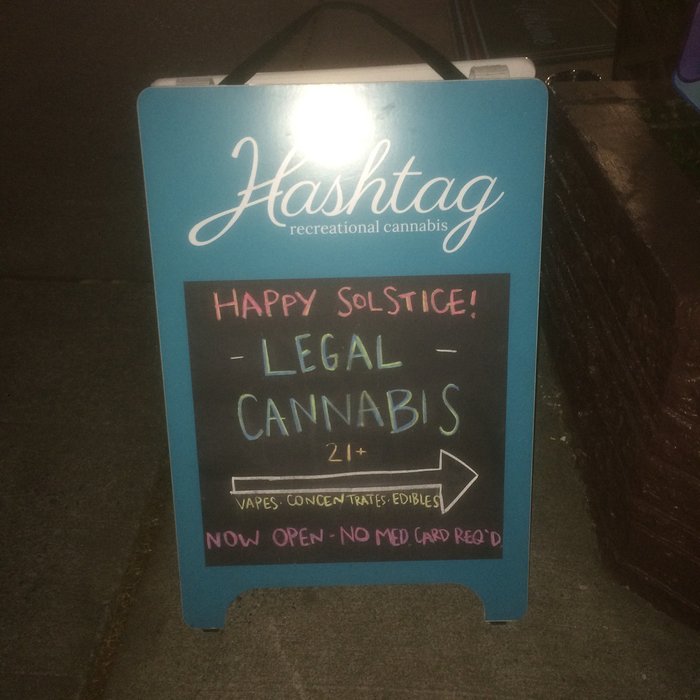 More
Hashtag dispensary Seattle is a classy dispensary located in the heart of Seattle's beautiful Fremont district. The dispensary sits on the corner of Stone Way and 36th Street, just a few blocks from Lake Union. Hashtag visitors can load up on some premium cannabis treats before heading down to watch boats sail through one of Seattle's most busy waterways, a perfect experience for a sunny Seattle day.
Hashtag features high-quality flower from Raven Grass, Seattle Green Bud, Bondi Farms and Doctor & Crook, among others. The dispensary offers plenty of top-shelf options for cannabis connoisseurs, though there are some less expensive options for those on a budget. The XJ-13 and Grape God strains from Doctor & Crook sell for under $10 per gram, with most flower resting somewhere in the $12 to $16 range per gram. The store has a nice selection of pre-rolled joints starting at $5 and plenty of concentrate options for wax lovers.
Those who prefer marijuana in edible form should try a 420 Bar, an Evergreen Herbal treat that is popular in Seattle. Hashtag offers 10-packs of 420 Bars in flavors like Dark Chocolate Espresso, Chocolate Hazelnut, Toffee and Dark Chocolate Sea Salt with CBD. Customers can purchase cannabis-infused drinks like Evergreen Herbal's Cannabis Quencher series, which comes in lemonade, mango and strawberry lemonade flavors. Capsules produced by Fairwinds Manufacturing, chocolate chip cookies by SPOT, teas, lozenges and tinctures are all on display in the store's glass cases. Hashtag also sells different varieties of topicals from Ethos Extracts, Bond and Fairwinds Manufacturing.
Coffee & Cannabis: A Love Story
Just a few doors down from the dispensary is Stone Way Cafe, a gourmet coffee shop under the same ownership as Hashtag. Stone Way Cafe boasts an impressive selection of craft beers on tap and its food menu includes a variety of options that are both delicious and healthy. The cafe hosts musical performances nearly every evening and an open mic night on Thursdays for aspiring musicians. In a city famous for coffee, Stone Way Cafe stands among the best in Seattle. It's a perfect place to stop before or after a trip to Hashtag for some herbal goodness.
Hashtag customers should make sure to check out the Fremont neighborhood during their visit. Fremont has a nice upscale artsy feel, with plenty of boutiques to step into on a daytime stroll. The nearby Gas Works Park is a can't-miss Seattle attraction with a perfect view of Lake Union, downtown, and the Space Needle. It was formerly owned by the Seattle Gas Light Company, and the remnants of the United States' only remaining gasification plant are absolutely worth the trip to Gas Works Park. Nighttime Hashtag visitors can dine in one of Fremont's many pubs and restaurants. There are several options within a short walking distance of the dispensary. The Pacific Inn tavern, just a block south of Hashtag, has some great fried seafood at reasonable prices. The Fremont Brewing Company's taproom is also in close proximity to Hashtag.
Seattle is full of great dispensaries, and Hashtag has certainly found its niche. As one of the only dispensaries in Fremont, Hashtag sits at a convenient location. The dispensary is perfect for stoners in the mood for an upscale experience. It can be easily noticed by the building's artwork, a colorful mural of fish and a pink walrus. Cannabis lovers outside of Seattle can also visit Hashtag's brand new location in Redmond, Washington for a classy pot shop with a great selection.