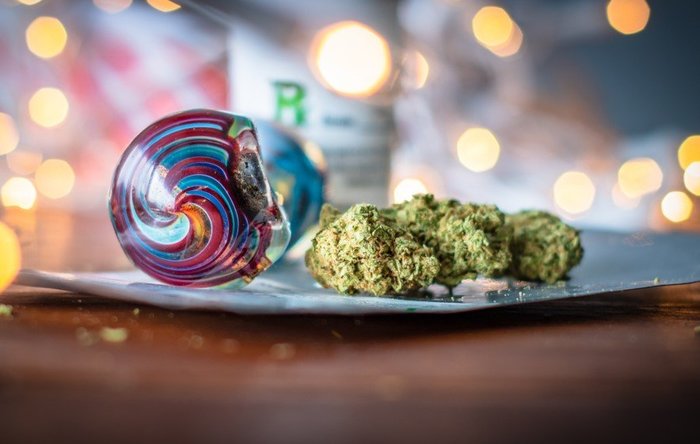 With Father's Day around the corner, it's about that time to start seeking out gifts with him in mind. This can be tough, since fathers are notorious for being hard to shop for.
If your dad has a serious case of WDE (Weed Dad Energy), however, gift giving doesn't have to be difficult.
In fact, when it comes to gifts for dads who smoke weed, you're in luck: it's easier than ever to find them something that suits their extracurricular activities. There are plenty of items that will appeal to his cannabis-loving heart.
Show your toke-friendly pops how much you love and appreciate him with something you can bond – and maybe even smoke – over.
Smoking Tools for Dad
Upgrade His Pipe
Another great gift for Father's Day is to upgrade your old man's smokeware. For all that he does, a nice ceramic bong will be a great chance to show your appreciation.
They can be heavy, elegant, and grand – a nice centerpiece in his smoking collection. He can bring it out on special occasions, or use it regularly to get the most of its value. Either way, any cannabis smoker would be happy to receive an upgraded device – especially if it comes from their loving kid.
His New Favorite Tool
If your dad is into tools, as many fathers are, he will love this seemingly tailor-made gift that blends both the functional and the herbal worlds together. Nuggy brand makes pocket-sized multitool that has all the features related to handling concentrates and flower.
Almost as if made specifically to be a gift for dads who smoke weed, Nuggy tools have over 10 different weed tools, such as a pick, paddle, fork, scraper, and clip. Similar to their handy dandy Swiss Army Knife, the Nuggy ensures stability with a spring-locked system, and fits blends in easily with any other ready-for-action tools.
Update His Methods
With a vape pen, you can subtly update your dad's smoking technology. They are slick, diverse, and discreet – a nice pocket-friendly blend of flavor for dads who are on the go. Additionally, you can find ones that are pretty affordable, so you don't have to go broke to give your dad a nice, high-quality gift.
Vape pens are a great gift for dads who smoke weed; they mix it up a little and provide an opportunity to dabble in flavors and extracts that might not be available with more traditional consumption methods. He'll be feeling sleek and cool with his new piece of portable tech.
Gifts That Keep On Giving
Subscribe Him
Subscription boxes are gifts that keep on giving. We've seen them as meal delivery services, personal wardrobe shoppers, stationary hauls, tea collections, and pretty much everything in between. For dads who smoke weed, what better is there than a monthly cannabis-themed subscription box?
There are several options out there for weed lovers, which send out trendy, new, and nostalgic items to try. The Smoker's Digest option is a good mix of both novelty and high-end items, which range from accessories to magazines. Another one, called SensiBox, supplies consumers with a catalogue of smoking tools, from gear to hemp products to paraphernalia and pretty much everything in between. There's also Daily High Club, a monthly subscription box that comes with a beautiful novelty glass piece every month in addition to other cool accessories.
The bonus: if your dad likes the gift, he can sign up for more, leaving him with a monthly reminder of how thoughtful you were to think of this stellar idea.
A Place to Stash It
Storing flower in mason jars around the home isn't always feasible. Your dad could probably use a secure and quality place to keep his stash, that's considered both discreet and elegant. A stash box fits the bill.
Hakuna Supply makes several stash boxes that would make an excellent gift for a weed-smoking dad. Their signature option has a built-in lock and a removeable rolling tray, which is a nice touch. Meanwhile, their original box is sleek and modern, decorated with art on the lid. They also have a natural-looking choice, as well as a faux-book selection, which is disguised as just another book on a shelf rather than anything marijuana-related.
This Father's Day, make sure that you get the perfect gift for your weed-smoking dad, and treat him right. He deserves it. And if you're lucky, he might even share some of his dad-approved marijuana with you.
Gift an Experience
With the cannabis tourism booming in legalized states, there are plenty of opportunities to get out and explore the many facets of marijuana. Give the gift of an experience for your weed-loving dad, as a nice change of pace.
Ideas include a class – there are Puff, Puff, Paint and art classes, yoga and weed pairings, and cooking with marijuana options, hosted by Kush Tourism – as well as more on-the-go offerings, like tours and party buses. You'll quickly be recognized as his favorite kid if you give him a ticket to a local dispensary or grow tour; even more so if you also give him some of your stash to bring with.
Dads Love CBD
Even if your dad usually loves to smoke his weed, you can try to mix up his routine by giving him a CBD product. Explore the world of topicals, balms, and sprays. If you're feeling adventurous, maybe consider a CBD-infused bath bomb.
Introduce him to a soothing product, that can lead to relaxing and medicated relief. Sometimes a great gift is an opportunity to recover and unwind, for dads of all walks of life.
If you want to buy your dad some awesome cannabis products, head to the Leafbuyer deals page for the best cannabis deals!