3 Cannabis-Infused Pumpkin Spice Recipes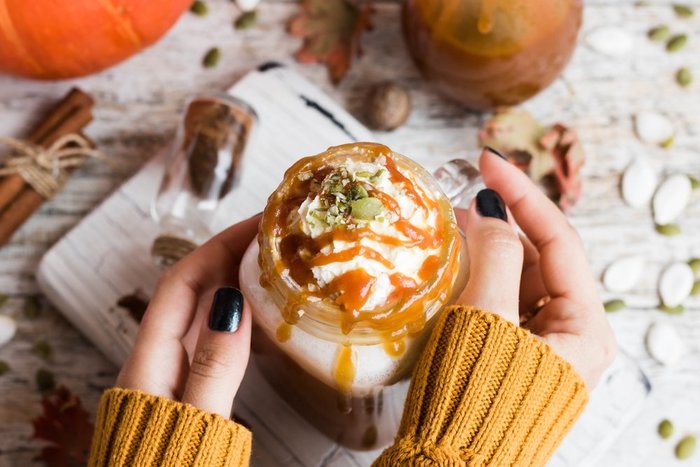 Fall is here, and with it comes the seasonal onslaught of Halloween costumes, family gatherings, and all things pumpkin spice. From candles to candy, it's hard to escape the popular blend of pumpkin and autumnal spices that makes the flavor combo we all know and love. And why would you want to miss out on this seasonal treat, especially when cannabis-infused pumpkin spice recipes are so easy to make? No one can call any of these special pumpkin spice recipes 'basic', that's for sure. So grab your favorite weed strain and a whisk and get ready to appreciate classic pumpkin flavors like you never have before: with lots and lots of weed!
Cannabis-Infused Pumpkin Spice Scones
Scones are flakey, flavorful, and, with a little help from pumpkin spice, a perfectly festive addition to any fall brunch menu. The best part is, they're probably the easiest thing you could possibly bake! Impress your friends, your mom, and probably even your cat with this deceptively strong recipe for cannabis-infused pumpkin spice scones.
Ingredients
1/2 cup cold, cubed cannabis butter
2 cups flour
1/2 cup brown sugar
1 1/2 tbs pumpkin pie spice
1/2 tsp baking soda
1/2 tsp salt
1 tbs vanilla extract
1/2 cup pumpkin puree
2 tbs milk
2 medium eggs
Directions
Preheat oven to 400 degrees Fahrenheit and prepare a baking sheet with parchment paper. Set aside.
Combine in a large bowl all dry ingredients: flour, pumpkin pie spice, baking soda, and salt. Mix well and set aside.
In another large bowl, whisk until well blended the wet ingredients: brown sugar, vanilla extract, pumpkin puree, milk, and eggs.
Slowly add the dry mixture into the wet bowl, stirring thoroughly until all ingredients are well combined and smooth.
Sprinkle cold cubes of cannabis butter into scone dough, taking care to keep the butter chilled (this is what makes scones fluffy!).
Remove cannabis-infused pumpkin spice scone dough from bowl and turn out onto a lightly floured surface. Knead a few times, but do not overwork and melt the butter. Work the dough into a roughly-shaped circle and cut into eight individual pizza-like slices.
Set scone slices on baking sheet and bake in preheated oven for 15 minutes, or until browned and thoroughly cooked. Remove from oven and allow to sit for at least 15 minutes, or until cool.
Cannabis-Infused Pumpkin Spice Pancakes
What better way is there to start off a crisp autumn morning than with cannabis-infused pumpkin spice pancakes? These pancakes are everything you would expect: soft, fluffy, and potent. Eating an entire stack of these pancakes is too easy, especially when they're covered in maple syrup and butter. Just make sure to adjust the potency depending on how many cannabis-infused pancakes you plan to eat!
Ingredients
3 tbs melted cannabis butter
2 cups milk
1 cup pumpkin puree
1 egg
1 tbs vanilla extract
4 tbs brown sugar
2 1/2 cups flour
2 tsp baking powder
2 tsp baking soda
1/2 tbs pumpkin pie spice
1/2 tsp salt
Directions
In a large bowl, mix together the wet ingredients: room temperature melted cannabis butter, milk, pumpkin puree, egg, vanilla extract, and sugar. Make sure the mixture combines smoothly and has little to no lumps.
In a separate bowl, combine dry ingredients: flour, baking powder, baking soda, pumpkin pie spice, and salt. Mix well to combine.
Slowly integrate the dry ingredients into the wet mixture, gradually adding larger and larger amounts until all the dry and wet ingredients are mixed to form the pancake batter. The batter should be smooth and liquidy. Adjust with extra flour if too runny and extra milk if too thick.
Place the frying pan over medium heat and melt a small amount of butter, making sure to coat entire pan with thin layer of melted butter.
Use a ladle to pour evenly-sized portions of pancake batter into the pan. Cook until small bubbles start to form on top (about two minutes), then flip and finish on other the side.
Serve your cannabis-infused pumpkin spice pancakes with fruit, maple syrup, butter, chocolate, or even whipped cream! 'Tis the season for decadence, after all.
Cannabis-Infused Pumpkin Spice Latte
Yes, even your favorite seasonal drink can benefit from some cannabis-infusion (just like most drinks)! Chugging this particular pumpkin spice latte before work may not be the best idea. Cold autumn nights, on the other hand, are perfect for sipping on a potent cup of weed-infused pumpkin spice latte. This recipe requires cannabis-infused milk – you can find the recipe for that here!
Ingredients
2 tbs pumpkin puree
2 cups cannabis-infused milk (whole tastes the best)
1/4 tsp vanilla extract
1/4 tsp pumpkin pie spice
1 tbs brown sugar
1 shot of fresh-brewed espresso (use 2 shots for stronger coffee flavor)
Directions
In a medium-sized pot combine pumpkin puree, cannabis-infused milk, vanilla extract, pumpkin pie spice, and sugar. Heat over medium temperature and whisk constantly until the mixture is steaming. Do not let the milk come to a boil!
Once hot, take the pot off the heat and set aside the milk mixture until later.
Brew a fresh shot or two of strong espresso. Take this time to fill your (hopefully seasonally themed) cups halfway with the cannabis-infused pumpkin spice milk.
Pour espresso shot into the milk and stir. Taste and adjust seasonings to suit your personal preferences by adding sugar, extra spice, or maybe some more coffee.
To finish your cannabis-infused pumpkin spice latte, either steam non-infused milk with the espresso machine or top the drink off with a generous helping of whipped cream.
Disclaimer: All information on this site is for reference purposes only. Leafbuyer is not responsible for the outcome of any recipe you try from the Website, or any website linked to from this site. You may not achieve desired results due to variations in elements such as ingredients, cooking temperatures, typos, errors, omissions, ingredient quality/potency, or individual cooking ability. Recipes available on the Website may not have been formally tested by us or for us and we do not provide any assurances nor accept any responsibility or liability with regard to their originality, quality, nutritional value, or safety. The cannabis amounts specified in this recipe are a loose suggestion. You should adjust the amount based on desired potency and the strength of your cannabis.