Cannabis Brunch Recipes: Stay in this Weekend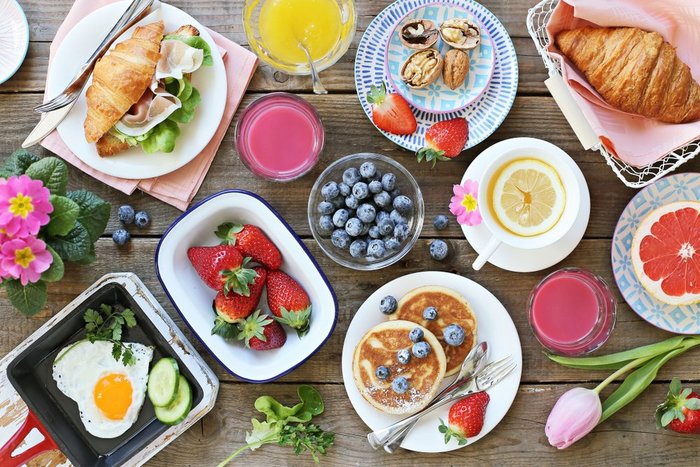 Brunch, in this age of millennial pink, social media fame, and avocado-obsession, is a thing. Combining breakfast and lunch, brunch has become a social rite of passage, taking over weekends as a social gathering, post-drinking recovery, and just a great way to unwind with delicious food.
There are things about brunch, though, that can deter people from going. First, it can be expensive. Plates, sometimes with large serving sizes and sometimes without, can cost a hefty dollar. Bacon on the side? That's gonna be extra. A mimosa? Just make sure there's enough money on your card.
The crowds can also be a pain to deal with; timing is everything. Just ask anyone in Denver who tries to go to Snooze on a Sunday or is caught up in a two-hour line at Sam's No. 3 with a growling stomach.
Avoid the lines and the wallet-punching effects by staying in for brunch. To spice things up, add a little weed into the mix.
That's right: cannabis brunch. It's a thing. Not only that – but cannabis brunch recipes are simple, easy, and known for being delicious. Enjoying marijuana with your meal has never been easier, or more convenient.
Cannabis Brunch Recipes
Often times, cooking with cannabis means strictly substituting an average stick of butter with cannabis oil. While still valid, there are other ways to spice up your cannabis brunch recipes.
Sides

You can always start small, by changing out weed-infused drinks and sides.
Coffee
There are several different brands of brew-at-home canna-coffee. Jane's Brew, Stillwater, Pot-o-Coffee, Ritual, Ganja Grindz, and House of Jane are all viable options. Some are as easy as boiling water, others come canned, and some can be popped into a canister machine. Either way, it's a breakfast starting with an infused bang.
Hot Chocolate
If you're not into coffee, hot pot cocoa is a delicious alternative. To make it, combine high-fat milk or cream, lots of cocoa powder, vanilla extract, sugar, marshmallows, and about a tablespoon of ground flour.
Juice
Believe it or not, you can juice raw marijuana. This is a gourmet option available to those who grow their own flower and can harvest it themselves since fresh flower is the way to go. This brunch-y drink contains a higher CBD than THC content, so keep that in mind before running the weed through the juicer, if that's not what you are looking for.
Brunch Staples
Here are the big meal breakers, the main course. Making weed the theme of the meal will not be a mistake with these cannabis brunch recipes.
Bacon
The first thing that comes to mind when people think of a good, delicious breakfast is often bacon (or a bacon-like alternative, for those who don't eat meat). It is a classic brunch staple and adds character to any meal. Below is a very brunch-appropriate twist.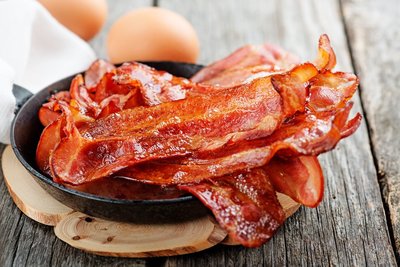 Ingredients
1 tbs shake flour (weed!)
1 c cubed cantaloupe
24 toothpicks
Directions
Preheat oven to 200 degrees
Space out bacon strips on a baking sheet
Lightly sprinkle shake flour over each bacon strip
Cook in the oven, until the bacon appears crisp on top
Take out the cookie sheet, flip the bacon over, sprinkle the other side with shake flour
Bake once again until crispiness is satisfactory
Lightly dab/degrease bacon with a paper towel
Wrap cooled down bacon around a cantaloupe cube, secure with a toothpick
Store in refrigerator until ready to serve
Enjoy!
Pancakes
Flapjacks are a treat when infused with marijuana. Try out this favorite cannabis brunch recipe: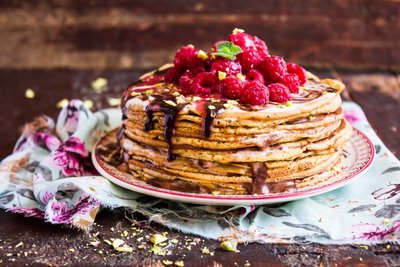 Ingredients
6 1/3 tbs of melted cannabis butter
3 co flour
10 tbs sugar
3 tsp baking powder
1 tsp salt
3 c milk
1 tsp vanilla
4 large eggs
2 pints or containers strawberries
6 ripe mashed bananas
Directions
Remove stems from strawberries. Slice them, then lightly mash them, combining them with 4 tbs of sugar. Set aside for an hour.
Mix flour, remaining sugar, salt, and baking powder in a large bowl.
In another bowl, combine wet ingredients (canna butter, milk, bananas, eggs, and vanilla).
Combine both the dry and wet mixed bowls into one. Don't over mix: a lumpy batter makes for light and fluffy pancakes.
Heat a small amount of oil in frying pan or pancake griddle, then pour small to medium amount of batter on top. Cook each flapjack until the top of the batter bubbles and firms. Flip and cook until the other side is golden brown.
Serve and enjoy!
Donuts
Donuts are a favorite sweet treat. It's possible to make them even better, following the cannabis recipe below.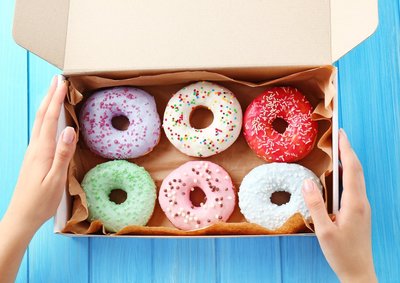 Donut Ingredients:
3 tbs milk
3 tbs boiling water
1 tsp dry active yeast
1 ˝ c flour
3 tbs sugar
1 egg, slightly beaten
2 tbs butter
Dash of salt
Oil for spreading
Glaze Ingredients:
1/3 c cannabis butter
2 c powdered sugar
1 ˝ tsp vanilla
4 tbs hot water
Directions:
Combine milk and boiling water in a large bowl. Add 1 tsp of the sugar and all the yeast, stir. Let sit while yeast activates.
Combine flour, rest of the sugar, and salt in another bowl. Cut in the butter, adding it as crumbs.
Add egg and the yeast mix into the flour bowl, and combine. Stir into a smooth dough—which can take around five minutes of mixing.
Transfer the dough to a lightly floured counter. Knead for five to 10 minutes. Place back in the bowl; cover with a plastic wrap. Let rise for either an hour or until it has doubled in size.
After it has risen, cut dough into four pieces. Stretch each piece into a long rope (1-1.5 inches wide), and cut an inch long.
Ball strips up in hands. Place them on a baking tray, covered. Wait for them to rise.
Heat the oil in a pan at 375 degrees. Once heated, place donuts into the oil. Fry about two minutes on each side, or until golden brown. Drain on a paper towel. Wait until completely dry to glaze them.
Combine glaze ingredients together. Dunk the donuts in the warm glaze, and allow to dry.
Enjoy!
Pro-tip: only try one cannabis brunch recipe at a time; these treats, while all delicious, are not all meant to be combined at once. Enjoy responsibly, and don't forget to find your marijuana at a local dispensary near you.
Disclaimer: All information on this site is for reference purposes only. Leafbuyer is not responsible for the outcome of any recipe you try from the Website, or any website linked to from this site. You may not achieve desired results due to variations in elements such as ingredients, cooking temperatures, typos, errors, omissions, ingredient quality/potency, or individual cooking ability. Recipes available on the Website may not have been formally tested by us or for us and we do not provide any assurances nor accept any responsibility or liability with regard to their originality, quality, nutritional value, or safety. The cannabis amounts specified in this recipe are a loose suggestion. You should adjust the amount based on desired potency and the strength of your cannabis.