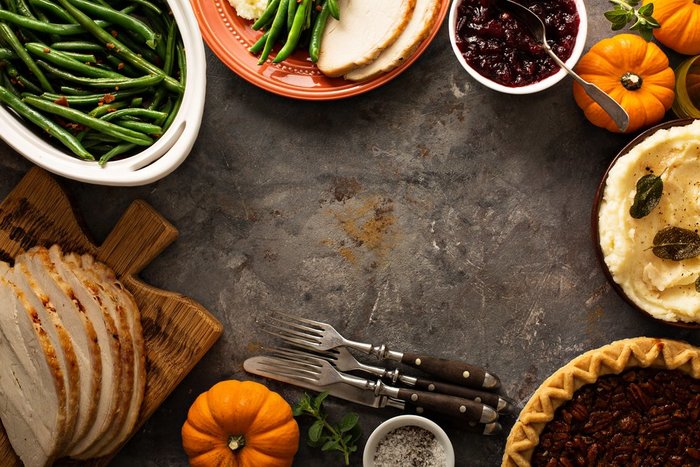 DISCLAIMER: The content on this site is for reference purposes and is not intended to be a substitute for advice given by a health-care physician, pharmacist, or other licensed health-care professional. Click here to read full disclaimer.
Thanksgiving is arguably the second-best stoner holiday, ranking just below the fan favorite 420. Turkeys and pilgrims may not exactly seem like cannabis icons, but with good people, good food, and (most importantly) good weed, it's easy to see why stoners enjoy celebrating their very own Danksgiving. The only problem? Choosing the best strains for Thanksgiving can be hard, especially when there are so many great strains for you to pick from. Leafbuyer's list of the top five best strains for Thanksgiving gives you a wide range of cannabis strains that might make you hungrier for Thanksgiving dinner. Indica or sativa, mellow or energetic, potent or more laid-back – the choice is entirely yours! So choose a strain and get ready for your most delicious Thanksgiving yet.
Best Strains for Thanksgiving
Critical Mass is one of the best strains for your Thanksgiving celebration due to its balanced high. As the offspring of Afghan and Skunk #1, Critical Mass offers the best of each well-known parent strain while also delivering its own unique blend of pleasant feelings. Critical Mass boasts an impressive THC content of 22.34% making it perfect for seasoned stoner celebrations. Since this strain is indica-leaning, don't expect to get too much work done this Thanksgiving. Choose Critical Mass for this year's Thanksgiving celebrations if you want a stoney, stress-free holiday.
Every Thanksgiving celebration needs a chef and, much like the name would suggest, Fat Nelson is the perfect strain to amp up your Thanksgiving cooking game. Fat Nelson packs a potent, hard-hitting high. As a sativa-dominant hybrid, Fat Nelson is a strain that you can smoke all the way from morning up until well-after Thanksgiving dinner. Of course, you don't have to be in the kitchen to smoke this fantastic cannabis. But if you are, Big Nelson is the absolute best strain for Thanksgiving dinner.
Cheese may sound like part of the appetizer menu, but it's actually a potent indica strain. If it sounds like the perfect strain for Thanksgiving, that's probably because it is. Even though Cheese is an indica-leaning strain, it probably won't leave you feeling couch locked in the middle of your holiday celebrations. Some report a deeply relaxing body high. This year, ditch the traditional cheeseboard (gouda, cheddar, fancy french bries, etc.) and instead set out an arrangement of choice Cheese nugs. Your guests will love it and so will you.
Trainwreck seems like it would be a hard-hitting indica (if names were anything to go by), and while it is potent, its effects are clearly sativa in nature. This strain is perfect if you want to avoid a stereotypical stoner lull in the conversation. Consumers of Trainwreck report a late onset high that presents as a sudden rush of euphoria followed by a general positive feeling. It's good for keeping a crowd lively, entertained, and in good holiday spirit. This strain might be a train wreck, but with it, your Thanksgiving dinner will be anything but.
Blue Lights is everything you want for a night of stoned holiday celebrations: perfect for kicking back and relaxing with loved ones. The offspring of notable strains Blueberry and Northern Lights, Blue Lights lives up to its lineage with its strong indica effects and pungent blueberry scent and flavor. While Blue Lights first presents with almost sativa-like qualities, consumers report it eventually fades into a comforting body high. Blue Lights may not be the best strain for your Thanksgiving dinner but it truly is the perfect strain for Thanksgiving dessert.