Midterms 2018: Marijuana Ballot Initiative Results
In case you haven't heard, the last day to vote in the midterm elections was yesterday, and the results are in! States were voting on tons of important issues, from changing abortion laws to giving felons the right to vote, all the bases were covered. Following in the footsteps of many states before them, four states voted on legalizing marijuana to some degree. Missouri, Utah, Michigan, and North Dakota all voted on either legalizing medical or recreational marijuana.
Here's how the results broke down: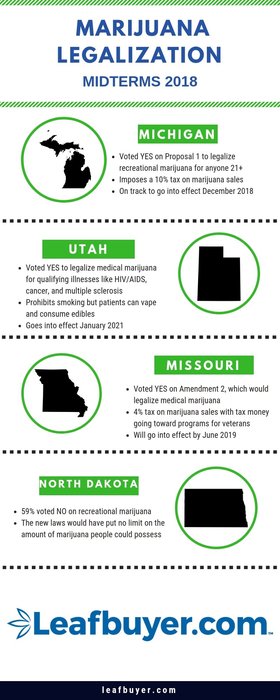 Michigan is now the 10th state (plus Washington, D.C) to legalize recreational marijuana. Utah and Missouri join D.C and 30 other U.S states who have legalized marijuana for medical use. Support for marijuana legalization is sweeping the country, with people young and old embracing and accepting the benefits of the the plant. Some states are now focusing their attention on what to do with previous convictions for marijuana possession. We're excited to see what happens next. Congrats to Michigan, Utah, and Missouri!