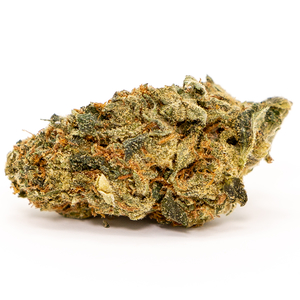 Trainwreck Strain
Sativa Hybrid
Mexican Sativa X Thai Sativa X Afghani
20.12% THC

0.04% CBD

0.01% CBN
Medical

PAIN

ANXIETY

DEPRESSION
Flavor

EARTHY

PINE

CITRUS
Effects

EUPHORIC

HAPPY

UPLIFTED
Despite the strain's mysterious origin, Trainwreck has made a name for itself. The sativa-leaning hybrid is popular due to its hard-hitting cerebral buzz that mixes well with the relaxing properties from its indica parent. Growers and consumers of this strain, alike, know Trainwreck by its pungent citrus musk and thin, resin-coated green leaves.>
Overview of Trainwreck
Known for its hard-hitting high that hits you like a truck, Trainwreck is an aptly-named sativa-leaning hybrid. A strong mental high is rounded out with mellowing physical effects. Though the name hints at a potentially unproductive high, the strain produces invigorating cerebral stimulation that keeps conversation pleasantly on the tip of your tongue.
Since the 1980's, Trainwreck has become a Northern Californian classic due to the heady effects. When grown correctly, Trainwreck buds reach THC levels from 12% to 21%. Different cannabis experts report a range of averages from 14% to 17%. CBD levels can clock in from 0.02% to 0.1%.
You know you've got good Trainwreck when you inhale a powerfully piney and somewhat citrusy musk. When smoked, the bud can taste earthy and spicy while the harshness of the smoke lingers in your throat. By the time you finish consuming, Trainwreck's high should have settled and pleasantly warm you up.
Trainwreck is largely available as clones but seeds have cropped up in the market. Warning: seeds can be hit or miss. When growing, real Trainwreck will cultivate a strong, citrus smell as they ripen and produce resin-coated, think leaves as a part of dense nugs.
Potential Positive Effects of Trainwreck
Consumers praise Trainwreck for its euphoric and invigorating mental high effects. The strain streams through the mind with speed, awakening creativity, and unbridled happiness. consumers choose Trainwreck for its balanced between mood-enhancing effects and a numbing body buzz. Despite the strain's mysterious genetics, consumers report a powerful hybrid high without overwhelming sativa side effects or indicas couch-locking tendencies.
Potential Negative Effects of Trainwreck
Negative effects can include dry mouth, dizziness, dry eyes, paranoia, and headaches.
Lineage of Trainwreck
Trainwreck's lineage is a contested and slightly confusing tale, rumoring the strain a cross between Arcata US and another, unknown strain. While the Arcata Trainwreck is a popular sativa in its own right, most cannabis connoisseurs promote an even more muddled origin story. There are rumors that that bud grew out of Northern California in the 1970s from two landrace strains Thai and Mexican crossed with an Afghani indica strain. Apparently, a train crash near the grow site spooked the growers into plucking their crop early - and thus Trainwreck was born.
Growing Trainwreck
Home growers can expect the strain to do well both indoors and outdoors. The dualistic nature of the strain causes plants to grow tall and broad. Outdoor plants will be ready to harvest by early October and can produce a yield up to 700 grams. Grown indoors, a singular hydro plant of Trainwreck can produce as much as three (2) to four (4) ounces per square foot. Generally, it takes the strain eight to ten weeks to flower.
Trainwreck nugs tend to be dense with distinctive and thin green leaves coated with a healthy layer of resin. The green buds are a bit on the lighter side, streaked with orange hairs and covered in crystals.
Where To Find Trainwreck
Trainwreck is commonly found in Michigan, Massachusetts, Maine, Arizona, and California.