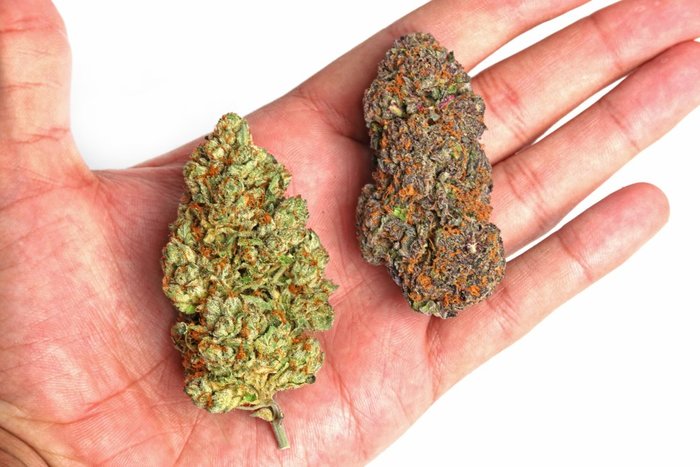 When it comes to cannabis (and many other things in life), newer isn't necessarily better, but having an exciting new cannabis product or strain to try is never a bad thing! Quite the opposite, in fact. No dedicated cannabis connoisseur will turn their nose up at the opportunity to try a new, up-and-coming cannabis strain — and for good reason. After all, with the recent strides made toward the decriminalization and legalization of cannabis, the weed industry is practically booming! With the public interest in weed continuously growing, so too is the wide selection of top-notch weed strains. 
That's why Leafbuyer is here with this list of the best new weed strains currently available. You don't need to worry about staying ahead of the times with new cannabis strains when we've already compiled the cream of the crop here for you. So, kick back, light up a bowl, and get ready to read up on all the best and newest weed strains on the market! 
CBD Glue Tide
Starting off strong with a new and intriguing CBD cannabis strain, we have CBD Glue Tide from Equilibrium Genetics. Don't let the name fool you — CBD Glue Tide sure packs a stoney punch with a balanced hybrid effect. This new strain was bred by combining Sour Tsunami, Cannatonic, Good Medicine, and a little bit of Glue to hold it all together. With a stacked lineage like that, it's hard to imagine CBD Glue Tide missing any of the marks. Consumers of CBD Glue Tide report this strain as having a euphoric and calming effect with a heady flavorful combination of fruit and diesel. Don't skip out on this unique, stoney new strain — get your hands on some CBD Glue Tide today!  
Glookies
Next on our list of the best new weed strains is Glookies from Barney's Farm. Glookies is an indica-dominant hybrid strain with an impressive THC content of up to 25 percent. This strain is bred using Gorilla Glue with Thin Mint Girl Scout Cookies — two classic strains with some serious name recognition in the stoner community. Consumers report this strain as having a stoney, but motivational high with an exotic smoke aftertaste of Sour Diesel and citrus. Glookies is certainly a strain worth looking up, especially if you're looking to shake things up a bit and try something new! 
Sensi #32
Another contender on our list of the best new weed strains is Sensi #32 from Sensi Seeds. Although the name might not be as exciting as other cannabis strains, the effects of Sensi #32 can match any weirdly named weed out there. In fact, Sensi #32 won a Cannabis Cup award for its astounding quality. The strain is probably best-known for its resinous buds, along with its signature spicy and earthy scent. Sensi #32 is the sativa-hybrid offspring of Silver Haze and Fire OG, two widely-recognized and beloved cannabis strains. Try Sensi #32 to get a taste of a new, award-winning weed. 
Sensi #140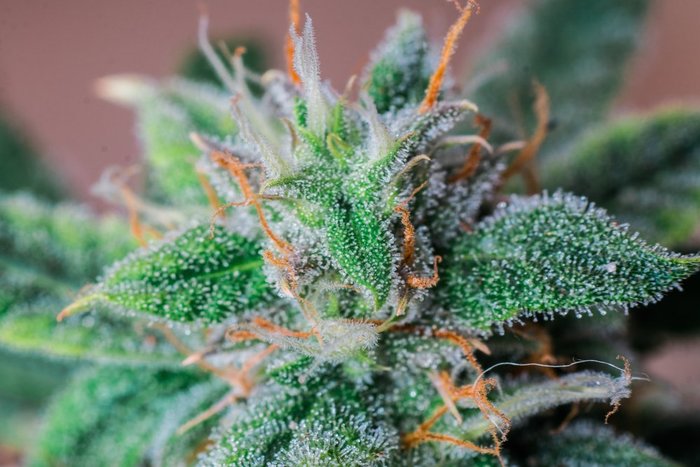 Another new cannabis strain from Sensi Seeds is the appropriately named Sensi #140, a balanced hybrid with glowing reviews. Not only is the taste of this exciting new weed strain absolutely delicious, with notes of sweet chocolate and earth, it's also potent to boot! Sensi #140 is the offspring of Chocolope and Hindu Kush, giving it a combination of all their best effects and flavors. Consumers of Sensi #140 report this strain as having simultaneously calming and euphoric effects. If you're looking for some new weed to try and enjoy a balanced hybrid strain with a great taste, then Sensi #140 just might be the best new weed strain for you! 
Three Blue Kings
Last, but certainly not least, in our list of the best new weed strains is Three Blue Kings, an indica-dominant hybrid which clocks in at 24 percent THC content. The breeders of this strain, Humboldt Seed Organization, have more than just an awesome strain name to brag about. This comes as no surprise considering its parent strains, Blue Dream and Three Kings, and the reputations that they've earned themselves. Consumers report Three Blue Kings as having relaxed, mood-enhancing effects. This strain is particularly popular in America and is best harvested in mid-October. Three Blue Kings is a great new weed strain for anyone looking for an intense indica high with an impressive lineage!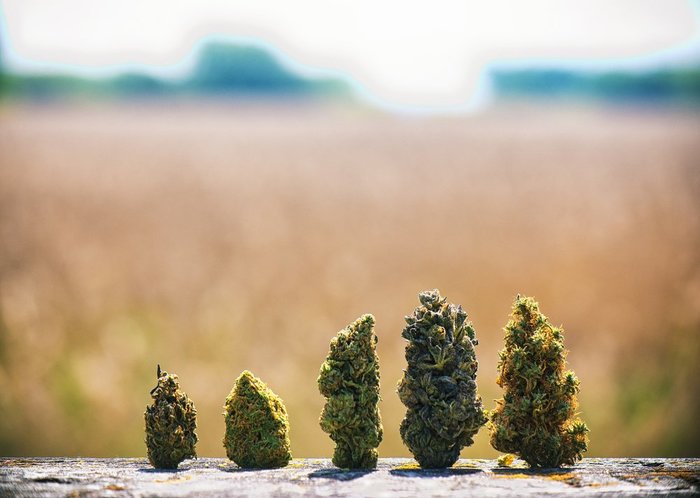 Don't forget to check out your local dispensary and see if you can find these exciting, best new weed strains! Or, if you can't find the strain you want, you can always buy it as a seed and grow your own version of these new cannabis strains.
FOR THE BEST CANNABIS DEALS, CHECK OUT THE LEAFBUYER DEALS PAGE!