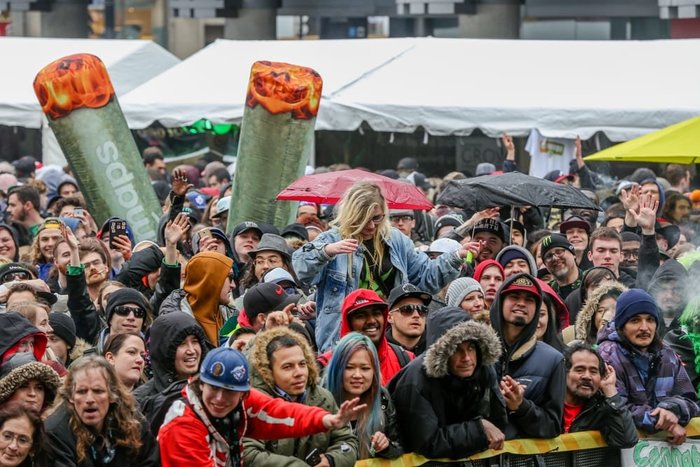 Some holidays are better if you're in the right place at the right time: New York on New Year's Eve, Yosemite on Earth Day, even sunny beaches for college students on Spring Break. Celebrating 420 the right way means knowing where to go to get the best 420 experience you possibly can. Lucky for you (and all the other stoners) there are a ton of cities to choose from for an awesome April 20th. Even luckier? Leafbuyer's comprehensive 420 guide has everything you need to stay up-to-date. The problem isn't finding a 420 celebration – it's finding the best 420 celebration!
All these cannabis-centric events are only growing bigger and more popular as legalization continues to sweep the nation. As of now though, the best cities to celebrate 420 are the cities in recreationally legal states like California, Nevada, Oregon, and, more recently, Michigan! Where you go depends entirely on where you are, how far you want to go, and (more importantly) what kind of 420 celebration you're looking for. Each city gives an entirely unique experience so make sure you choose wisely. Or better yet, get a checklist started and set a ten-year plan to celebrate 420 in every city worth celebrating it in! Just get some good weed and some good people and your next 420 celebration should be a blast no matter where you go.
Check out the Leafbuyer 420 Guide to the best cannabis deals and events!
420 in California
Celebrating 420 in California is an experience worth having, especially if you're looking for a state with a diverse range of cannabis-themed festivities. From top to bottom, California is littered with 420 events of all sorts. Try out the SoCal Cannabis Cup in San Bernardino for a big-city 420 experience, complete with everything we know and love about Southern California: the palm trees, the luxury, and the endless entertainment. You won't be left wanting for anything other than a moment to sit down, smoke, and chill. Alternatively, drive north for eight or so hours and experience the Northern California style of celebrating 420 in San Fransisco. If hippies, hills, and having some hash outside in the open air sounds like fun to you, then Northern California just may be where you should spend your next April 20th!
Make sure to check out our list of 420 events in California!
420 in Colorado
As with most cannabis-related things these days, Colorado is the place to go for a fantastic weed experience. The influx of cannabis work and recreation in this state has made room for tons of well-organized and fun weed events to
take place. With year-round cannabis hotels, tours, and even yoga classes it's easy to see how 420 in Colorado is just all-around excellent. The annual 4/20 Rally takes place at the Civic Center Park in Denver and is well worth an out-of-state visit. This 420 celebration is entirely free to attend, though your wallet might still take a hit from all the food and cannabis products available. Or you can bring your own weed and simply enjoy the festive spirit of being high outdoors surrounded by so many happy stoners. Make sure to check out list of 420 events in Denver!
420 in Michigan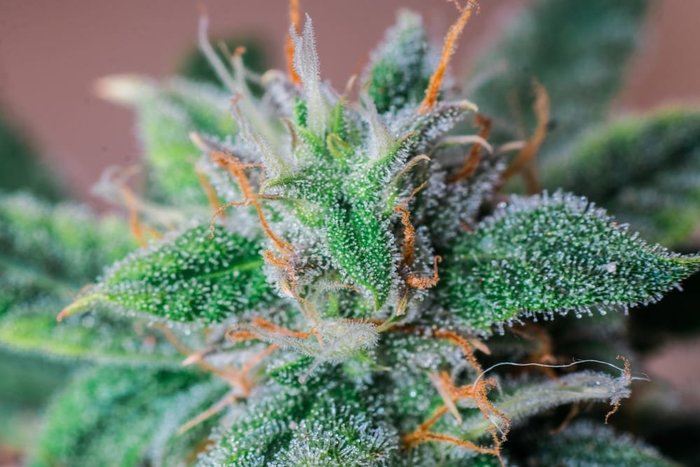 Michigan may be a recent addition to the states boasting recreationally legal cannabis but that doesn't mean they don't have a 420 celebration worth attending. In fact, Michigan has a longstanding celebratory cannabis day in April. The Annual Ann Arbor Hash Bash (try saying that three times in a row) celebrates its 48th year in 2019 despite Michigan only legalizing recreational weed recently. Don't believe us? Just go to the University of Michigan and see the incredibly telling cloud of cannabis smoke for yourself. However, be warned that the Annual Ann Arbor Hash Bash already took place on April 6th. Make sure to check our list of 420 events in Michigan for 2019!
420 in Nevada
Nevada; home of crazy bachelor(ette) parties, impromptu marriages, gambling wins and losses, and, of course, a 420 celebration or two. If you're looking for the best cities to celebrate 420 then look no further than Las Vegas or Reno. Just stop by one of many dispensaries in either city and hit the town. You can enjoy all the sights and spectacles of Las Vegas or Reno through the special lens of 420 – that is to say, gambling, drinking, and partying it up all while being super high. April 20th in Nevada's big cities is bound to play host to some festive gatherings of stoned revelers. Pacing yourself is important for celebrating 420 in Nevada since you want to actually make it to 4:20 pm. What happens in Vegas on 420 will stay in Vegas, if only because you'll be too high to remember (just like everyone else).
420 in Oregon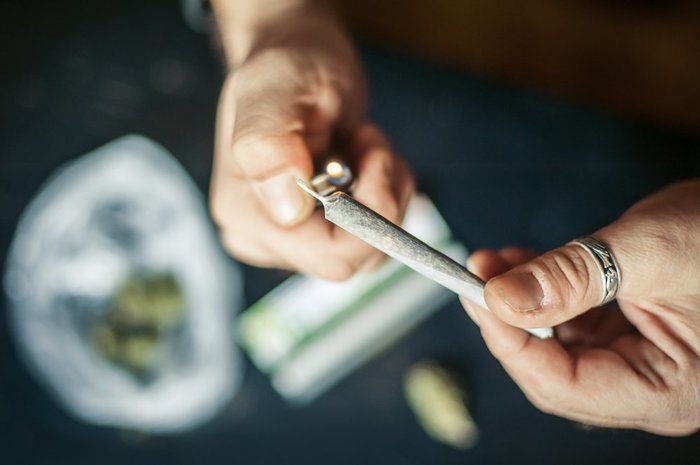 Oregon, specifically Portland, Oregon, is the place to be on April 20th and has been for quite some time. It may not be as flashy as Vegas or as large as California but the culture and festivities surrounding everyone's favorite weed holiday in Portland is something else. Try the Potluck PDX 420 for a bustling but casual celebration of everyone's favorite herb. Between the live performances, awesome food carts, and general stoner mingling you won't have time to even wonder how other cities are celebrating 420. Just make sure to pace yourself and take the time to walk around and enjoy just how beautiful Portland can be in the spring. After all, what use is smoking weed in nature if you don't take a moment to stop and smell the flower?
420 in Washington State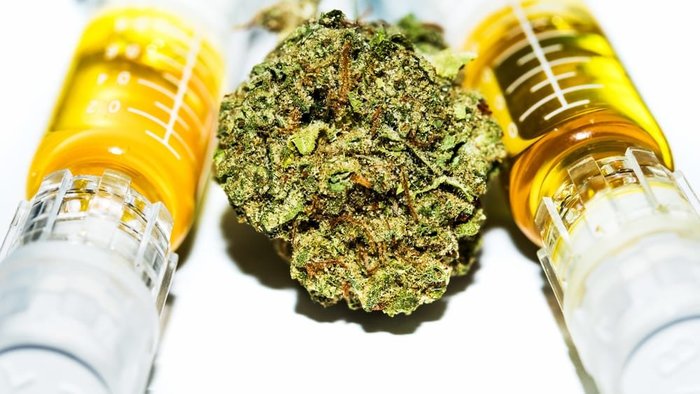 Washington State is worth visiting any time of the year, but late April does bring out a certain festive holiday spirit. You can spend the first half of the day enjoying all the best Seattle has to offer, from coffee to culture, then swing by one of the many 420 celebrations. The 420Fest and/or the 420 Block Party are well-known and well-liked as awesome celebrations of weed. You can pop the addresses into Waze, trust in the knowledge of a Seattle local, or simply follow your nose to the closest weed celebration. Who knows, you might like Seattle's 420 celebrations so much that you just won't want to leave! Better start looking for cannabis jobs in Seattle and get a head start on the big move.
Celebrate 420 in Your Own State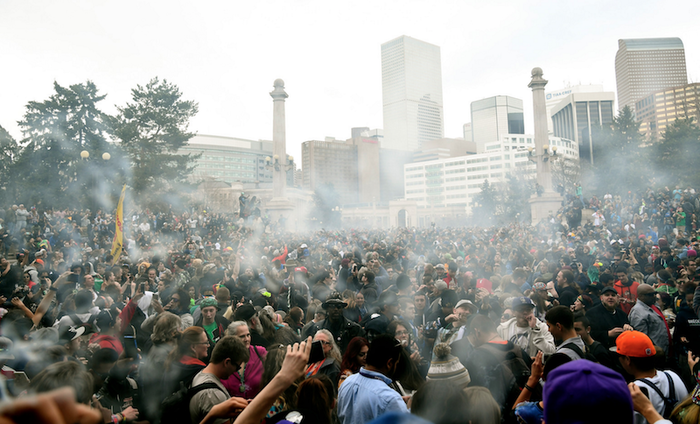 While going out and celebrating 420 in public is a ton of fun, it isn't always possible. Don't let your favorite cannabis holiday be ruined just because you can't make it to any of the best cities to celebrate 420. Instead of booking a plane ticket across the country or driving hours just to smoke some weed, consider throwing your own 420 celebration! Call a local dispensary, stock up on some choice cannabis, and get all your best stoner buddies together for a day you very well might forget (but only if the edibles are strong enough). Sometimes the best city to celebrate 420 in is your own. You're guaranteed less travel, less stress, and certainly less secondhand weed smoke.