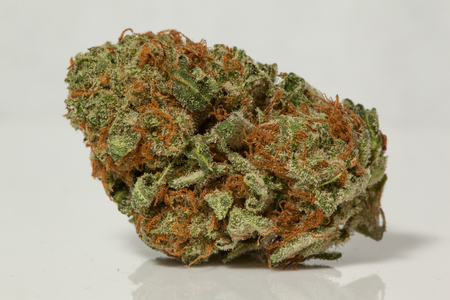 Indica
OG Kush x Banana
Banana Kush Strain
Banana Kush varieties have cropped up in the cannabis market - and since, impressed stoners and industry experts alike. Due to the versatility of growers, Banana Kush strains can possess THC content from 16% to 27%. When smoked, the strain should taste fruity and tropical like bananas. The hybrid leans slightly to the indica side and revered for its relaxing and often sedative properties. Banana Kush, however, also carries a slight sativa edge to its high. The strain is also known to inspire creativity and intense feelings of happiness.
Medical
PAIN DEPRESSION ANXIETY
Flavor
BANANA SKUNKY FRUITY
Effects
RELAXED EUPHORIC SLEEPY
Banana Kush combines the best qualities of its name - the fruity flavor and indica stone -- into a delightful and dank package. The indica-leaning hybrid has become increasingly popular in cannabis circles. High profile accolades include the best indica trophy and third place in the best hybrid category in the 2011 Cannabis Cup. Banana Kush often also has impressive THC percentages within the 20th percentile. During the recent green rush, Banana Kush has expanded from its West Coast roots and gained fans throughout the country. The strain is popular in Oregon, Washington, Colorado - particularly Denver-, and different Canadian provinces.
Different cannabis resources attribute Banana Kush's genetic origin to different sources. Popular Colorado dispensaries that produce the strain include Mile High Green Cross Dispensary and Highland Health Dispensary. International growers like Amnesia Seeds also offer feminized versions of the seeds. Cali Kush also stakes its claim on the strain. It's understood that Banana Kush is either a cross between OG Kush and Banana or Ghost OG and Skunk Haze. OG Kush fosters the strain's sedative stone and heavier side effects. Conversely, it's plausible that Ghost OG and Skunk Haze foster similar qualities. Banana Kush embraces the idle indica properties of its parents and is recommended for evening or nighttime use. The strain's buzzing mental stone also hints at its slight sativa lineage. Generally, it's understood that Banana Kush leans 60% to the indica side. Commonly, the strain can make a user feel relaxed, euphoric, fatigued, and uplifted. Banana Kush can also help induce creativity.
Medical patients utilize Banana Kush to treat the physical and mental side effects of stress, depression, general pain, a light or lacking appetite, and insomnia. The strain's heavy stone is favored by those dealing with chronic pain issues and arthritis. Banana Kush can also help relieve the symptoms of glaucoma, nausea, muscle spasms, migraines, and even eating disorders. Negative symptoms are few but can encompass dry eyes, dry mouth, extreme fatigue, and dizziness.
Banana Kush is considered a moderately challenging strain to grow. Banana Kush plants don't often exceed 2 meters in height or yields more than 99 grams per square meter. Amnesia Seed's version claims to have much higher yields between 450 and 700 grams. Banana Kush plants can be relatively high maintenance and require extra attention during the grow process. It takes the strain between nine and ten weeks to flower. Reported THC content can reach up to 25% though CBD levels hang around 0.1%.