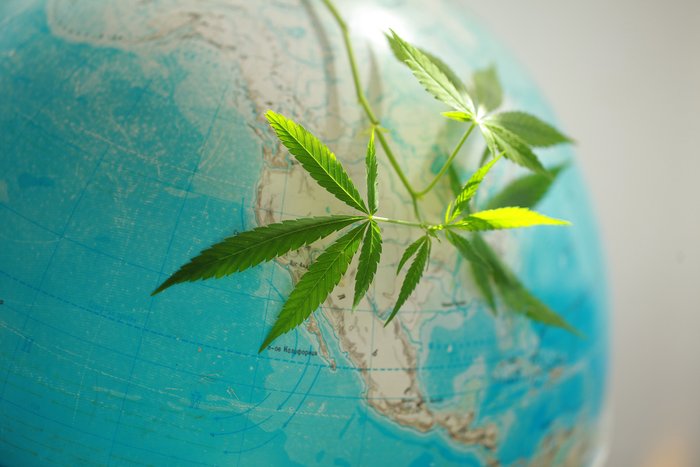 Vancouver, BC has been ranked in the top ten cities in the world to live in for a number of years. Once you visit, it is not difficult to understand why. The rich cityscape backed by mountains and the English Bay, creating a picturesque atmosphere pumped with so much diversity you are more likely to hear an accent than not.
While Canada has long held less strict, non life-ruining penalties for the use of cannabis when compared to the US, the sale and use of cannabis remains largely illegal for most individuals across the country (save for medical marijuana consumers). In most provinces across Canada, medical marijuana dispensaries can legally operate, yet they have been raided and closed with varying frequency, similar to cannabis raids in the US.
Purchasing weed in Vancouver, BC, while remaining illegal at the time of writing, was one of the simplest experiences one could have obtaining marijuana in a new city. 
Once you can buy weed from a dispensary legally back home, traveling to any other place where:
The experience may force reflection; confronting how ridiculous prohibition was, still is
A Visitor's Point of View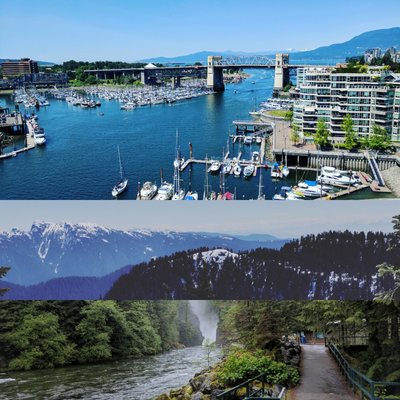 Vancouver has a wild nightlife, so much so the city's police will block major city roads on weekends to better accommodate foot traffic. Having a large number of people that are out on weekends combined with over 10 million visitors in each year, drives billions in revenues across the city.
Indeed, the tourism industry and vibrant club and bar districts across the city forms a social pressure cooker for illegal marijuana sales. Walk down just about any street in Vancouver at nearly any time and there is a good chance you'll smell someone smoking weed (not a bad thing).
Need an example?
During my visit, I was buying groceries at 7am and, while walking back to the hostel where I stayed, I noticed a guy smoking a joint. Just walking down the middle of Robson Street,  where an immense mix of high class shops and delicious food options exist.
It may have been forward, but I knew legal marijuana sales was not set to begin till July 2018. I asked him if he knew where I  find some marijuana. He was from San Paulo, Brazil and had moved to Vancouver six months ago. We ended up walking down the street, sharing the joint, while he told me the secrets of buying weed legally in Vancouver.
The Down-Low on Vancouver Cannabis
Rather than tracking street dealings or making it a priority for small-level transactions, the Canadian police seem to have prioritized other, more serious crime. They have chosen to minimize the impact on tourism by allowing, yet stopping short of licensing a few places around the city to sell to any person above the age of 19. 19 is the same age as the drinking age in British Columbia.
(Good News: Canada is expected to have a fully recreational marijuana market for adults between 18 or 19 years of age [depending on the Province or Territory] and older by July 1st, 2018.)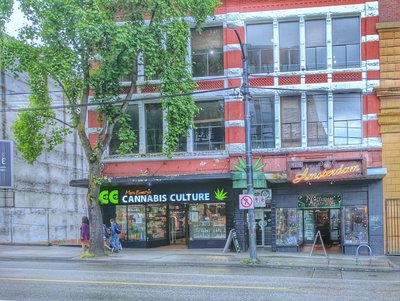 There are a number of smoking lounges across the downtown Vancouver area.
Cannabis Culture is a network of cannabis-related media or services operating out of Canada. They offer a magazine, a streaming channel, a forum, alongside numerous head shops, smoke lounges, and dispensaries.
In the Vancouver area, there are three Cannabis Culture locations from where you buy weed or other marijuana products – one of which is contained within their own smoking lounge.
They offer two lounges for cannabis users in Vancouver, each having several dab rigs with e-nails. At each lounge location, you can supply your own concentrates, purchase on a dab-by-dab basis, or, if you are at the Davie St. location, head on into the dispensary room and get yourself a gram or two of marijuana concentrates.
Purchase observations: 1 gram live resin = $45 CAD = $33.50 USD (May 2017)= Great Deal!
Cannabis Culture Dispensary and Smoke Lounges are located at:
1674 Davie Street, Vancouver, BC, Canada
307 W Hastings St, Vancouver, BC, Canada
512 Beattie Street, Vancouver, BC, Canada
A Peak Inside The Smoking Lounge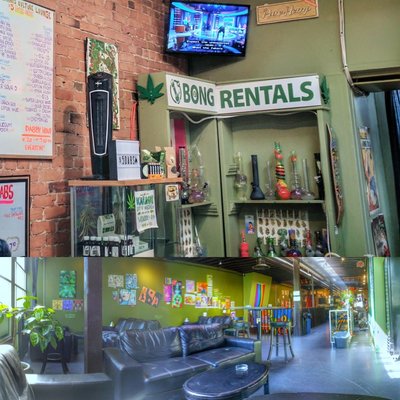 Each Cannabis Culture lounge or dispensary location provide different services. The Beattie St. location is just a dispensary whereas the Davie St. location is a headshop, smoking lounge (no tobacco or blunts), and a marijuana dispensary.
The W. Hastings St. location has a head shop and dab bar. They offer joints and other medicated products but does not have a separate dispensary room. As all three of the locations which had a dispensary were near me, I wandered throughout downtown and made going into all three an adventure of itself. Any purchase from the dab bar allows you to use one of the rigs.
At the Davie St. location, purchases of $50 or more at the dispensary allows you free access to the smokers lounge. Typically, the cost of using the amenities of the smoking lounges is a $5 cover. The fee includes a volcano vaporizer or a bong. Additionally, grinders, rolling papers, and snacks of all variety are available.
Travel Should always include seeing or being somewhere you haven't yet explored.
Purchasing dabs or buying weed on a per dab basis shoved me to attempt and again make sense of this new reality. Sure, in certain pockets of the world, buying weed from a marijuana dispensary is still a good way off. And yet, here I am using a dab rig at the smoke lounge with an amount of hash equivalent to a single dose legally. Could anything emulate an alcohol-style regulation more?
How Does It Compare to Legal Weed in the US?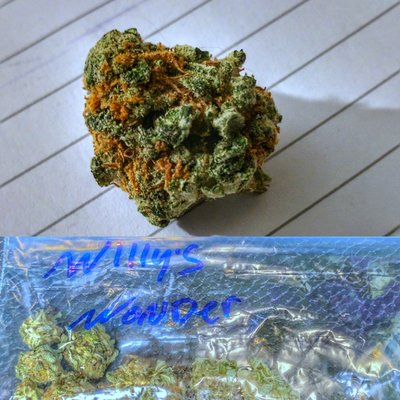 The culture of Vancouver was a perfect compliment for this stoney adventure. The experience at dispensary locations was much different than at the dispensaries I have visited in Portland, Seattle, and back home in Denver.
Everything was weighed in front of you. The budtender will hand write a product description and put your product into a small plastic sandwich bag no matter if you purchase flower, capsules, or concentrates. This lovely note could include the strain name, cannabinoid profile, or milligram strength.
Still, similar to the US, business was cash only.
Other Similarities Include: 
Both Washington and Oregon require packages to be properly labeled and the contents must be analyzed by a lab to ensure no harmful pesticides or chemical agents were used during the growing or processing of marijuana and to deliver potency results. These packages could include: grown marijuana, manufactured marijuana concentrates, or edible weed products.
The unregulated nature of the marijuana market in Vancouver likely prevents many from doing such rigorous and expensive testing. In itself, using substances you know are harmful in products you will be giving you other people is a horrible way to show you empathize with continued life. I trusted all the strains, hash oil, live resin, capsules, and edible products I tried on this principle.
Prices
On average, you could purchase a 1/8th of flower for $35-$45 CAD. The Beattie St. location offered CBD (undisclosed mg amount) and THC capsules (100mg each) for $3 and $5 CAD, respectively. Additionally, they offered vaporizer cartridges loaded with between 0.7ml and 0.8ml of cannabis concentrate for $45 CAD, or just over $33 USD.
Each dispensary location has daily specials and rotating deals. Five (5) pre-rolled, strain-specific joints for $20 was among the best deals I had found. This deal was offered at both marijuana dispensary locations.
Before leaving the dispensary, I was able to ask about how the Beattie St. marijuana dispensary came to be and how it functions legally.
The dispensary worker sighed.
"The easiest explanation was that selling marijuana is not legal, even though the city isn't likely to crackdown."
Yet, the Gastown area, – an old district lined with pubs, restaurants, and a steam clock! – where the Beattie St. location exists, is likely benefited by moving the sale and use of marijuana to being indoors.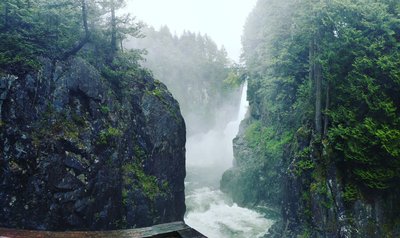 Gastown has two marijuana dispensaries and three smoking lounges. These places may ID those who enter, helping to prevent children from being negatively impacted by marijuana use.
See the Sights and Enjoy Vancouver!
Loaded up on joints, capsules of both THC and CBD variety, and a vape pen cartridge, I spent the next several days hiking along the mountains, swimming or relaxing at nearby Kitsilano beach, and taking in the stunning local nature.
Again, buying marijuana legally makes the experience feel like buying alcohol. Though, sometimes it feels like you are purchasing jewelry, with display cases and magnifying glass to see those beautiful trichrome-glazed marijuana buds.
While the smell of marijuana frequently dances across Vancouver, the theory behind setting up illegal, yet allowed facilities for residents and visitors to purchase and/or use marijuana (19+) is as follows:
These dispensaries and law enforcement can work to further reconcile negative or misinformed opinions about marijuana use and channel them towards a legal, regulated, adult cannabis market.