Things to Do High in Denver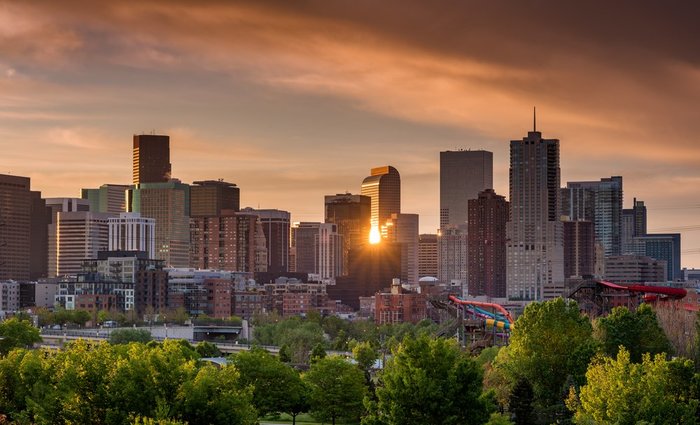 If you are getting high on some legal marijuana in the city of Denver, there are a ton of fun things to do to make the most of your buzz. Whether you are a fan of nature, artwork, music, booze, or food (or all of the above), Colorado's major city is a mecca for the stoner lifestyle. Since the legalization of cannabis in 2013, dispensaries, like DANK, have been helping adults find the right products at great prices. So head over to the nearest dispensary, stock up on your favorite cannabis goodies and check out these fun Denver activities that pair well with cannabis.
Breweries
Cannabis and beer are quite the combination, wouldn't you say? Thankfully, there are more than 200 microbreweries in Denver, so there are countless options to cure your cotton mouth with a nice cold brewski. There's Station 26, which is located in a renovated firehouse. Try Denver Beer Company if it's nice enough to enjoy their outdoor beer garden, or check out Cerebral Brewing if you like a couple shots of science to go along with your IPA. If you listen to Metallica, Motorhead, or Megadeth, check out the heavy-metal-themed TRVE Brewing Company on Broadway.
The LivWell Enlightened Health dispensary is also on Broadway, not too far from TRVE, so maybe you should consider grabbing a gram of the AC/DC strain to get in the mood for some headbanging. Whatever atmosphere you prefer when you're stoned, there is a Denver microbrewery to suit your mood. So Google "Denver microbreweries" or get on Yelp and find out what the Mile High City has to offer.
Street Art Tour
How about taking a few puffs and then enjoying some colorful street art? Yes, please! Denver is home to some of the best street art on the West Coast. Notable visuals include "Love This City" by artist Pat Milbery, a three-mural series that includes artwork in the Santa Fe district, the Golden Triangle Creative District and the River North Arts District. There's a cool new one by visual artist Jolt in the alleyway at 7th Avenue and Santa Fe Drive, and a beautiful mural that depicts a mermaid with a bow and arrow at Helikon Gallery in River North (known as RiNo). The colorful visuals of Denver's street art scene are enough to stimulate the senses and make any cannabis buzz even better. Our suggestion: park in the Santa Fe district and just walk around, take in the sights, and let your imagination wander. There is a dispensary called Kind Meds on Santa Fe Drive, just in case you need to grab some flower or an edible to enhance the visuals.
Red Rocks Park and Ampitheatre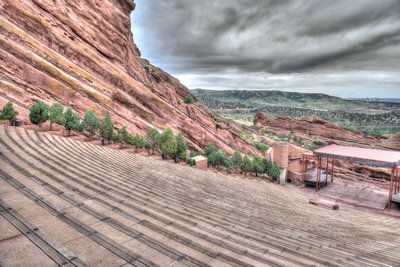 Red Rocks Park and Ampitheatre is certainly one of the best natural wonders in the United States. The park is less than a half hour drive from Denver, and every bit worth the trip. Red Rocks hosts major concerts every year in its natural amphitheatre; the 2017 lineup included an eclectic mix of performers, including Paul Simon, Umphrey's McGee, Ween, Santana, and Slightly Stoopid, just to name a few. There's a great view of Denver in the distance from the ampitheatre, which is open for visitors even when there's no concert happening. Many local natives head over to Red Rocks for a jog or hike, escaping the hustle and bustle of downtown Denver for some peace in this beautiful area of Colorado. Along with the Redwoods Forest and the Grand Canyon, Red Rocks is among the most unique outdoor attractions west of the Mississippi River. You'll be happy to know there are plenty of dispensaries on the way out from Denver toward Red Rocks, including Livegreen (on Morrison Road) and Rocky Mountain Organic Medicine in Golden, Colorado.
Boulder
If you're new to the Denver area, the town of Boulder is a highly recommended day trip. The Pearl Street Mall at the heart of downtown Boulder is packed with street performers, great places to eat, and chill vibes overall. There are some great trails in Boulder if you're into high hikes. Chautauqua Park is walkable from downtown, and you will not want to miss a good hike up the iconic Flagstaff Mountain. You'll also want to drive up Flagstaff Road, a long and windy 3.5-mile journey that pays off with a breathtaking view. Spend some time at the peak of Flagstaff Mountain after puffing on some herb, watch a sunset, contemplate the bigger questions of the universe, or just take in the scenery. We promise, it is well worth the drive from Denver. If you need some green fuel for the trip, The Village Green Society, MMJ America, and Helping Hands Herbals are all in close vicinity to the Pearl Street Mall.
Sports and More Sports
Denver is home to professional teams in all four major American sports. During the summer months, the Rockies are swinging for the fences at Coors Field. In the autumn, the NFL's Denver Broncos are in town, and there are also the Nuggets and the Avalanche if NBA basketball or NHL hockey are your thing. It's always fun to experience a pro sports atmosphere, and a good cannabis buzz only adds to the intensity. Plus, there are plenty of great bars and restaurants near each arena, and a good dispensary is never far away. So go ahead and add that to your list of things to do while high in Denver.
LivWell and Kind Meds are proud partners of Leafbuyer.