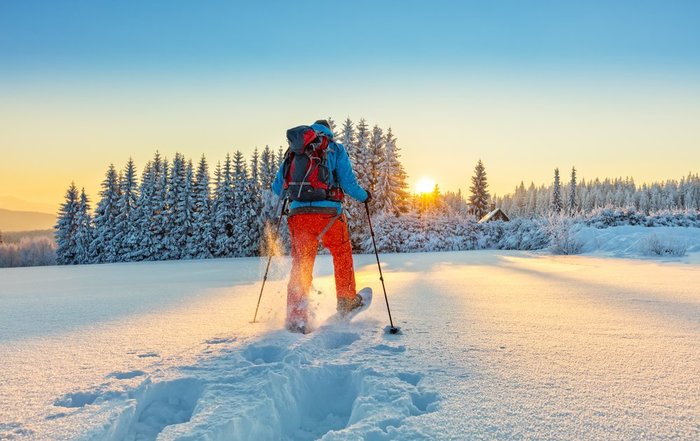 Colorado is a land of contradictions. In November 2018, we elected the first openly gay governor in history. We also opted to continue to allow fracking near our schools and playgrounds. In 2014, we opened the first recreational marijuana dispensaries in the country. Colorado felt like the land of the free. Then, in 2016, Coloradans accidentally voted to keep slavery legal here.
Colorado is often called the most purple state in the nation, thanks to a near-equal split between conservatives and liberals. The liberal population is clustered in the Front Range, which includes Denver and Boulder. (The Front Range is on the eastern side of the Rockies). Colorado's redder politics can be found in the rural areas. It's been said that Colorado is a microcosm of the country: the Front Range represents the coasts, and the Western Slope symbolizes the rest of America.
But disagreements across the state don't seem to bring us down. Maybe it's because we have great snow. Or, because we're all smoking cannabis.
But if our contentious climate gets to be too much for you, you may need to escape to the mountains, where you can combine Colorado's best activities: snow sports and legal pot.
When Coloradans are raving about fresh powder, they're usually talking about skiing or snowboarding. But there are some times when you may need to swap out your boards for snowshoes and head to the best places to snowshoe in Colorado.
Why Snowshoeing Is Awesome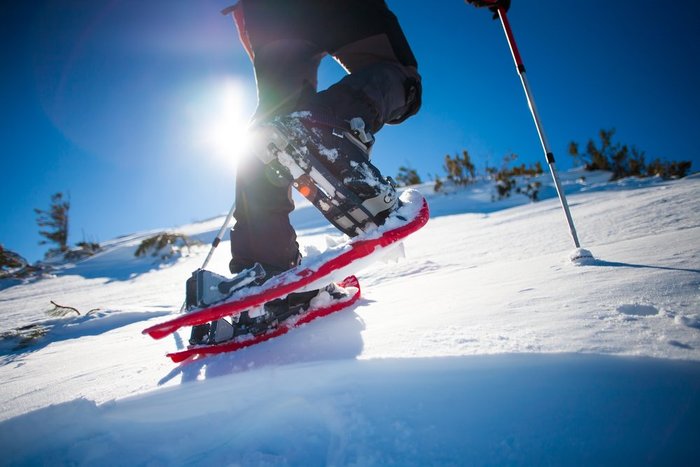 Sometimes, ski passes just aren't in your budget. Day passes at Vail and other iconic destinations can run upwards of $140 each. (Many Colorado residents invest in a multi-mountain ski pass at the start of the season so we don't have to pay the insane prices.)
Or maybe someone in your group can't ski. Or, in typical Colorado fashion, maybe you're recovering from a skiing-related injury.
In a slightly more awesome scenario, maybe you're snowshoeing with your snowboard on your back to reach epic backcountry terrain that can't be accessed by chairlift. Or maybe it's a weekend, and you just need to escape the crowded lift lines.
No matter what the situation is, there are plenty of legitimate reasons to snowshoe in Colorado instead of ski.
Rocky Mountain National Park: One of the Best Places to Snowshoe in Colorado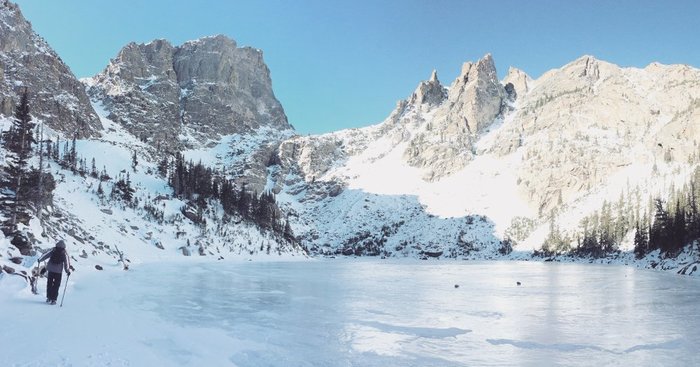 If you're on the Front Range, Rocky Mountain National Park is only about an hour's drive from Boulder or Denver – and it's one of the best places to snowshoe in Colorado. Plus, you're pretty likely to see elk. You can access great snowshoe terrain from the Bear Lake Trailhead.
If you're driving there from Boulder, make sure to stop in the friendly town of Lyons for some locally grown bud. You need to stock up before reaching Estes Park, the town at the entrance to Rocky Mountain National Park, because they have a local ban on dispensaries. (Plus there's no room for dispensaries, due to the abundance of salt water taffy shops inexplicably lining the streets.) In Lyons, The Bud Depot is conveniently located right on your route. Almost all the flower on their shelves has been harvested from their own grow facilities in Boulder, where they grow their unique strains in soil for optimal flavor.
After your snowshoe expedition, check out the Stanley Hotel in Estes Park, the town at the entrance to Rocky Mountain National Park. It's famous for inspiring Stephen King's "The Shining" – and it has one of the largest whiskey selections in the state.
Tips for Snowshoeing and Smoking Cannabis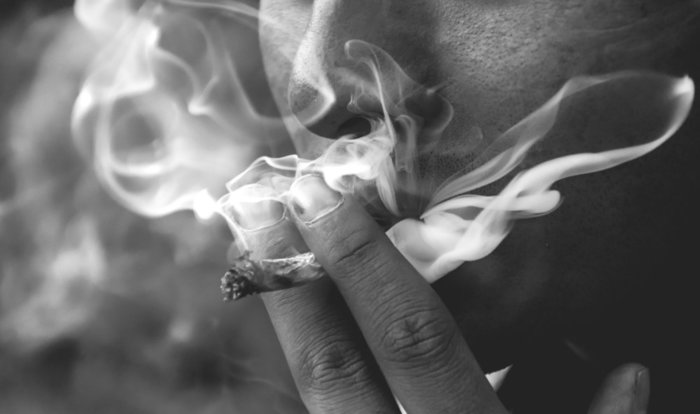 Snowshoeing is a great activity to pair with pot. It's nearly impossible to get lost, because you can follow your snowshoe tracks back through the snow. Of course, if it starts snowing, that trick won't work.
Before you embark on your snowshoe expedition, you may want to double-check that you actually need snowshoes for these conditions. On heavily trafficked trails, the snow gets compacted, and normal boots will work just fine. Nobody likes walking with clunky flippers on their feet for no reason.
On the other end of the spectrum – if there's tons of that fresh, light powder Colorado is known for – you'll want to make sure your snowshoes can actually support your weight. (Also, you'll probably want to have skis or a snowboard strapped to your back for the epic downhill.) If your feet keep breaking through the surface, and sinking through several feet of snow, you are technically no longer snowshoeing. This situation is called "post-holing," and it's exhausting.
Brainard Lake: The Gem of the Front Range Snowshoe Scene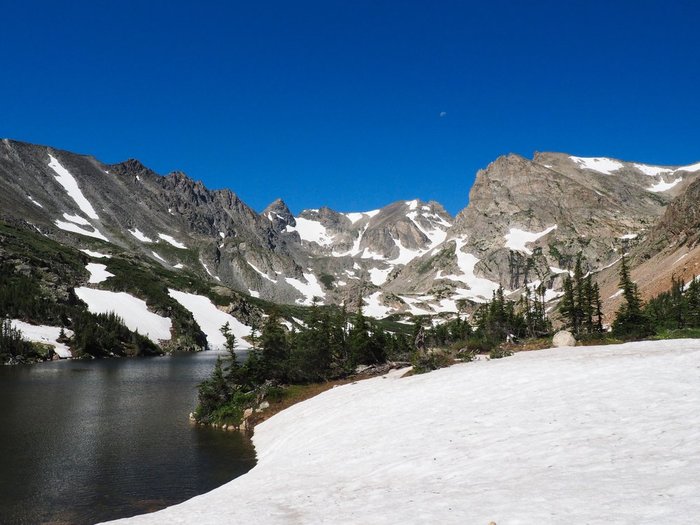 If you're sticking around the Front Range, another one of the best places to snowshoe in Colorado is Brainard Lake Recreation Area. While technically not a National Park, Brainard Lake is a wealth of breathtaking grandeur. Bonus: You can get in for free during the winter. Due to the snow, the road to the lake is closed, but you can park near the entrance and walk in.
Pro tip: If it's absurdly windy, which it usually is, take the snowshoe trails through the forest, where you'll be protected from the harsh gusts. Super pro tip: You may come across a cabin operated by the Colorado Mountain Club, where you can warm up by a cozy wood stove. And they sometimes give out hot chocolate on the weekends!
Check out the Western Slope for Quintessential Colorado Views and Culture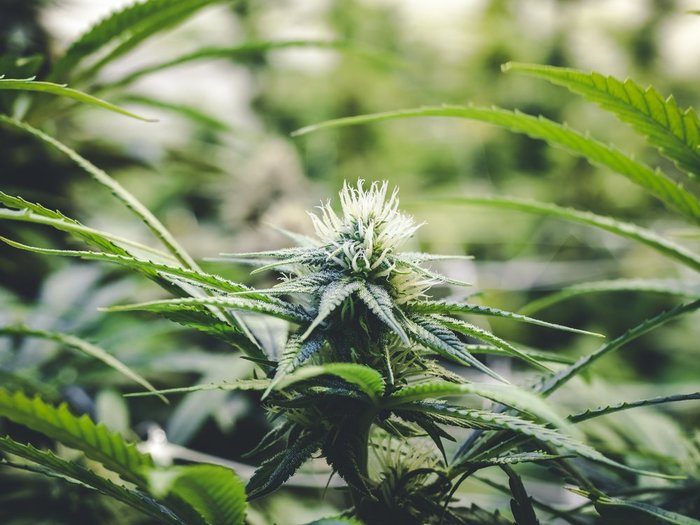 If you're traveling beyond the Front Range, you'll find boundless places to snowshoe in Colorado. Steamboat, Aspen, Crested Butte and Telluride all have incredible views, awesome dispensaries, and beautiful trails.
You'll want to choose trails where snowmobiles aren't allowed. When you're enjoying a quiet moment on the trail, being overtaken by a pack of noisy snowmobiles can be a real buzzkill. (That's part of why Rocky Mountain National Park and Brainard Lake are such great options for snowshoers. In designated wilderness areas, snowmobiles aren't allowed.)
Depending on where you decide to snowshoe, you'll probably encounter some backcountry skiers and snowboarders. They'll probably be smoking cannabis too, and hopefully carrying beacons and other avalanche gear. Feel free to high-five about all the powder you're crushing.
Because even when you're on snowshoes, you're still crushing pow, technically. If anyone tries to tell you differently, you can remind them of an old Hawaiian sentiment: You surf the wave, not the board – so even if you're using a pink child-sized boogie-board, you're still surfing.
In Colorado, you crush the powder, not the skis. So even if you're on snowshoes, you're still crushing pow.
A Good Snowfall Brings Us Together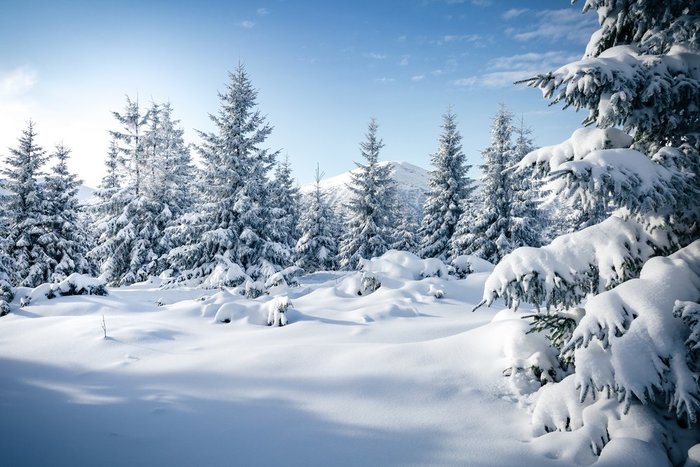 It's been said there are "two Colorados." There's the liberal, hipster Colorado, packed with yoga studios and students; and there's rural Colorado, where cattle ranches are tucked among the spread out landscape. Maybe there's a Colorado where everyone is smoking cannabis, and another Colorado where they probably should be.
Still, across the state, there are some things we agree on. Like how getting out to enjoy the snow can heal the soul.
It may sometimes appear that there are two Colorados. But under a thick blanket of snow, it starts to look like one.