All eyes on are Denver's newly branded 420 Rally – Mile High 4:20 Festival. With all the baggage still left over from the last 420 Rally, Mile High 4:20 Festival has a lot of pressure to change the city's opinion of this event. Euflora, one of Denver's best recreational dispensaries, has taken over the permits to continue planning this historical event. They made a promise to the City of Denver to put on an event that is well-organized, safe, artistically diverse, and all about the good that cannabis does for Colorado. While Euflora can certainly talk the talk, we are about to see if they can walk the walk and pull together of one of Denver's largest events. Here's what you can expect from Denver's first Mile High 4:20 Festival!
What's Going Down?
Mile High 4:20 Festival is on a mission to create an event that is appealing to all types of cannabis enthusiasts and activists. From a diverse line-up of musicians and stand-up comedians to an event-ending relaxing session of sunset yoga, this year's 420 event has it all. Plus, this remarkable gathering is completely free to attend, which means you have no excuse not to go! Leafbuyer will have a booth set up for the festival with Realm of Caring, where we will be selling T-shirts, Bags, and more to help raise funds for the nonprofit organization!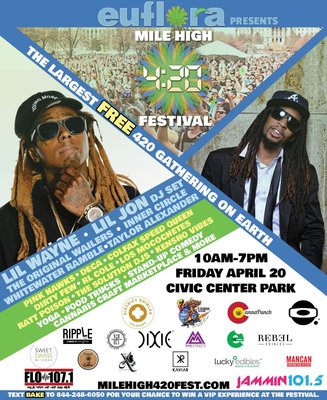 There are going to be 3 stages at this year's event. Euflora Main Stage is where you can kick back and enjoy some killer music all day long. The event kicks off with Taylor Alexander and builds up to Lil Jon's DJ Set to take us into 4:20! If some of these artists don't appeal to you, just head on over to the District Edibles Local Stage and check out some of Colorado's best native artists. This stage will be grooving all day long! Mile High 4:20 Festival took their diverse entertainment to a whole other level by providing acts by some of the best stand-up comedians around. Be sure to stop by the 420 Funny stage around 1:00 pm – 4:00 pm to get your giggles out!
Euflora made sure to have everything planned to a T for this 420 event. There will be over 80 different vendors, ranging from local dispensaries to some of the industry's top cannabis companies. Make sure to take care of your munchies throughout the day by checking out all of the local food trucks. Just in case you need to get yourself some weed before 4:20 hits, Euflora's downtown recreational shop is just 3 blocks away!
When Is This Going Down?
Mile High 4:20 Festival falls on Friday, April 20th this year. Their gates open at 10:00 am and stay open until 7:00 pm. The first artist to come on stage is DJ Kensho Vibes at the District Edibles Stage at 10:00 am. Taylor Alexander gets to set off the day at the Euflora Main Stage at 10:15 am. In case you need to stretch before you start grooving, hit up some yoga and blaze at the 420 Funny Stage at 10:30 am!
Euflora Main Stage Schedule:
Taylor Alexander: 10:15 am – 11:00 am
Whitewater Ramble: 11:30 am – 12:45 pm
Inner Circle: 1:15 pm – 2:15 pm
The Original Wailers: 2:45 pm – 3:30 pm
Lil Jon Dj Set: 4:00 pm – 5:30 pm
Lil Wayne: 5:30 pm – 6:15 pm
This entire event builds up to Lil Jon taking us into 4:20. Be sure to gather at the Euflora Main Stage to be a part of the 4:20 mic-drop! Even though Lil Wayne ends at 6:15 pm, the event goes until 7:00 pm. After getting down to Lil Wayne, head on over to Sunset Yoga to close out the event!
Where Is the Mile High 4:20 Festival?
The home of this historical event is the Civic Center Park in Downtown Denver. In case you're new to town, the address is 144 West Colfax Avenue. Parking is going to be extremely crazy so it may be a good idea to take an Uber or Lyft to the event. There will be 4 different entrances, each with a security check.
Entrances:
Corner of Bannock Street and 14th Avenue
Corner of Broadway and 14th Avenue
Corner of Colfax Avenue and 15th Avenue
Corner of Colfax Avenue and 14th Avenue
Make sure to check out other 420 cannabis deals and events!