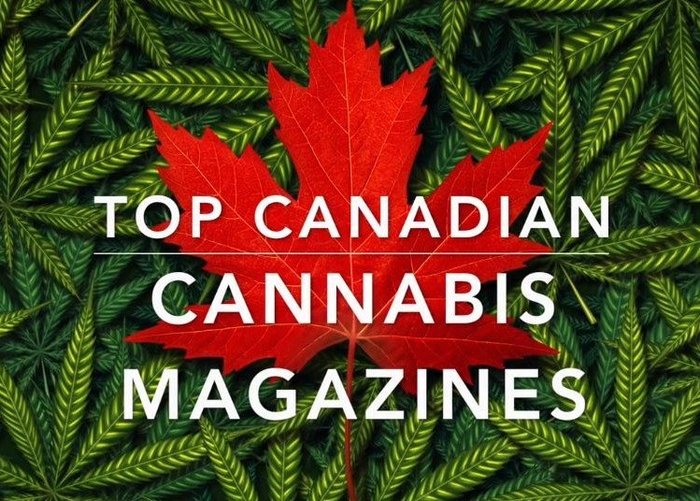 Let's be honest ? over the years, cannabis consumers have gotten somewhat of a bad reputation for being "stoner stereotypes." Even in 2018, there are still some people out there that believe people who consumers cannabis are lazy, unmotivated, and disconnected from mainstream society. If there is one thing that is dedicated to changing that perception, it's cannabis magazines! Cannabis magazines help cannabis users connect and share information and they also spread the word about the legitimacy of cannabis as a billion-dollar industry.
Cannabis Magazines in Canada
While there are tons of cannabis magazines out there, if you live in Canada, you likely want to find news and information that is relevant to your local cannabis climate. Here are a handful of the most prominent Canadian magazines dedicated to the cannabis industry. Depending on the publication, there seems to be something for every type of cannabis connoisseur – from those interested in the business side of things to growers looking for the most up-to-date information and products.
If you live in Canada, magazines dedicated to cannabis might be a little hard to find – many of the biggest names in cannabis publishing are based out of America. And although many report on Canadian cannabis news, it is nice to flip through the pages of something dedicated to your area. One nearly perfect publication is Cannabis Culture magazine.
This marijuana magazine does not have a print version because everything is produced and published online. However, that doesn't mean they slack on their journalistic integrity. Cannabis Culture is regarded as one of the top cannabis magazines in Canada, and they really hit every avenue of the cannabis industry. Articles are divided into subcategories like growing, activism, medical, arts, hemp, and of course, hard-hitting news stories. Cannabis Culture also offers a video platform with everything from interviews to video coverage of cannabis events.
If you are looking for a cannabis magazine with a little more edge, check out another great Canadian magazine for pot lovers – Skunk Magazine. Not only does Skunk Magazine hit on all of the usual cannabis topics like news and growing, they also have fun features like the Flower of the Week, reviews, forums, and galleries of marijuana photos.
At first glance, the home page of Skunk Magazine is packed with a nice mix of cannabis culture information. You might explore facts about the endocannabinoid system, read ways to improve the delivery services in Canada, or even peruse the news section for press releases about cannabis companies. In general, the information on Skunk Magazine leans more towards the lifestyle aspects of cannabis – there isn't a ton of hard-hitting journalism regarding the cannabis industry. But hey, sometimes you just want to scroll through some really, really pretty pictures of bud.
And, if you are an old-school type and just love holding a print magazine in your hands, you can still subscribe to Skunk Magazine and get the publication delivered in the mail.
Well – the name really says it all when it comes to High! Canada Magazine.  This funky magazine aims to educate while also building a bigger and more connected cannabis community in Canada. The online version of the magazine is a little sparse, so if you are interested, you will definitely want to subscribe and see what this full-color magazine has to offer.
If you don't want to subscribe, you can also access single-issue downloads on their website and scroll through the PDF version of the magazine. Unlike online magazines that usually have a rolling feed that is updated every day, a print magazine like High! Canada Magazine is going to give you monthly features that are centered around a theme.
Want to explore the latest and greatest marijuana products in Canada? Check out Spliff Magazine! Not only does it feature tons of Canadian cannabis businesses and products, it also provides some interesting reading material and information about upcoming cannabis events. You have a few options when reading Spliff Magazine. You can either scroll through the PDF version of the monthly magazine or subscribe to get a cute little copy sent in the mail.
The magazine features some beautiful cannabis photography and if you are in the cannabis business, it might be a great outlet for cannabis advertising. Just look at the latest issue – number 16 – that features a story about True Compassion Toronto. In the article, business owner Rick Vrecic spreads an important message about supporting the private retail model of cannabis as Toronto moves into legalization. The magazine also features full-size ads for cannabis tourism options: bud & breakfast in Jamaica? Yes, please!
If you are looking for a cannabis magazine with a little more of a Buzzfeed vibe, check out Lift&Co Magazine. The magazine hits on all of the usual cannabis industry topics: education, business, culture, and of course, news. The magazine is 100% online, so you know it's good for the planet and will probably update their content more regularly compared to print magazines, which only prints once a month.
What is nice about this magazine is that it doesn't just focus on Canadian cannabis news and information, it also has it organized in a visually pleasing way. Most online cannabis magazines look like a huge, distracting, jumble of cannabis advertisements and click-bait headlines. Lift&Co just has a classy look about it and provides a mix of cultural highlights and important information; for example, do you know how to buy legal weed in Canada?
Similar to Lift & Co Magazine, Marijuana.Ca delivers cannabis culture information to Canadians in a classy, lovely, and organized way. This cannabis magazine features tons of cannabis business information, sans messy advertisements that pull your eye away from the content. And unlike other cannabis magazines, they offer a whole section dedicated to hemp! The section is bursting with information about THC-free cannabis options. It is also has a few good resources for anyone looking to learn more about the industrial hemp industry in Canada.
Additionally, Marijuana.Ca is one of the only cannabis magazines that has a section devoted to marijuana recipes. You can learn how to make everything from no-bake chocolate mousse hemp hearts to cannabis butter with some serious flavor.
While cannabis magazines are great at hitting the biggest news stories in the industry, many lose sight of the fact that anyone can enjoy cannabis but only a select few can actually grow it! Grow Opportunity is among a new generation of Canada magazines that focuses on growing techniques, grow supply, products, news, advice, and guides. It's more up-to-date than most growing bibles, as it is published more frequently. So, you don't have to wait for the next edition of a book to be published to find out how to manage the new grow laws for example.
Grow Opportunity is a quarterly magazine that focuses on helping cannabis growers make the transition into cannabis entrepreneurs and grow their crop like they are in the agriculture business. The website is a little cluttered – but at least it is packed with tons of information such as business news, production tips, and opinion articles where growers can share their most well-kept secrets of the trade.