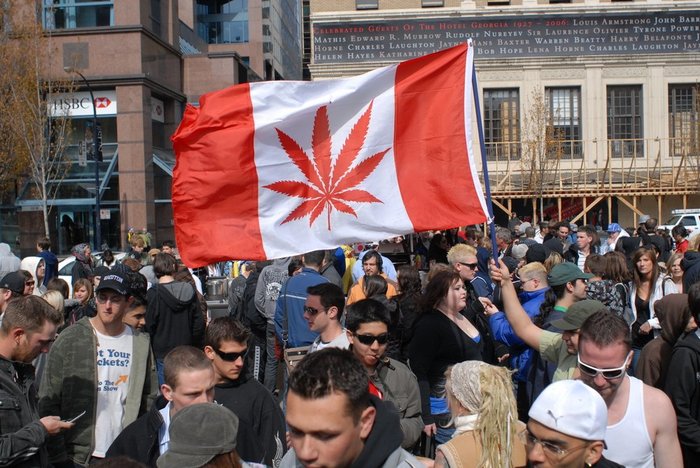 Update: Justin Trudeau announced cannabis sales will begin October 17, 2018.
Canada marijuana laws have passed the country's Senate, delivering on a fundamental campaign promise by Prime Minister Justin Trudeau. Canada is now well on the way to becoming the first industrially and economically-advanced country in the world to legalize cannabis. From the medical marijuana program to the forthcoming recreational program, here are the most recent updates made to marijuana laws in Canada.
Canada Marijuana Laws for Recreational Use
As passed by the Senate in mid-June, Canada is set to deliver on reforming its marijuana laws. Adding recreational marijuana laws to the country's Constitution was a campaign promise of Prime Minister Trudeau. The final stage of the legislative process, known in Canada as the "royal assent," will set a date for legalization.
Canada has restricted the use and sale of cannabis since 1923, as reported by the Washington Post.
Under the rules for recreational marijuana, the laws passed by the Senate clarify several points where members of the public and the private community had seen problems. The vote passed 52 in favor and 29 against.
What We Know:
While it seems likely the country will officially pass legalization in the next few weeks, many law officials working to implement Canada's marijuana laws have said they will need between two and three months to prepare before recreational sales and distribution. October 17, 2018 is the official start of sales.
Though the federal government can license and regulate growers, it is primarily up to Provincial or Territorial governments to determine how the plant will be sold and distributed.
Under the legislation passed by the Senate, the minimum age to buy cannabis recreationally is 18.
Individuals 18 and older can personally possess up to 30 grams of dried cannabis. At the time of writing, rules concerning edibles will be released at an undetermined future date.
The creation of the recreational industry also comes with new criminal penalties, including up to 14 years in jail for selling cannabis to a minor.
The packaging of recreational cannabis in Canada must be simple, plain, and uniform in color. This rule leaves minimal room for branding or images.
While Washington, Vermont, and Maine have all legalized recreational marijuana, the border shared between the United States and Canada will continue to be a marijuana-free zone. The continued place as an illegal drug by the U.S. Federal government may, therefore, create tensions at the border and in bordering states. Similarly, Canada will not allow U.S. citizens to bring cannabis into the country.
Senate rejected an amendment that would have given individual provinces the authority to ban cannabis home cultivation. (That's a big deal because Quebec wanted to ban home grow.)
According to a report released by Statistics Canada, spending on cannabis in 2017 was more than 5.7 billion Canadian dollars (CAD). Most of this total comes from recreational use. While billion-dollar industries are nothing to scoff at, the 5.7 billion CAD annual spend on cannabis already exceeds the tobacco industry in Canada, while remaining close to the beer industry in revenue.
Joining Uruguay, Canada Will Change Cannabis Laws on World Stage
Canada has marijuana laws written into federal regulation, which allowed the country as a whole to establish a medical marijuana program. Unlike the U.S., where individual states commonly legalize the plant for medical or recreational purposes, while cannabis remains federally illegal, Canada plans to legalize marijuana for recreational use at the federal level.
While this allows Canada to regulate and monitor the sale of recreational marijuana broadly across the thirteen provinces and territories making up the country, individual Provinces and Territories, as well as their respective governments, can set up laws and regulations specific to the individuals living there.
On June 19th, 2018, Prime Minister Justin Trudeau celebrated in a Tweet the passing of legislation aiding Canada marijuana law reform.
It's been too easy for our kids to get marijuana – and for criminals to reap the profits. Today, we change that. Our plan to legalize & regulate marijuana just passed the Senate. #PromiseKept

— Justin Trudeau (@JustinTrudeau) June 20, 2018
Federal regulators have written Canada marijuana laws for recreational retailers and consumers, putting the minimum purchasing age at 18, however, similar to liquor laws in Canada, certain Provinces may set the minimum purchasing age to 18 while others may raise it to 19.
A Brief Look at Canada Marijuana Laws for Medical Use
Canada legalized medical marijuana in 2001. According to MedicalMarijuana.ca, a resource for information on Canada's medical marijuana program, cardholders with authorization from healthcare professionals can access medical marijuana products in three ways:
Through Health Canada-registered & -licensed producers of cannabis products
By registering to produce medical marijuana on their own, at home
By legally designating another individual to produce it on their behalf
Cardholders can legally possess either a 30-day supply or 150 grams of cannabis flower or oil, whichever is less.
If a cardholder determines they would like to grow or produce their own medical cannabis, depending on the environment (indoor versus outdoor), between two and five plants are commonly-accepted treatment volumes.