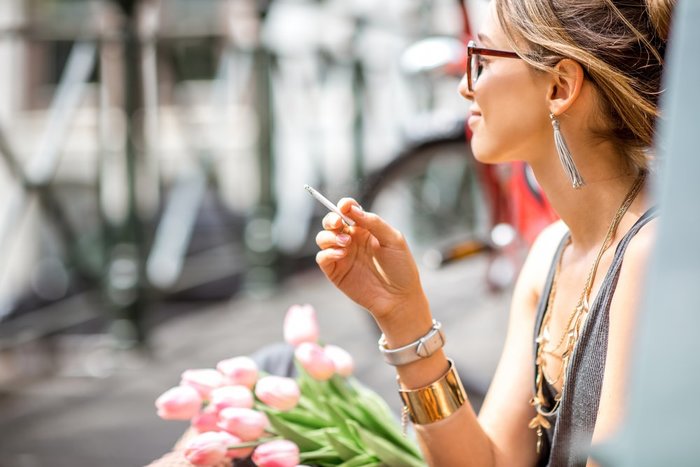 Ten years ago, there was only one pot-tourist friendly city in the world. A marijuana mecca in the North Sea known for windmills, tulips, and cannabis. But the world has changed a lot since 2008, and Amsterdam is not the only 420-friendly city to visit anymore.
Few companies understand the changing world better than Airbnb, the San Francisco based online-marketplace and hospitality service that was founded in 2008.
Airbnb is using the growing love of the "shared economy" among young adults and now boasts that 60 percent of the site's users are millennials.
Hotel Amenities, 420 Frenemies
With a little research, any would-be pot tourist will notice that finding a hotel or motel that allows you to smoke marijuana inside, is very difficult. This is even the case in motel rooms designated for smoking (tobacco), and in states that allow the recreational consumption of cannabis.
These hotels are plenty happy for the tourists a hemp or weed festival brings to town, but they are simply unwilling to risk retribution from the U.S. Department of Justice.
The need for chill places to stay – and blaze – is a growing niche in the hospitality industry that is not being filled by traditional hotels.
Airbnb has literally made billions matching up hosts with travelers who prefer to eschew run-of-the-mill motel stays. This gives Airbnb and its potential hosts a prime opportunity to provide travelers the ultimate stoner vacation.
Can You Smoke Weed in an Airbnb?
Each listing on Airbnb has its own set of "House Rules" that has been laid out by the host. This gives Airbnb hosts a tremendous amount of discretion about what is and is not allowed during the stay.
According to Airbnb, "hosts share their House Rules to set expectations with their guests, like limits on smoking, areas beyond the listing space that are off-limits, and permission to have visitors."
What Are the Rules on Marijuana?
Airbnb has a policy to make sure hosts provide toilet-paper and lots of policies about late cancellations, but it does not have one policy against the use and consumption of marijuana.
Airbnb does, however, make following local laws and regulations a term of service that must be agreed to before activating a listing. Conspicuously, there is no filter for cannabis smoking in the search parameters.
When emailed questions about using marijuana in a listing, Airbnb customer service representatives have replied with a stock answer; "Due to the changing laws in regards its usage, Airbnb has no policy against the use and or consumption of marijuana. However, any other drug is and will continue to be banned from any Airbnb listing."
What Does This Mean?
Does this mean you can smoke pot in an Airbnb in California, Alaska, or any of the states that have legalized recreational marijuana?
Yes, potentially, but an Airbnb host may have other factors to consider before answering the question, "Can you smoke weed in an Airbnb?"
Some hosts may worry that by openly permitting cannabis consumption in their Airbnb, they will subject themselves to irritated neighbors, indignant landlords, or worse.
Others may consider pot smoke just as acrid as cigarette smoke and choose not to let guests smoke in their Airbnb.
Serving an Underserved Market
Smart Airbnb hosts know that finding success on Airbnb is all about providing guests what they want.
According to a website promoting Advanced Airbnb Hosting Tips, "some Airbnb rental units have found great success by giving their guests the liberty to partake in certain activities such as using cannabis."
Of course, between the economics of capitalism and the entrepreneurial spirit of Airbnb hosts, there are those hosts that will see the upside to catering towards cannabis users.
They may be pot smokers themselves and prefer to rent to fellow stoners. Others are simply savvy to the interests of travelers.
How to Search for 420-Friendly Lodging on Airbnb
As stated before, there is no "420 filter" on listings, so how can someone find a unit that is friendly?
When pushed for clarification, Airbnb phone operators suggested using an outside search engine like Google, to look for hosts who are okay with marijuana consumption.
Because of the treasure trove of nicknames that cannabis has developed, you will want to search for a variety of terms. Here are some nouns you should add "friendly" to when searching for a stony stay:
Pot
Green
Marijuana
Weed
Cannabis
Dank
Can You Smoke in a No-Smoking Airbnb?
If you choose to disregard the preferences, you are breaking clearly stated rules, opening yourself to cleaning fees, and risking negative reviews (which can effectively shun you from the network).
Also, some non-smoking hosts go to great lengths to punish "rule violators" by fastidiously documenting violations and even going so far as to charge $50 per cigarette butt/joint roach.
But more importantly, you are committing a pretty serious "dick-move" in what is most likely someone's house. This becomes all the more poignant considering that the number one demographic for Airbnb host is a female over 60 — like your grandmother.
The Airbnb host/guest relationship is an exercise in trust, and to what lengths you willing to go beyond that are up to you, but I would recommend looking for a host that is cool with cannabis before you spark up.