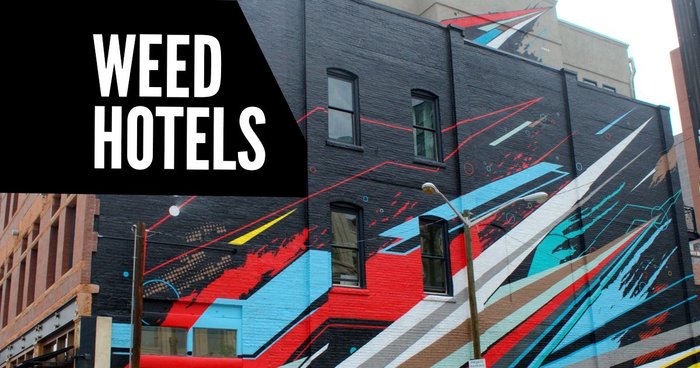 On a jaunt around the city of Denver, smells drifting, trapped within the gaseous oxygen environment we humans love so much, range from delicious food to dog food (THANKS PURINA); however, the conspicuous pungence– a verifiable terpene assault — produced by marijuana is recognizable ever so slightly (and sometimes more so) interwoven throughout the city's gridded downtown streets. The question becomes, is it from public use or private? Alternatively: Do I care?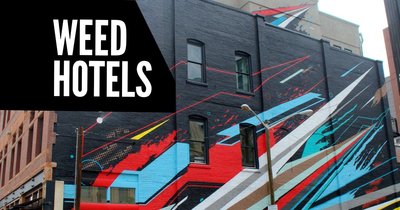 The point remains: the laws allowing adult recreational AND medical cannabis prohibit open or public use. Recreational markets in Colorado give travelers (and those with non-smoking clauses in their lease agreements) access to cannabis, just not a place to consume it. Scarcity may not apply to marijuana in Colorado, but it definitely fits the 'places to consume' category. As a result, 420 hotels in Denver not only exist, some even advertise.
A bit of legal
Before 420-friendly hotels in Denver can even be a possibility, someone had to interpret the law regarding hospitality, public spaces, open use, private property, and a variety of other dull clauses. Here's what works in favor of Cannabis friendly hotels:
Hotels in Colorado can allow smoking in a limited number of rooms
By the wording of the Colorado Clean Indoor Air Act of 2006, hotels and motels may allow smoking in no more than 25% of the total rooms. The laws around vaporizing are unclear under the Act. Just remember you are the one that is financially liable if/ when they charge you a fee. Included within the act are provisions setting which establishments are public, and therefore are under the dominion of the CCIAA, and hotels are not among them.
Balconies can be a viable option, under certain conditions
The addition of Amendment 64 to the Colorado State Constitution carried with it the ambiguous phrase "open or public' when referring to where cannabis consumption was permitted and where it was not. Today, the words 'open or public' apply to balconies fitting those criteria. If you have a smoking balcony that isn't public, it's a legal, private space (hotel policy may dictate otherwise).
Hotels are private property(*)
Private property is a key ingredient in the current hunt for places to consume. While not entirely necessary, it does make it much easier. Hotels, however, are prohibited from allowing any form of smoking under the Colorado Clean Indoor Air Act in:
Meeting Rooms

Any food service area, restaurant, or bar

Hallways, elevators, stairwells, restrooms, and lobbies

Common Areas
While these restrictions make a certain degree of sense, up to ¼ of the establishment rooms may allow smoking at the discretion of the business owner.
Question: what scares legally functioning businesses? Answer: to knowingly allow federally illegal activities to occur, as the consumption of cannabis and cannabis products (like edibles, concentrates, etc.) surely falls under.
While the risks for businesses may be a bit less steady than a traditional hotel, the social benefit of allowing people a place to consume may encourage a bit more adherence to the ban on public consumption under Amendment 64 and should be looked at a bit more seriously by the State. In the meantime, a few Denver hospitality properties have decided to open their doors to hairy, green cannabinoid-laden flowers and the lifeforms that like to take them.
420 Hotels in Denver
The Adagio
The Adagio is one of a set — maybe more of a developing industry — of Bud n' Breakfast hotels that have cropped up where legal weed has found it's way into state law. Aimed at developing cannabis-centric experiences through marijuana hospitality, the Adagio not only embraces marijuana culture, they curate entire days around weed. Starting at $299 per night, the amenities, and/or consumption tools include:
'Wake+bake' breakfast every morning

4:20 happy hour

All day snacks and drinks

A variety of spa services

Free Wifi

A community garden

(sometimes) a supply of recreational treats and products

A treasure trove of marijuana consumption apparatuses
Don't be fooled, this includes local beers, wine, and cocktails. The house is in Capitol Hill, one of Denver's most hip, beautiful neighborhoods. The building was built in 1892, though extensive remodeling allows each room to contain a personality that is both individual and complementary.
Nativ Hotel
A boutique hotel styled into a high class, intimate hospitality experience — complete with balconies that meet the standards set by Amendment 64 and the CCIAA. VIP lounges, a biergarten, a cafe, and a restaurant all nestled into under the Nativ brand, the hotel has made a name for itself in the 18 months since the doors first opened. Attracting celebrities such as Justin Bieber and Drake to visit their 'Stereo Lounge', the small boutique has painted a picture the Denver nightclub scene won't soon forget. Priced between $200 -$350 per night, Nativ maintains competitive pricing in downtown Denver. Additionally, the property was set to serve coffee infusions fueled by caffeine and imported CBD.
The few and far between
Not necessarily a 420 hotel, Denver residents, using services like airBnB have had luck renting out their property to the traveling cannabis enthusiast. By allowing smoking, residents can impact the social effects of public consumption on a highly regulated, high growth industry (and earn a bit of extra money). If you are visiting, that is a lower cost option, and probably less social if you are wanting to just couch lock through your stay. Similarly, you can reach out to other hotel properties and ask their policy. Some even post them online. With the impending changes
If you are visiting, this is a lower cost option, and probably less social if you are wanting to just couch lock through your stay. Similarly, you can reach out to other hotel properties and ask their policy. Some even post them online. With the impending changes surrounding Ordinance 300, a voter-supported measure that would allow limited social cannabis use in Denver, it will be interesting to see how Nativ and other 420 hotels cope with licensure if they pursue it at all. Given that the state doesn't allow alcohol sales where a cannabis consumption permit has been issued, I suspect that the bustling nightclub alcohol sales exceed potential cannabis hosting revenues, but we are all on curious ground.