420 Friendly Hotels in Denver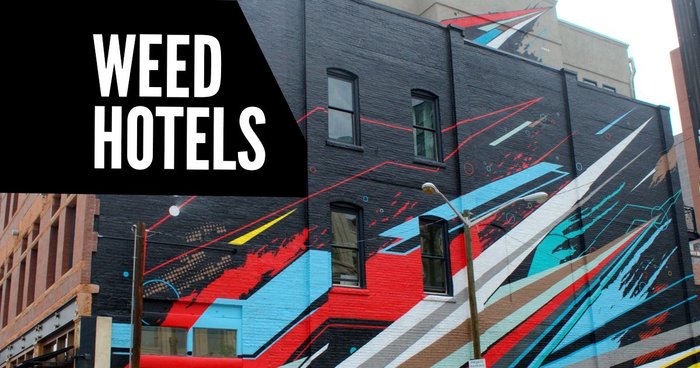 Dispensaries are not the only businesses benefitting from Colorado's phenomenal "green rush," as 420 friendly hotels in Denver, the state capitol, attest to. In fact, Colorado's legalization of cannabis in 2014 produced a significant "ripple" effect among a number of other industries, from security and marketing to web hosting and limousine services.
One of the businesses intimately tied to marijuana is hospitality and tourism — particularly hotels. Throughout the Centennial State, commercial lodging has experienced a large and dynamic boom.
What is going on in this industry? How does the exploding trade in cannabis relate to the hotel and lodging industry?
Let's take a peek.
The Tourist Industry & Cannabis: A Love-Hate Relationship?
Despite the exploding popularity of legal cannabis, there is a slightly funky relationship between marijuana, on one hand, and the tourism industry, on the other. Often, this limits the options of marijuana consumers seeking a 420 friendly hotel, as hotels operate under several federal regulations. Consider the following:
The tourism industry is reluctant to market Colorado as the "Cannabis State" because — like it or not — there remain lingering, negative perceptions of its use. Despite the millions generated for the state treasury in tax revenue, there still exists traditional, public perceptions of the "stoner." Old stereotypes die hard…
As more states legalize marijuana, however, residual negative attitudes will likely dissipate:
The reality is most canna-tourists to Colorado make up every demographic imaginable, from stockbrokers, entrepreneurs, first-timers, and newlyweds to medical patients, twentysomethings, and grandparents.
420 Hotels: Some Dos and Don'ts
Before you set off on your search for 420 friendly hotels, be aware of the following, general guidelines:
Remember, marijuana is still illegal under federal law
Colorado law allows hotels — and private rental properties — the ability to choose whether or not to allow guests to consume marijuana on the premises.
One catch: Under the Colorado Clean Indoor Air Act, 75% of rooms in hotels are mandated smoke-free (Which includes any type of smoking, including tobacco).
A number of cannabis-friendly establishments will advertise "full combustion permitted."
420 hotels will discreetly allow vaping on a deck or patio.
Restrictions usually do not apply to edibles and tinctures.
A friendly tip: Use a vaporizer pen (They give off no smoke and very little odor).
Remember: Just because a hotel allows smoking does not mean that it endorses the practice — be discreet.
Be sure to check out the smoking policy of your hotel before you check in!
A Hip Alternative: "Bud-and-Breakfasts"
One of the hottest trends in cannatourism is so-called "bud-and-breakfasts." These establishments are privately-owned properties that offer a number of significant advantages over hotels:
Colorado's Clean Indoor Air Act limits hotels to a maximum of 25% smoking rooms (Recall that the remaining 75% are designated non-smoking). Smoking is also prohibited in public spaces. As a result, many hotels are up against a litany of tight regulations.