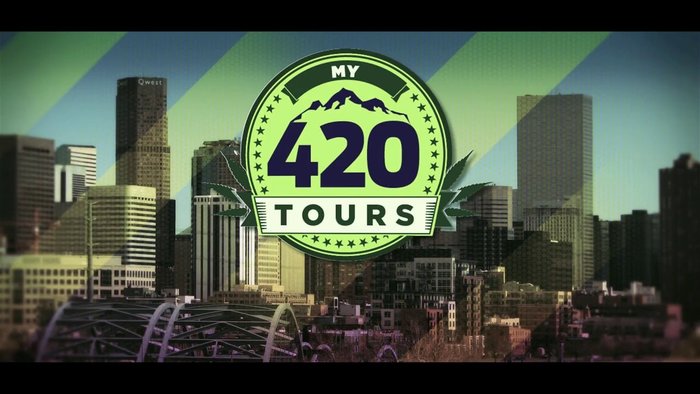 Since statewide legalization of cannabis in 2014, Colorado has become the focal point of national attention: The explosion of one of the hottest industries in the nation has placed an enormous spotlight upon the Centennial State.
However, the mainstream media has paid far less attention to the host of ancillary businesses that have appeared alongside – or as a consequence of – legal cannabis. In fact, the boom in marijuana has produced an altogether new crop (no pun intended) of related ventures and services, ranging from trade shows, supply sellers, and cannabis law firms to marijuana real estate brokers, and yes, cannabis tourism, also known as "cannatourism."
The Rise of "Cannatourism"
Cannatourism emerged hand-in-hand with the rise of dispensaries: Within a few months of the passage of Amendment 64 in 2012 (which legalized recreational marijuana in Colorado), over a dozen tourist firms opened in Denver alone.
And that was just the beginning.
So-called "420 tours" are now an industry within itself, an "industry within an industry."
Nearby states, like Wyoming, Texas, and Kansas, have strict prohibition laws. This has led to a large infusion of out-of-state visitors to Colorado.
Other popular, established industries in Colorado – such as skiing and microbreweries — mesh very nicely with the cannabis industry.
The Size and Scope of 420 Tours
The sheer number and variety of different 420 tours is mind-boggling. Even a casual web search will produce an amazing array of choices and options, like the Lighthouse Cannabis Project. The following is a list of the most common amenities currently offered on the market:
420 tours can range from a basic, three-hour escorted tour ranging from $90 – $200 to full-blown, weekend excursions costing $10,000 — or more.
There are many different kinds of 420 tours, guaranteed to fit every taste and preference: Foodie tours, concentrate tours, medical tours, newbie tours, industry (so-called "insider") tours, Valentine's Day tours, combo cannabis-ski vacation tours – there is a 420 tour virtually guaranteed to suit your needs and desires!
Practically all 420 tours offer a variety of amenities, such as:

Vaporizer rentals
Discount coupons for cannabis-related dispensaries and paraphernalia.
Group discounts (The more the merrier!)
Party buses with light shows and multimedia entertainment
Shuttle and concierge services to/from Denver International Airport, hotels, and/or ski resorts.
So, too, the variety of people on 420 tours is truly amazing:

You'll find retirees, stockbrokers, blue collar workers, twentysomethings, newlyweds, and foreign visitors.
An estimated 30% of all people on tours are from out of state or from overseas.
Remember: The stereotype of cannabis being "just for stoners" is just that — a stereotype.
Types of 420 Tours
There is a tour to fit every type of preference. Depending on the company, you can partake in walking tours, dinner parties, and even yoga sessions. Below is a survey of the common choices available on the market:
Complete vacation packages
A typical three day/two night stay in a pot-friendly hotel – with shuttle service and tours of dispensaries — generally runs for around $1,100 -$1,300 – and up.
Many packages offer pick-up and return to Denver International Airport.
Packages may include visits to other entertainment venues, such as ski resorts, city tours, hiking trips, and the like.
Ski packages – Every year, the ski industry attracts over 12 million visitors to Colorado. Not surprisingly, many 420 tours integrate cannabis with ski vacations.
Cannabis provides Colorado an added incentive over other, competing ski destinations where marijuana is still illegal.
Caution: Each ski resort has its own consumption policies: Some will do nothing if users use discretion; others may revoke your ski pass.
Colorado Ski Country USA, the industry's statewide trade association, is actually discouraging the concept of "ski-pot" tourism, emphasizing the numerous other amenities in the state.
At most ski resorts, to use cannabis you need to be 21 years of age and cannot consume in public.
Hotels – If you incorporate a hotel stay in your 420 tour plans, you need to be aware of certain limitations and restrictions:
Colorado marijuana law allows hotels and private rental properties to determine their own policies. Be sure to check with the individual hotel — Don't assume anything!
Most hotels prohibit smoking in individual rooms ("No open flames").
National hotel chains are reluctant to advertise being "420 friendly" because of federal laws.
Select hotels may, however, be "420 friendly:"
Guests may have to sign waiver forms
A given hotel may have business relationships with one or more 420 tours, offering discounts for shuttle service and local dispensaries.
You are not just limited to hotels! A new, ancillary industry has exploded alongside legal cannabis: So-called "bud-and-breakfasts." Here, private lodging owners not only offer guests an affordable and cozy stay in a home-like atmosphere, but these establishments are generally not constrained by restrictions on cannabis found in hotels. . .
Limousines/Tour Buses – Guided 420 tours – where you let someone else do the driving – is a fun and very convenient way to relax, light-up, and enjoy your visit. Many options are available.
Shuttles often have large screen televisions and snacks.
Vehicles often range from SUVs and stretch limousines to buses holding 40 or more guests.
Package deals on 420 tours frequently include discounts on products at local dispensaries and even complimentary cannabis. Experience Denver as you never have before!
Cooking Classes – Another venue proving immensely popular with 420 tours are cooking classes. Learn to make cannabis truffles, muffins, trail mix, cookies, and fruit roll-ups – among all sorts of other delicious treats!
420 Tours: A Cautionary Tale?
While cannatourism can be a fun and convenient way of immersing yourself in Colorado's cannabis scene, you should be aware of certain realities:
State tourism officials are reluctant to promote marijuana tours because owning cannabis remains a federal
Many hotels are reluctant to allow smoking (e.g. on balconies, plazas, and lounges)
Like it or not, cannabis does have an image problem. Just because cannabis is legal in Colorado does not mean everyone – or every business – is accepting of it. One survey: While 23% of visitors to Colorado felt the availability of cannabis positively affected their decision to visit, 14% responded that it negatively impacted their interest in visiting.
Cannabis can be purchased in many towns near national land. However, be careful: National lands are federal lands, and smoking on Uncle Sam's turf can land you up to 6 months in jail and a $5,000 fine.
When using cannabis, be aware of where you are and when you are using it.
Be Smart, Be Safe!
When planning your 420 tour, be aware of the following:
Do NOT take Colorado cannabis out of state. Any cannabis must be consumed, thrown away, or "gifted" before crossing the state line. For this reason, it is always a good idea for out-of-state visitors to buy only small amounts.
Denver International Airport, which is under the auspices of the federal Transportation Safety Administration (TSA), has a facility-wide ban on cannabis.
Public marijuana consumption in public is prohibited. That means do not smoke on streets, in parks, in restaurants, or on buses.
Do not smoke and drive. It is also illegal to smoke in a car – even as a passenger. So-called "open-container" laws used for alcoholic beverages also apply to cannabis.
From out of state? Avoid altitude sickness by drinking plenty of water!
Since federal banking laws prohibit dispensaries from depositing cannabis proceeds, the marijuana industry is (largely) a cash-only industry. . .
Some Final Thoughts
420 tours offer everything you could possibly want – all at the touch of you keypad. The choices of travel arrangements, lodging selections, and venue sites can be overwhelming.
Make a checklist of what you want in a tour.
Remember that tours are often customizable.
Be choosey. Intense competition allows you, the customer, to be selective.
Enjoy!